Never get high on your own supply. Last July, haze-rock conjurer Kurt Vile learned that lesson the hard way. "I was fired for having a beer on the job," says the 29-year-old former forklift operator at the Philadelphia Brewing Co. "Well, that's not the only reason, but my boss was a hard-ass. It turned out for the best, though. I never would've left on my own accord, and right after I got canned, I was offered all these gigs.
"Now," he sighs determinedly, "I've gotta make a living at music."
That shouldn't be a problem. The third of ten children born to a homemaker mom and a train engineer dad, Vile (yes, it's his real name) has always had a strong work ethic. Inspired by his uncle's John Fahey albums and memories of seeing Beck and Sonic Youth at Lollapalooza in 1995, the singer-guitarist started releasing home-recorded albums on CD-R shortly after high school. Songwriting's always come easy," he says in a thick Philly accent. "I study what's good about the bands I like and put my own spin on it. I'm not upset if people say I sound like Beck or Springsteen — in a way, I'm trying to sound like them."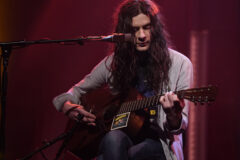 In 2008, after he outgrew Philadelphia's lo-fi folk scene ("I don't want to say I used anyone, but being in a scene is important for making your name"), Gulcher Records put out the Constant Hitmaker compilation, which ranged from acousticastoralia ("Classic Rock in Spring/Freeway in Mind") to stoned-on-a-Sunday pop ("Deep Sea"). The album, and Vile's sullenly charismatic live performances — solo or with backing band the Violators — garnered interest from indie biggies Sub Pop, Domino, and Matador. The last won out. Vile's reasoning? "The other guys wanted to put me on subsidiaries — Matador was gonna get my music heard by the most people."
Released in October, Childish Prodigy finds Vile expanding his sound to include gnarled stomps ("Hunchback") andsaxophone sprinkled shuffles ("Amplifier"). "I'm confident about my talent," he says. "It just took time to get it out there." If only someone had told him to quit his day job.
DOWNLOAD: Kurt Vile, "Overnite Religion" (DOWNLOAD MP3)