In SPIN's review of Grinderman's self-titled second album, we called its opening track, "Mickey Mouse and the Goodbye Man," a thrilling gem of "careening scum rock." But in the hands of Queens of the Stone Age rocker Josh Homme, it's psychedelic and downright frightening, too.
LISTEN: Grinderman, "Mickey Mouse and the Goodbye Man" (Joshua Homme Remix)

On his reworking of the track, Homme adds flourishes of chilling studio sounds to compliment the original: distant ringing telephones, a dark wave of atmospheric swells (think the Beatles' "A Day in the Life"), and computer-fritz synths. The scariest addition, though, is the layers of Aussie rock icon and frontman Nick Cave's brusque, laughing-madman voice. Homme cuts and pastes it into overlapping whispers and screams, sounding like Cave has gone mental and his fractured personalities are arguing with each other.
"He sucked her, sucked her, sucked her dry," he squeals. "Kiss me! Say goodbye! With her hair on fire! Little burning girl!" Yikes.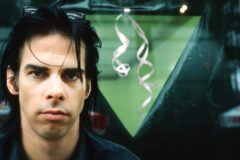 Homme and Grinderman's collaboration stems from a chance meeting in a Los Angeles diner last year, after a Grinderman gig. Nick Launay, Grinderman's producer, helped facilitate the remix, and, according to spokesperson, Cave and Grinderman are "very happy" with Homme's take.
Homme's remix of "Mickey Mouse and the Goodbye Man" drops as a download and 12″ vinyl on June 14.