SPIN music editor Charles Aaron recently described Odd Future, the boundary-pushing, teenage L.A. rap collective, as "the new 'fuck you' in music," a must-watch act who might either be the next Wu-Tang Clan, or a Jackass for hip-hop. Now, the ensemble's leader, Tyler the Creator, is pushing a new music video that lives up to the posse's increasing rep. Watch "Yonkers" below.
"Yonkers" is one of the most unsettling, nausea-inducing videos we've seen in months: A black and white camera (which veers in and out of focus) captures Tyler noshing on insects, vomiting all over the place, bleeding from his nose, and ultimately throwing a noose around his neck and hanging himself. In short, the kind of thing you expect from Odd Future, who are as provocative onscreen as they are onstage.
Tyler's next solo album, Goblin, drops in April.
What do you think of "Yonkers"? Sound off in the comments.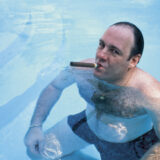 WATCH: Tyler the Creator, "Yonkers"
https://www.youtube.com/embed/XSbZidsgMfw?rel=0