"Fuck every label and magazine here, suck my dick!" shouted 19-year-old rapper Tyler, The Creator during the New York coming out party for his potty-mouthed, insanely hyped, comically prolific Tumblr-rap crew Odd Future Wolf Gang Kill Them All.
While the intimate show at Webster Hall Studio was mostly packed with horn-rimmed diehards, it was no secret that it was still doubling as a feeding frenzy for music critics, label execs, and industry hangers-on. Tyler is no one's bait, and lashed out in the middle of a brawny acapella of just-don't-give-a-fuck anthem "Seven," a song that already featured a few homophobic cracks, cocaine endorsement and a line where he refers to his 10-person crew as "black Nazis."
In short, OFWGKTA love to push buttons.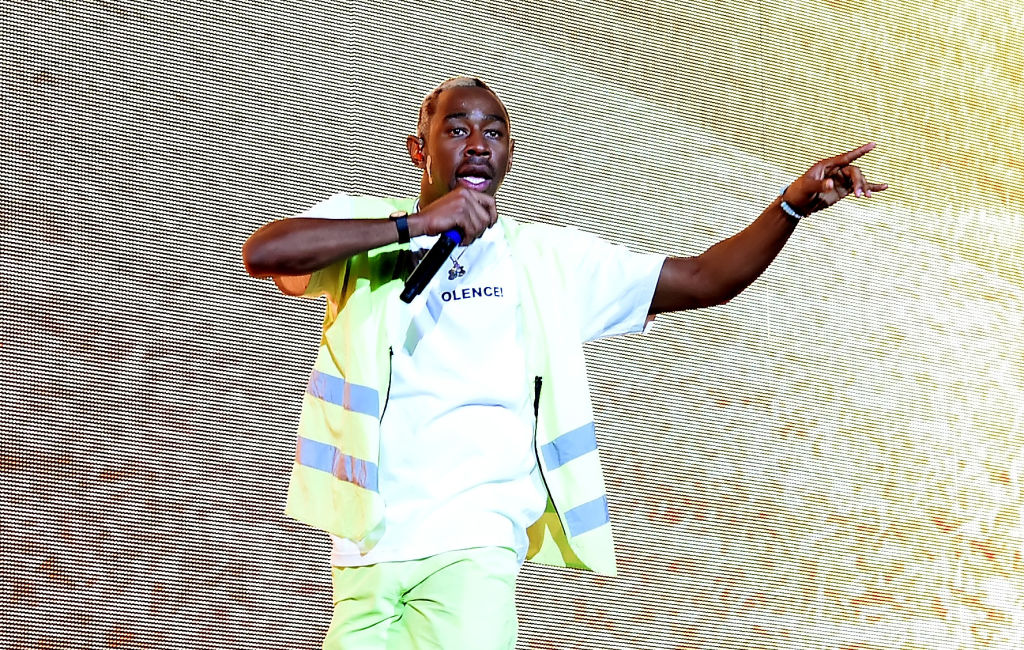 Fittingly, their live show felt more like a sweat-soaked punk rock teenage riot than a rap show. The vibe remained sweat-soaked from the second a ski-mask clad Tyler leaned into the set's hard-as-nails opener "Sandwitches."
An insular master of dubby textures, ambient noise and blunted synths on record, Tyler sings the body electric on stage, indulging in crunkgasms somewhere between Lil Jon and Omar Rodríguez-López. He stage-dove three minutes into the set, shimmied apoplectically, sprayed water, rolled his eyes into the back of his head and skanked around like a one-man circle pit. In a shining moment of true fuck-all geek-empowerment, he took an on-stage hit of his asthma inhaler.
Tyler's spotlight stealing dervish act took attention away from the fact that only half of Odd Future's 10-deep lineup made the journey from L.A. for this crucial show. The most notable absence was from their most viral member, the 16-year-old Earl Sweatshirt, whose polysyllabic word clouds and effortless charm make him at once OFWGKTA's Method Man and Raekwon. His whereabouts are still unknown (internet rumors point to everything from juvenile hall to just plain grounded) but "Free Earl" was certainly a uniting mantra alongside their inscrutable "Fuck Steve Harvey" and the infectious "swag, swag, swag."
Hodgy Beats and Left Brain (together as MellowHype) performed mostly from their week-old Blackenedwhite mixtape, rewriting comparatively mellow ambient gloombringers like "Loco" and "Brain" into Run-D.M.C.-style screaming matches.
Since Tyler's Bastard has been floating around longer, the crowd knew it intimately, and was psyched to scream along to screeds about violating the Virgin Mary (hell, even the ladies sang along to his lengthy rape fantasy "VCR").
The group clearly wanted to give more than they could — after the last song of their setlist, they began taking requests, performed the high-BPM swag-punk goof "Tina," and let the audience croon an impromptu version of Earl Sweatshirt's "Earl." Their set ran long and, in true OFWGKTA style, making your fans happy isn't really fun unless someone else gets pissed off. "If the venue got a problem with us going over 30 minutes," said Tyler, "suck my dick."