R.E.M. have released the video for "Mine Smells Like Honey," the first single from their upcoming fifteenth studio album, Collapse Into Now (out March 8), and it's a tribute to the early-Twentieth-Century slapstick films of Charlie Chaplin and Buster Keaton. Watch below!
In the clip, Stipe is carried, tumbled, rolled, and thrown up and down an industrial building's staircase, and, at one point, piled atop a stack of chairs, by a group of men and women, all dressed in white dancer's tights. "It's a reference to the old Buster Keaton silent film kind of days of pratfalls and just watching people look like they're getting hurt when they're really not," Bassist Mike Mills tells Spinner.
"There's a lot going on in that song," Mills adds to the video's inspiration. "It's got a lot of propulsion and moving forward and so I think the idea of movement is what contributed to that video being like it is."
Watch the "Mine Smells Like Honey" clip below, then tell us what you think in the comment section.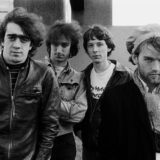 WATCH: R.E.M., "Mine Smells Like Honey"