Kanye West's My Beautiful Dark Twisted Fantasy epic "All of the Lights" is hedonistic buffet for the ears, squeezing 11 guest artists, including Elton John, Fergie, and La Roux's Elly Jackson, in just under five minutes. Its just-released video is the visual equivalent: a veritable Baskin-Robbins for the eyes, full of lasers and flashing DayGlo. Watch below!
Directed by Hype Williams, the clip loosely follows the song's narrative — a story about a man whose selfishness drives his family away — as Kanye dances on police cars, and his guests play to the camera, including one scantily-clad Rihanna.
Kanye and the Barbadian beauty also hooked up over the weekend in Los Angeles to perform during the halftime show of the NBA All-Star Game. Rihanna performed a medley of her hits, including "Umbrella" with a massive string section and "What's My Name" with Drake, then 'Ye joined for "All of the Lights." Watch below.
What do you think of 'Ye's "All of the Lights" clip, and his NBA cameo? Tell us in the comment section.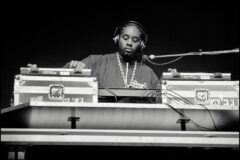 Kanye, "All of the Lights" video:

Rihanna, Kanye, and Drake perform at NBA All-Star Game:
https://www.youtube.com/embed/2bsbE8TzLXg?rel=0