As Gangrene, the duo of DJ/producer/MCs the Alchemist (of Dilated Peoples fame) and Oh No (from the Stones Throw Records crew) concoct a delirious, chaotic hip-hop mess on their debut full-length, Gutter Water (Decon). Album highlight "Take Drugs" has an insane new video — watch it below.
In the clip, the duo kidnap a pizza delivery guy and subject him to all forms of torture, including forced drug taking, some of it dished out by a latex-clad dominatrix. A terrifying, porcine-faced shirtless man ends the action with a double-barreled shotgun blast. Throughout, iPhones taped across the victim's mouth display video footage of the MCs dropping rhymes — a clever touch by director Jason Goldwatch.
"[We] just wanted to keep you and your eyes on the edge of their seats, keep the visual vocabulary constantly new," Goldwatch tells SPIN. As for the completely trippy imagery, the director quips: "What, you never ate LSD in a dark room?"
The song brazenly glorifies pill-popping and dope smoking, albeit in a cartoonish fashion, but neither MC has any regrets. "This is no different than songs on the radio about getting wasted at the club, or videos with drugs in it," Oh No says. "Nowadays, everybody has some type of drug in their system, so, c'mon, take some drugs."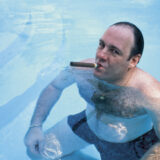 Adds the Alchemist: "I like being brazen."
Watch "Take Drugs" below — Gutter Water streets Nov. 23, and can be pre-ordered here.
WATCH: Gangrene, "Take Drugs"