The five young ladies in Swedish quintet Those Dancing Days are stylish, precocious, and have been crafting poppy yet unbridled Scandiland garage rock since their solid 2008 debut In Our Space Hero Suits. Now, they're returning with a sophomore album, Daydreams and Nightmares (out March 1 on Wichita) — watch the world premiere of the video for the album's first release, "Fuckarias," below.
Like their songs, the video is simple but brash, with each band member rocking out as singer Linnea Jönsson croons into the camera with a smoky deadpan stare, her vocals delivered with a bit of tossed-off rock star nonchalance.
And while the song's title, "Fuckarias," feels confrontational, it's really just a working title from their recording sessions that stuck, bassist Mimmi Evrell explains. "I don't think any of us knows what it means — it's just a word," she says. "The song is about when you meet and talk to people and you realize that you really don't want to be there."
Evrell says Daydreams and Nightmares represents the sum total of their experiences getting out in the world behind their debut: "All the new bands you meet, the music you hear. The long hours in the van. Countless hotel nights in different cities around the world. The shows. And probably most important is that we have gotten to know each other this well along the way. Everything added up to what now is our second album."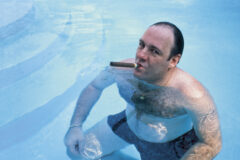 Watch the video for "Fuckarias" below, then head over to the band's official site to download a package that includes the "Fuckarias" MP3, cover art, band photos, and more.
WATCH: Those Dancing Days, "Fuckarias"