L.A.'s leading pale-faced soulster Mayer Hawthorne plays the majority of instruments on his 2009 self-produced debut, A Strange Arrangement, which helps explain why his throwback R&B is still holding listeners' attentions a year later. Also responsible are the songs' playful videos, like the just-released clip for "Your Easy Lovin' Ain't Pleasin' Nothin.'" Watch it below.
"It's all one shot, no cuts whatsoever," says co-director Henry DeMaio, who has helmed three other videos for Hawthorne. "We had this concept of a Bob Fosse-style dance number and we started building from there. We did around 15 takes, and the last one is actually the one you see."
The clip shows a troupe of swim-suited ladies dancing circles around Hawthorne, who sports a sharp gray suit and sneakers by a pool in the lush hills of L.A. 'burb Alta Dena. A hand-held camera follows the stiff singer and his lithe ladies around the grounds and, eventually, into the pool.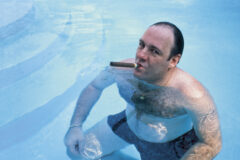 The song itself is one of Hawthorne's most upbeat-the summer-ready opposite of his breakthrough heartbreaker, "Just Ain't Gonna Work Out," featuring bubbly organ and blurts of baritone sax.
Meanwhile, Hawthorne and his live band the County are currently doing the European festival circuit and return to the States August 14 for Denver's Mile High Music Festival.
Watch the video, then let us know your thoughts in the comments section.
Watch: Mayer Hawthorne, "Your Easy Lovin' Ain't Pleasin' Nothin'"https://www.youtube.com/embed/RAxBdYM8opg