Damon Albarn has leaked a second sneak peek of the forthcoming Gorillaz album, Plastic Beach (out March 9), posting a stream of "Superfast Jellyfish" on YouTube — listen here!
The track features Super Furry Animals frontman Gruff Rhys singing a sunshine-drenched pop hook and De La Soul dropping verses over a thudding hip-hop bassline — recapturing the winning formula of "Feel Good Inc." off Gorillaz' 2005 album, Demon Days, which also included a cameo by De La Soul.
With their album release date less than a month away, the band has ratcheted up their online promotional blitz: Earlier this week, a post-apocalyptic video game starring the band's animated characters appeared on the official Gorillaz site, and the band offered up a free stream of lead single "Stylo," featuring Mos Def and Bobby Womack, last month.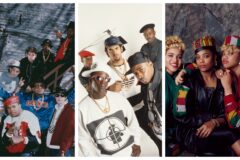 Albarn is set to bring the Gorillaz live show to April's Coachella festival in Southern California, joining Muse and Jay-Z as the event's headliners.