Blur's short-lived reunion is kaput, so the limelight is shifting from singer Damon Albarn to his virtual band Gorillaz. The animated quartet's third studio album, Plastic Beach, is now confirmed to drop on March 9 — but its lead single, "Stylo," featuring Mos Def and Bobby Womack, just leaked online. Listen below.
"Stylo" finds Gorillaz in their signature dub and trip-rock sound, but now with more flowing soul grooves and vocals. The single will officially release online on January 26.
As previously reported, puppet masters Albarn and comic book guru Jamie Hewlett also recruited Snoop Dogg, Lou Reed, the Bee Gees' Barry Gibb, and more for Plastic Beach, Gorillaz's first release since 2005's twice platinum Demon Days.
But there's more! The Fall's Mark E. Smith and Super Furry Animals' Gruff Rhys are also confirmed to appear, as well as De La Soul, who contributed to Demon Days' lead single "Feel Good Inc." Mick Jones and Paul Simonon of the Clash even reunited for Plastic Beach's title track.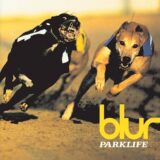 For the new release, Hewlett, a.k.a. the artist behind Tank Girl, has a brand new story for the group. "The band have taken up residence, recording on a secret floating island deep in the South Pacific, a Plastic Beach HQ, made up of the detritus, debris and washed up remnants of humanity. This Plastic Beach is the furthest point from any landmass on Earth; the most deserted spot on the planet."
On April 18, Gorillaz will leave their garbage-ridden home to headline the final night of Coachella in Indio, CA. See the complete lineup here.
Until then, listen to "Stylo," then tell us what you think in the comment section below.
Gorillaz, "Stylo," feat. Mos Def and Bobby Womack
https://www.youtube.com/embed/ZEhUsdaTavw
Plastic Beach tracklist:
1. Orchestral Intro (featuring Sinfonia ViVA)
2. Welcome To The World Of The Plastic Beach (feat. Snoop Dogg & Hypnotic Brass Ensemble)
3. White Flag (feat. Kano, Bashy & The National Orchestra For Arabic Music)
4. Rhinestone Eyes
5. Stylo (feat. Bobby Womack & Mos Def)
6. Superfast Jellyfish (feat. Gruff Rhys & De La Soul)
7. Empire Ants (feat. Little Dragon)
8. Glitter Freeze (feat. Mark E Smith)
9. Some Kind Of Nature(feat. Lou Reed)
10. On Melancholy Hill
11. Broken
12. Sweepstakes (feat. Mos Def & Hypnotic Brass Ensemble)
13. Plastic Beach (feat. Mick Jones & Paul Simonon)
14. To Binge (feat. Little Dragon)
15. Cloud Of Unknowing (feat. Bobby Womack and Sinfonia ViVA)
16. Pirate Jet