Jay-Z, Muse, and Gorillaz are the confirmed headliners for the 2010 Coachella Valley Music & Arts Festival, set for April 16-18 in Indio, California.
The lineup, just announced this morning, also includes two big reunions: Indie rockers Pavement, who will make their first U.S. appearance of 2010 at Coachella, and Faith No More.
Take a look back at our epic photo gallery from Coachella 2009, including pics of Paul McCartney, the Killers, Yeah Yeah Yeahs, M.I.A., and many more!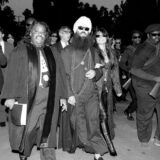 LCD Soundsystem, Them Crooked Vultures, Vampire Weekend, Grizzly Bear, Passion Pit, and Yeasayer join Jay-Z on the Friday, April 16 bill.
Saturday's lineup, supporting Muse and Faith No More, includes MGMT, Tiesto, the Dead Weather, Hot Chip, Devo, Dirty Projectors, and the xx.
Joining Gorillaz and Pavement on Sunday will be Thom Yorke, Phoenix, Spoon, Julian Casablancas, Sunny Day Real Estate, Florence & the Machine, and many more.
Tickets go onsale this Friday, January 22, at 10 A.M. via Ticketmaster and Coachella.com. Three-day passes run $269, plus surcharges.
Here's the full day-by-day breakdown of the Coachella 2010 bill. And to check out the best & worst moments of Coachella '09, click here.
FRIDAY APRIL 16: Jay-Z, LCD Soundsystem, Them Crooked Vultures, Vampire Weekend, Deadmau5, Public Image Limited, The Specials, Grizzly Bear, Passion Pit, Echo and the Bunnymen, Benny Benassi, Fever Ray, Grace Jones, She & Him, Erol Alkan, The Avett Brothers, Calle 13, The Whitest Boy Alive, The Cribs, La Roux, Yeasayer, Lucero, DJ Lance Rock, The Dillinger Escape Plan, Proxy, Ra Ra Riot, Deer Tick, Wolfgang Gartner, Aeroplane, Iglu & Hartly, Sleigh Bells, P.O.S., Baroness, Hockey, Little Dragon, White Rabbits, Wale, Kate Miller-Heidke, As Tall as Lions, Jets Overhead, Alana Grace, Pablo Hassan.
SATURDAY, APRIL 17:Muse, Faith No More, Tiësto, MGMT, David Guetta, The Dead Weather, Hot Chip, Devo, Coheed and Cambria, Kaskade, 2Many DJ's, Major Lazer, Dirty Projectors, Gossip, Z-Trip, The xx, John Waters, Les Claypool, The Raveonettes, Mew, Sia, Camera Obscura, Tokyo Police Club, Porcupine Tree, Old Crow Medicine Show, Aterciopalados, Bassnectar, Frightened Rabbit, Dirty South, Flying Lotus, Corinne Bailey Rae, Pretty Lights, Shooter Jennings, RX Bandits, The Almighty Defenders, Edward Sharp and the Magnetic Zeros, Craze & Klever, Zoe, The Temper Trap, Portugal. The Man, Band of Skulls, Girls, Beach House, Steel Train, Frank Turner.
SUNDAY, APRIL 18:Gorillaz, Pavement, Thom Yorke, Phoenix, Orbital, Spoon, Sly and the Family Stone, De La Soul, Julian Casablancas, Plastikman, Gary Numan, Charlotte Gainsbourg, Sunny Day Real Estate, Yo La Tengo, MUTEMATH, Deerhunter, Infected Mushroom, Club 75, Matt & Kim, The Big Pink, Gil Scott-Heron, King Khan and the Shrines, Florence and the Machine, Yann Tiersen, Little Boots, Miike Snow, Talvin Singh, Ceu, B.o.B., Babasonicos, Owen Pallett, The Glitch Mob, Mayer Hawthorne, Local Natives, Rusko, The Middle East, Hadouken!, The Soft Pack, Kevin Devine, Paparazzi, Delphic, One EskimO.