Now here's one for the hippies and the hipsters: Vermont jam band gods Phish covering indie rock illuminati TV on the Radio at their Albany, NY, gig on Nov. 27. Watch a video snippet below, and head to LivePhish.com for the entire MP3.
Phish are known for their covers: they ripped through renditions of AC/DC's "Highway to Hell" and the Beatles' "A Day in the Life" at Bonnaroo, and played the Rolling Stones' Exile on Main Street front-to-back at their annual Halloween freak out.
But Friday night's gig was their first foray into indie-dom, transforming "Golden Age"'s jittery rhythms and propulsive choruses into an angelic, 10-minute jam out that surely had many Albany Phans spinning in — cough, cough — ecstasy.
Buy why TVOTR? Well, for starters, the lyrics certainly fit the vibe: "All this violence / All this goes away / The vibes that rise like / Fireflies illuminate our play … In perpetual embrace / Like I said 'Love's Light is Laughter' / Your arms in the air stir a sea of stars."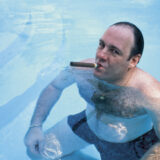 Contact high!
So, SPIN readers, what do you think of Phish's cover of "Golden Age"? Pretty awesome, right? Tell us in the comment section.
WATCH: Phish, "Golden Age" (TV on the Radio cover)
https://www.youtube.com/embed/DMjBL-ZsFFw