In a candid new video interview, Nine Inch Nails' Trent Reznor disses Weezer and Prince, discusses his possible collaboration with TV On the Radio's Dave Sitek, and is moved to tears when detailing NIN's future.
The fan-conducted Q&A was spurred by Reznor's recent interview with Digg.com, which, he noticed via a plethora of online comments, many of his fans were unsatisfied with. So Reznor opened up to fans on Echoingthesound.org and official site NIN.com, and agreed to do a web cam interview with questions of their choosing.
The taped discussion starts out with an awkward online date vibe — the interviewer nervously confessing it's his "first time" and Reznor issuing a disclaimer about being in a "weird hotel room in Florida." But things quickly get intimate, with Reznor explaining his decision to make the band's current tour its last (having reached the 20 years in the biz mark) — which makes the NIN man tear up.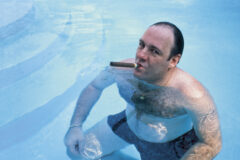 "For my own mental health I need to put more effort into being stationary and really trying to make Nine Inch Nails a precious thing. Nine Inch Nails is not done putting out music of some sort but we are done touring," he said. "I'm trying not to become a parody of myself…I need to keep it cool. I watch my peers spin off into doing stupid shit to try to desperately stay relevant and cash in, regardless of what you think of Nine Inch Nails…I knew when to say no."
Later, he reveals that he's been talking to TV On the Radio's Dave Sitek about a collaboration — explaining that he'd like Sitek to have complete control of production, while he acts as "the submissive generator of ideas."
But Reznor hasn't lost all of his bark and bite. He took time to talk smack about former label Interscope, as well as confess to a desire to "torment" fans by withholding tasty NIN details: "I'm trying to fuck all of you," he joked.
And he also panned Prince and Weezer.
"I'm not Prince or Rivers Cuomo who brags about having hundreds of great songs," Reznor said. "And to that I would say, Prince, if you have a hundred great songs or a thousand, how about picking a few and putting them on your record because your last several have sucked. Same for you, Rivers. I say that constructively, you know. I might be happy and engaged, but I can still be a prick. "
https://player.vimeo.com/video/4513462