U2's new record, No Line on the Horizon, isn't out until tomorrow, but the Irish rockers already have plans for another!
The band told The New York Times they plan to release a companion album before the end of the year, which will have a more "meditative and processional" tone and will feature music drawn from the same recording sessions as No Line. Bono previously told NME that the band original planned for a dual release: "We were going to release two EP sets, Daylight and Darkness; we had all these ideas, but in the end we just took the best songs and made the one record." [Via Guardian]
Meanwhile, U2 are continuing to support No Line on the Horizon. Tonight they begin a five-night residency on Late Night with David Letterman.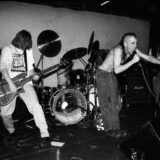 And this past weekend in London, the guys paid homage to the Beatles, playing a surprise gig on the rooftop of the BBC Broadcasting House. Passersby were treated to new tunes ("GOYB" and "Magnificent"), hits ("Beautiful Day" and "Vertigo"), and covers (The Who's "Substitute" and The Beatles' "She Loves You.")