Usually, talk of selling nude keepsakes from music's biggest stars is accompanied by statements such as, "I was told they'd be tastefully done," "I didn't know there was film in the camera," or the ever-popular, "It was pivotal to the plot."
This time around, however, it's all for charity. Girl-on-girl sensation Katy Perry has joined the likes of Sonic Youth's Kim Gordon, Iggy Pop, and Devo, contributing to an eBay charity auction organized by the Keep a Breast Foundation, whose mission is to help eradicate breast cancer. Her offering? A cast sculpture of her breasts painted by boyfriend Travis McCoy of Gym Class Heroes [via NME.com].
Perry's boobs are set to hit the auction block November 26. Gordon, Pop, and Devo's contributions are currently for sale now. Click here to make your bid.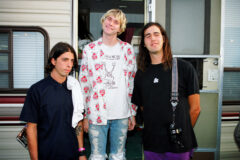 Maybe the good deed will distract from Perry's controversial silverware antics?