Since its current six-piece lineup solidified in 2004, Wilco has often gone out of its way to challenge itself in every aspect of its creative and professional existence. After all, this is a band that gave away 2009's Wilco (The Album) for free online after an early leak, has quickly recorded and released genre exercises like last year's Cruel Country when inspiration strikes, and played 20 covers all at once for the first time in front of a festival crowd.
But just as the Jeff Tweedy-led band was never further from its comfort zone than when working with producer Jim O'Rourke on mold-breaking classics such as 2001's Yankee Hotel Foxtrot and 2004's A Ghost Is Born, a new outside voice again proved crucial in corralling more than 30 songs into something weird, satisfying, and beautiful for Wilco's 13th studio album, Cousin, which arrives Sept. 29 on its own dBpm label.
A 10-piece omakase of Wilco's classic folk- and pop-tinged songcraft expertly paired with the forward-looking experimentalism of the O'Rourke years, Cousin was produced by Welsh musician/producer Cate Le Bon. She met Wilco for the first time at the 2019 edition of the band's bi-annual Solid Sound Festival at MASS MoCA in North Adams, Ma., and was welcomed later that year to its Loft studio in Chicago's Irving Park neighborhood to record a cover of A Ghost Is Born's "Company in My Back" for an Uncut magazine compilation.
Speaking over Zoom before a recent soundcheck in Dublin, Tweedy, 56, says the idea this time around was less to enlist a "producer" per se than simply to collaborate more closely with Le Bon, whose own music shares a kind of low-key, quirky intimacy not far removed from Wilco's. Having been much more inspired of late by music made by women, Tweedy felt a natural desire to open up the band to Le Bon's fresh perspective and ideas about the material, some of which had already been partially recorded and assembled into the rough framework for a new album before Wilco hit pause and pivoted to make the more straightforward Cruel Country instead.
"There aren't a whole lot of white male rock groups that feel vibrant in any way to me," Tweedy says. "I don't know what they're singing about. I don't know what they're angry about. I don't know what they care about other than maintaining and protecting their status, and I don't want that to be the way Wilco looks at itself. It felt really right to ask a woman to produce a record for us because it was an honest way to surrender some of those assumptions."
Before the "out of the blue" invitation to do so last year, Le Bon had been purposefully trying to just enjoy the nascent friendship with Wilco's members on its own merits, rather than imagining what it might be like to one day collaborate with them. "I was so grateful that our paths had crossed and that we were fostering a lovely musical connection and friendship, that I didn't consider wanting more," she writes over email. Still, she replied with an immediate yes when the opportunity came. "I like to take a minute to digest and think about the reality of the fruitfulness of such a collaboration beyond want and flattery, but knowing what a considerate and thoughtful human Jeff is, I trusted that he had already done that," she says.
Le Bon had her work cut out for her to sort through the material, at least song of which dated back eight years. "Jeff sent a folder of songs that, as I understood it, had never found a home on a record, or were stuck someplace and needed a new light shed on them," she recalls. "I tried to be intuitive with choosing songs. Some immediately resonated, but others I hadn't shortlisted would get stuck in my head too. It wasn't easy whittling it down."
By the time she joined Wilco at the Loft, Le Bon was prepared to a level that quickly impressed the band. "Cate came in knowing every lyric and every chord. She knew how to play the songs, and she had very clear-cut ideas," says drummer Glenn Kotche, who joined Wilco in 2001 after being introduced by O'Rourke to Tweedy during the troubled making of Yankee Hotel Foxtrot. "Even when she didn't know what she wanted, she knew how to get there. I've never really worked with a producer who was that hands-on and knew the material inside and out. She really was instrumental in sculpting these songs into what they are."
And sculpt she did, suggesting only minor but important touches to some songs while completely reinventing tracks like "Ten Dead," which morphed from its original ragged, Crazy Horse-style feel into a slow-building, piano-led gut punch, and "Soldier Child," which Tweedy envisioned as big and echo-y in a Phil Spector way before Le Bon recast it as a wry, strummy number with '70s Southern California overtones.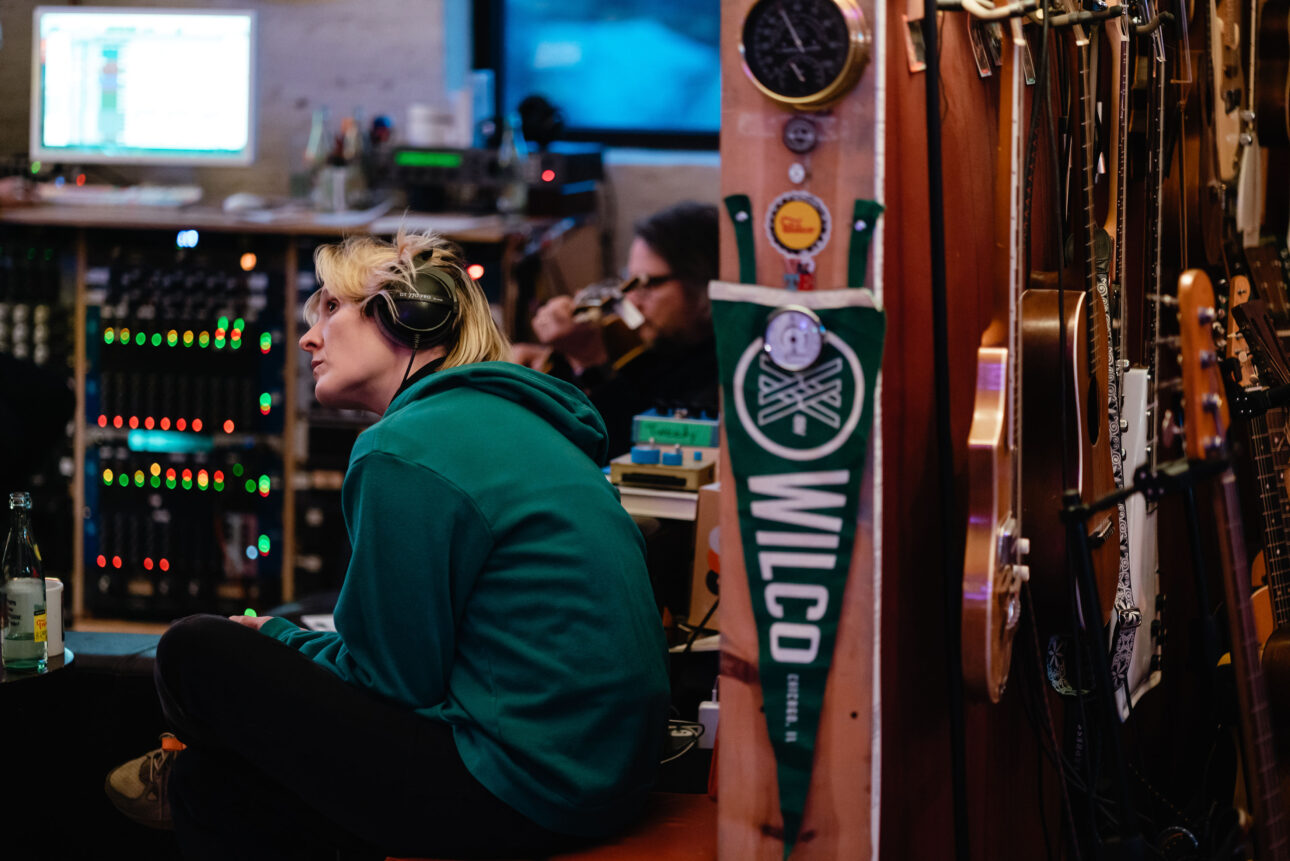 Tweedy, Kotche, and lone original member/bassist John Stirratt recorded together as a guitar/drums/bass trio for a couple of numbers, but more often than not, Tweedy and Kotche cut the basic tracks as a duo, or Kotche would play to a click track atop an existing guitar bed. Overdubs from lead guitarist Nels Cline and multi-instrumentalists Mikael Jorgensen and Pat Sansone came later, and Le Bon sprinkled vintage drum machines, guitars imported from Japan, rattles, chimes, digital noise, a 40-inch gong, and a host of other ear-pleasing, texture-building production touches throughout, giving Cousin the beguiling sonic variety beloved by fans of Yankee and Ghost.
A spiritual successor of sorts to Ghost's "At Least That's What You Said," "Infinite Surprise" opens the album with noisy swirls and click-clack percussion before the entire mix is overwhelmed by electronic circuitry manipulation, while "Sunlight Ends" burbles with ping-ponging, treated guitars, Kotche's rototom accents, and a hazy, dream-like countermelody. Even the most traditionally Wilco-sounding song, the jangling first single "Evicted," undulates with heretofore unheard ribbons of 12-string arpeggios.
Elsewhere, the resplendent, alternate-tuned guitars on "A Bowl and a Pudding" feel beamed in from Pink Moon-era Nick Drake, and the galloping beat and triumphant melody of closer "Meant To Be" favorably compare to none other than ABBA, whose "Waterloo" Wilco actually covered in 2013. "I think it's unique and really special and I really love it, but I've honestly felt that way about every record," Tweedy says of Cousin, which will likely yield a separate EP's worth of songs completed during the sessions but left off the final tracklist. "I wouldn't bother, honestly, if it wasn't what we were hoping to achieve each time, which is to make a record that sounds like Wilco but hasn't already been made by Wilco."
Both Tweedy and Kotche acknowledge that it's rare for a band this far along in its career to surrender so much of the decision-making to a brand-new collaborator, but they believe the results speak for themselves. "I give Jeff a lot of credit because he happily took a backseat," Kotche says. "When you're in that role, in the same studio, with the same band, and you're at the helm producing the records for so many years, it couldn't have been easy to hand it off blindly to Cate and let her do her thing."
"I actually really feel like I was fucking great at surrendering," Tweedy adds with a hearty laugh. "I pat myself on the back because I didn't feel there was any point in having Cate be there without letting her be her and having her make things different than how I pictured them."
For her part, Le Bon relished "embracing the curiosity and pulling things apart and rebuilding them as a team. Jeff has a beginner's mind. He can access the heart of something without being sunk by expectation or projection. He continues to only make music that excites him, which is infectious to be around and which ignites the band and energizes him. It's a beautiful unit of power."
The themes of Cousin are more difficult to pin down, as, in frequent Wilco fashion, the vibe of the music can be at odds with the apparent subject matter of the lyrics. Tweedy vacillates between inscrutable turns of phrase and heartfelt declarations of love and solidarity, but for the most part, there's very little sugar-coating going on here. Even when the subject owns up to bad behavior ("I'm evicted from your heart / I deserve it"), you're never quite sure if he's actually going to do anything about it beyond a one-off apology.
On "Pittsburgh," which Wilco unsuccessfully attempted to record for 2019's Ode to Joy, the narrator casually reveals, "I've always been afraid to sing / somehow that's all I do, strange as that seems / I've outlived my dreams," and there are further existential ruminations on "Levee," which boasts nakedly honest lines such as "I love to take my meds / like my doctor said / but I wonder / if I shouldn't instead." The disconnect between sound and vision is most striking on "Ten Dead," where he matter-of-factly relays a news report of yet another mass shooting before deciding to go right back to bed.
"We all walk around tolerating this intolerable situation," he says of America's gun violence epidemic, which hit home in 2019 when his family's house was sprayed with multiple gunshots from an unknown shooter in the middle of the night, in an apparently random incident. "It just becomes a part of our daily background atmosphere that we live with these things that are absolutely insane to live with. The sane response is to go crazy [Laughs]. It would be to go fucking nuts and go on a hunger strike or something, but most of us choose an insane reaction, which is, well, can't do anything about it. Nothing's ever gonna change, you know? To be completely blunt, that's the equation we're all sort of willing to make without discussing it that way."
"But that doesn't mean it doesn't really fucking affect you," he continues. "It does. It hurts to feel that ineffectual. It hurts to be in a society that fosters a dissociative state as a way to cope. That's kind of what a lot of the record seems to be about to me, without maybe explicitly putting it there. There's a certain detachment from the surroundings. If I look at the singer as the personality or the person, they don't always seem to be relating to the environment of the music."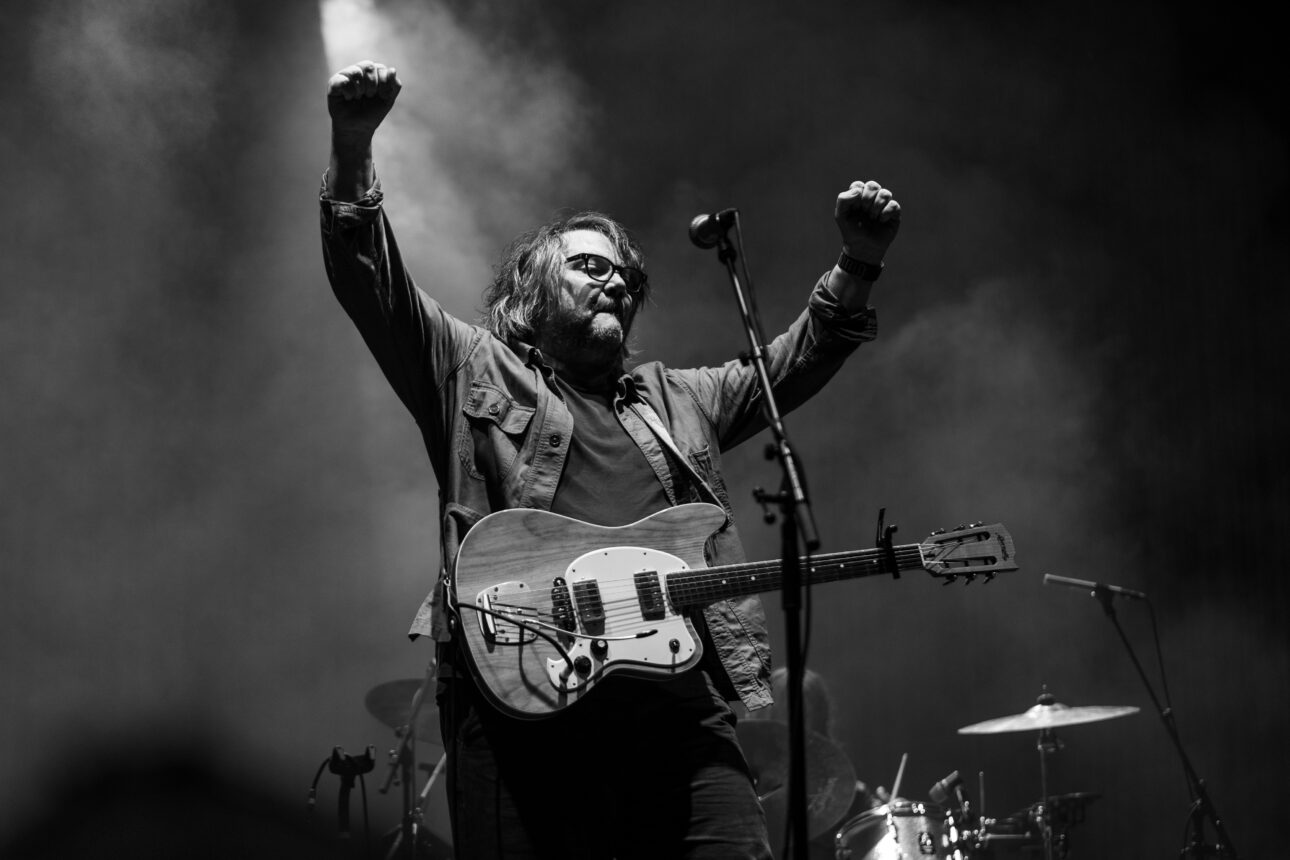 To that end, Wilco is planning to gradually work the challenging Cousin material in blocks into its ever-changing live sets, which will require Kotche to boil down his Le Bon-encouraged, overdub-heavy playing on record into something more streamlined on stage. "Samplers, live drums, pitched percussion – I love figuring out the challenge of how to do it all," he says. "I'm going to have to do some serious work the week we're off between tours."
Tweedy and Kotche agree that this tireless pursuit of something new is what's keeping Wilco vibrant nearly 30 years in, and why Cousin was well worth its protracted gestation process. "We're still growing," Kotche says. "We're still interacting in different ways as musicians and artists with each other. There's still so much potential with this group of people, and I don't think it has been fully explored to any extent. It's always fun to say, what can we do next? What will we do next?"
"There's a lot of things to be fucking grateful for in a band like Wilco for 30 years, and there aren't a whole lot of other bands that I can look to that have a similar arc," surmises Tweedy, whose third book, World Within a Song, is due Nov. 7. "What's fun is that I think we legitimately enjoy it. Every day when we have a show on the road, we get together in a room about two hours beforehand and rehearse with just the bare minimum of gear. It's my favorite part of the day because Wilco's able to play all of our material at a whisper volume and it still sounds like us. I sometimes wish people could file past and peek in the door, and that would just be the show. It's really uniquely the essence of Wilco. These songs are being cared for and curated by a bunch of sensitive people that really love the task."