Mike Kerr and Ben Thatcher of the U.K. rock duo Royal Blood are the guests on the latest installment of the Lipps Service podcast. Sitting down with host Scott Lipps, the duo discussed Royal Blood's latest album, Back to the Water Below, its fourth No. 1 in the U.K. They also shared what it's like to perform as a two-man band and their relationship with legendary Led Zeppelin guitarist Jimmy Page.
The Royal Blood bassist and drummer looked back at the band's early days in Brighton's vibrant music scene, what it was like to self-produce and experiment in their own studio while making the new album, and their experience getting signed by Warner Music. They also ranked their top five favorite New York pizza shops.
On the previous Lipps Service episode, Lipps sat down with emo pioneer Jim Adkins of Jimmy Eat World, who shared his admiration for up-and-coming alternative rock bands, the story behind the bidding war for the band's iconic Bleed American, and what it was like performing with Taylor Swift.
Since it began in 2018, the acclaimed podcast has featured many of the biggest voices and personalities in music, including exclusive interviews with Red Hot Chili Peppers singer Anthony Kiedis, David Lee Roth, Shepard Fairey, Courtney Love, Dove Cameron, Mick Fleetwood, Nikki Sixx, Perry Farrell, and many more. Every few weeks, a new episode of SPIN Presents Lipps Service is available wherever you listen to podcasts.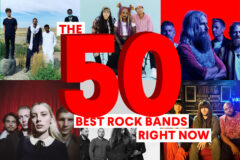 Check out Lipps Service on YouTube, Instagram, TikTok, and Facebook.