If your favorite Bad Seeds album is Ghosteen, Nick Cave agrees with you.
"By any metric, [it's] the best album the Bad Seeds have ever made," he said of the 2019 record in the latest edition of his Red Hand Files newsletter. He also stands by "From Her to Eternity" (from the Bad Seeds' same-named 1984 debut album) as the band's best early song, "primarily because of Blixa Bargeld's extraordinarily eccentric guitar playing."
Cave shared the revelations after several new listeners asked where to start with his vast catalog, after discovering the artist following his appearance on The Louis Theroux Podcast.
"I have to confess, whilst I know the name Nick Cave and the Bad Seeds, I've not taken the time to listen to your catalogue. … can you recommend a chronological list of songs to help me get started?" wrote one person. "I am completely confused by your music. Can you help me? What should I listen to?" asked another.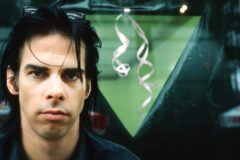 In response, Cave shared additional thoughts about his material. The song he "loves the most" is "Sad Waters" from Your Funeral, My Trial. He said that the simplicity of "Brompton Oratory" ("recorded in one take on a Casio I found in a junk shop") is superior to "The Mercy Seat" ("which took months to write, weeks to record and had multiple 'producers' mix it").
As far as lyrics go, Cave said "The Spinning Song" … "might be as good as I can do," though he adds, "I have a soft spot for the amphetamine-fueled lyrical lunacy of 'The Curse of Millhaven,' as does my wife, Susie." Cave also said he "would prefer to listen to the album Nocturama than Dig, Lazarus, Dig!!! any day of the week."
Cave admitted he may not be the best person to help new listeners dig through his archives and instead called on his devoted fanbase to help, asking them to submit playlists he'll share in future editions of The Red Hand Files. Read the full newsletter here.
"I know that actual Nick Cave fans out there, who have a long and hard-earned understanding of my music, would disagree with much of this stuff," he said. "So, I wonder if those fans could help us out by writing in with a 15-song playlist of the Best of Nick Cave, and perhaps you could add your age, just for interest's sake. … It would be a lovely act of kindness … to welcome them and give them some idea of where to start."
In September, Cave will embark on a rare solo tour across the U.S., supported by Radiohead's Colin Greenwood. Also in September, publisher Picador will release a paperback edition of Faith, Hope & Carnage, a collection of conversations with Cave and Irish journalist Seán O'Hagan.