Michael Imperioli may be best known for his acting work on beloved TV series such as The Sopranos and The White Lotus, but he's also a lifelong music fan who has played in a variety of bands, including his current outfit, ZOPA.
Imperioli is the latest guest on the SPIN Presents Lipps Service podcast. In conversation with host Scott Lipps, the 57-year-old New York native discusses his early love of classic rock, an awkward meeting with the notoriously cranky Lou Reed, the music of The Sopranos, and the origin story of ZOPA, whose debut album, La Dolce Vita, was released in 2021.
Imperioli also talks about his experiences on the set of The White Lotus in Sicily, what he really did with the Emmy he won in 2004, and what it's like to work with some of the most respected actors of all time.
On the previous Lipps Service episode, Mod Sun discussed his Minnesota upbringing, his relationships with Machine Gun Kelly and Travis Barker, and his place in the current pop-punk revival.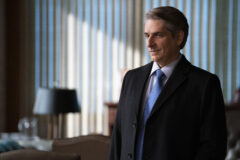 Since it began in 2018, the acclaimed podcast has featured many of the biggest voices and personalities in music, including exclusive interviews with Red Hot Chili Peppers singer Anthony Kiedis, David Lee Roth, Shepard Fairey, Courtney Love, Dove Cameron, Mick Fleetwood, Nikki Sixx, Perry Farrell, and many more. Every few weeks, a new episode of SPIN Presents Lipps Service is available wherever you listen to podcasts.