In 2016, Trevor Powers announced the end of Youth Lagoon: "There is nothing left to say through Youth Lagoon. It will exist no more." He continued to make music under his given name, taking on an experimental approach for his self-releases, no longer restricted by trying to fit the project's electronic pop-slanted sound. After nearly seven years, Powers made an unexpected move: he brought the project back.
"When I had killed it off, I felt so limited by that name because it had drawn me into an identity that I no longer related to. Because of that, the only way I felt [I could] find out where all these new parts of my brain [were going] and how far I can stretch things was to burn that whole thing to the ground," Powers says over the phone to SPIN from his Idaho home.
A traumatic medical experience led him back to the project.
In October 2021, Powers had a severe drug reaction to over-the-counter medication that affected his larynx and vocal cords. He spent eight months unable to speak, much less sing. "I would say the first six months were petrifying because I had no way of telling where it was pulling me and where it would end," he says.
Powers sought the opinion of numerous doctors, with none being able to help, and he relied on retaining an optimistic outlook to move forward. Though he was barely able to speak, Powers would force himself to try to sing while playing the piano. "I had these moments where I could sing a little bit and I would sing a couple of words or lines, and that gave me this whole [mentality] of 'If I can put my mind into this space…," he notes, with his thoughts trailing off.
"The true form of self-love is accepting these pieces of ourselves that we've discarded. I learned that in a therapy session. I had a really good counselor who's asking me all the right questions," he recalls. Powers realized he didn't have to separate his multiple sonic interests into different projects; they all equally represent him.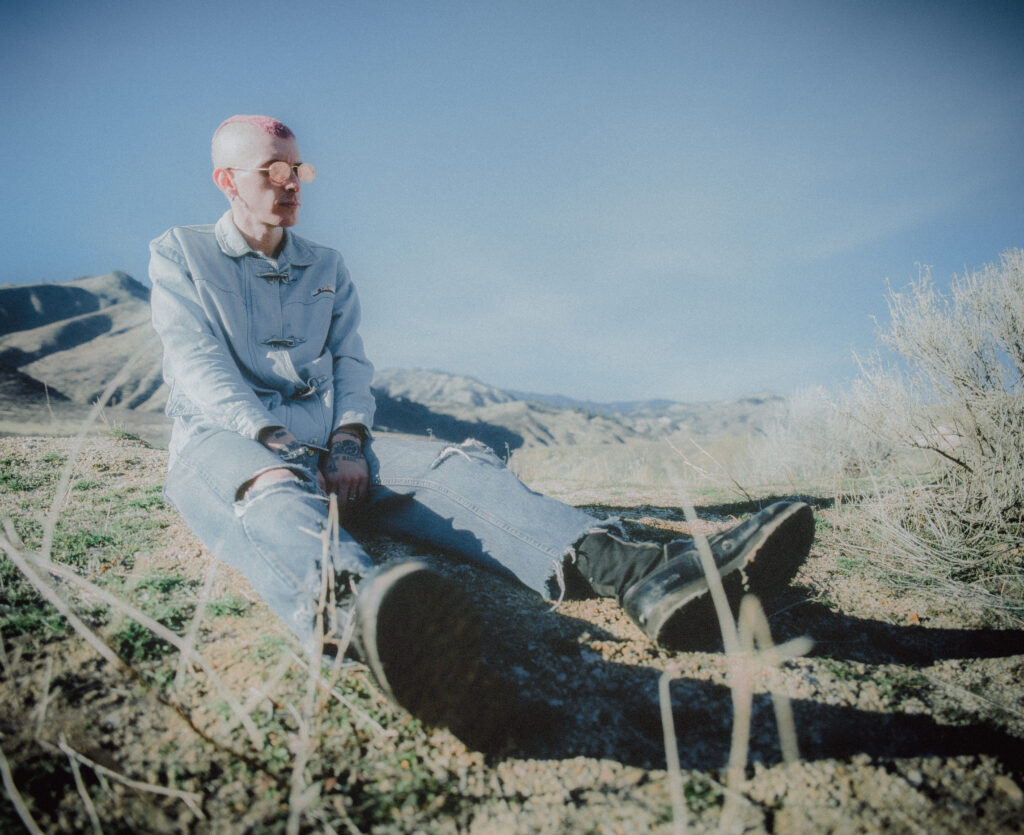 Heaven Is a Junkyard, out now on Fat Possum Records, sounds like a combination of all facets that Powers has shown in his career through Youth Lagoon. It has the electronic elements from Wondrous Bughouse, the more guitar-forward sound from Savage Hills Ballroom, and the minimalist ethereal touches from The Year of Hibernation. But he uses those previous iterations of Youth Lagoon to create something fresh. This version of Youth Lagoon is loud and confident, while still having delicate moments, with rich storytelling about the characters from his hometown and a stunning reflection of perseverance amid adversity.
Powers notes that while some songs tackle his medical experience, namely "Trapeze Artist," it's not the focus of the album. Instead, he drew inspiration from his time off at home, finding beauty in the mundanity of life in Boise.
"There's so much to pull from here that I had never paid attention to [before]," he says. "It was like the numbing potion had worn off and I had finally been able to look around me and see what's going on, how fascinating all of it really is." He enjoys taking walks around his hometown, and having conversations with his neighbors, noting that he's constantly "writing shit down" from those chats.
Throughout Heaven Is a Junkyard, Powers combines elements from his encounters in his hometown with his own memories. There's "Idaho Alien," which pulls from Powers' conversation with a junkie neighbor while also shedding light into his own private moments of despair; "Prizefighter," which was inspired by a VHS viewing of the 1989 film Drugstore Cowboy; "Rabbit," a romanticization of the grittiness of the town, including the eponymous junkyard.
Co-producing with Rodaidh McDonald, who has worked with major names like Adele and The xx, Powers felt that the Scottish producer was the right person to push him for this record. He recalls that at times, he'd head into the studio while not feeling that his voice was in the best condition, chugging alkaline water to "try to put out these fires." McDonald would have Powers sing certain songs on particularly difficult vocal days. It helped the musician tremendously.
"My experiences and what I was going through on an emotional level, on a fear-based level, all of this became so intertwined with the music that even though the album isn't about that experience, it's so inseparable from what the album is because of that, because of these ways of, 'Okay. How do we take this situation that would be so easy to deem bad and make it something beautiful?'" he says.
Powers had tackled the theme of death in his music before, but now, he's no longer afraid of his mortality. His painful experience gave him a new lease on life, learning to appreciate being still standing while grieving his past self.
"I love life so much. And my fear of death is actually gone now because I feel like I've had so many mini-deaths. Even the term mini death almost feels like an understatement because there were a lot of days where I'm like, 'I might fucking die,'" he shares. "Having all these endoscopies and colonoscopies and ER visits and people trying to figure out what's going on, it takes you to this place where, for the first time, and for me, truly for the first time in my life, control did not exist, and all that was left was acceptance. But what I ended up finding was in the acceptance is the control, that is the truest way to face something head-on."