You have to be a total maniac to go to a festival focused on uncommercial, loud, raucous, confusing music in the summer in Austin, Tx. Hopefully, like me, you are a total maniac. Oblivion Access, formerly Austin Terror Fest until 2019, the festival unites Austin's downtown Red River clubs to showcase metal and experimental music, not unlike its punkier ancestor Chaos in Tejas. The States is still lacking in eclectic, heavy-minded destination festivals like this. This year's programming leaned more toward the experimental side, yet there was still a lot of metallic rage to mine that weekend, none of it at odds with the festival's mission to burn any laurels to rest on.
Oblivion's headliners this year included slowcore band Duster and German experimental titans Faust, but the most relevant headliner for this column's readers was industrial metal pioneers Godflesh. They closed out Empire Garage Sunday night and still sounded as crushing as ever. Vocalist and guitarist Justin Broadrick hasn't lost an ounce of venom on "Like Rats" and "Crush My Soul," able to channel youthful napalm without holding onto it too tight. Focusing on newer material like "Nero" and "Landlord" in the beginning highlighted how Godflesh wields underground dance music to sharpen its metallic attack. Broadrick is most known for his screams and strums – his programming is at the heart of the band, and with machines thumping, we were in rapture. Godflesh still presents headbangers a way forward.
Real Broadrick heads, though, were still nursing bangovers from his solo set as JK Flesh Saturday night at Club Eternal. You haven't seen an industrial legend till you've seen him at three in the morning playing the hardest of hard techno, with his computer on a shitty white folding table, on the same level as the audience, barely visible save for a few camera flashes. To slightly paraphrase Sunn O))), maximum volume yielded maximum results. Just a few hours before Godflesh's show, he performed as Final, his ambient project that predates Godflesh, at Central Presbyterian Church. Set in a dim atmosphere save for a liquid light show representing a primeval cosmos, it was an utterly beautiful respite from heat, from anger, from turmoil. Is there a prize for those who hit the Broadrick trifecta during the weekend?
Given his wide reach in metal and electronic music, specifically the convergence of the two, Broadrick's spirit loomed large over Oblivion. As an early member of Napalm Death, his noisy, textual guitar playing had a hand in shaping grindcore. If any band now embodies grindcore as boundary-pushing music, as highly pressurized rage, as just fucking heavy shit, it's Michigan's Cloud Rat (featured in Blast Rites last October), which tore up Austin goth hub Elysium Saturday night. Rorik Brooks doesn't just grind: he thrashes, he calls upon death metal greats, he contorts notes to scream like humans, and he'll splatter with purpose. Like any avant band worth a shit, they'll go out there, yet keep a foot on earth, giving something to hold onto. Their banner proclaimed "Free your mind and the rest will follow" – Goddamn right. Metal's no place to be complacent, musically or otherwise.
The first two of four nights featured showcases from avant-metal label The Flenser, with Thursday's edition, held at Elysium, headlined by Oklahoma City noise-rock sensation Chat Pile (who we conducted an Exit Interview with last year). Their songs document the misery plays of people in decaying America, and kids love moshing to that shit! "The Mask" turned a goth club into a killing floor, and "Why" turned from a precise slashing on record to a barrage of fists live. The latter hits different when the center of Austin's homelessness crisis is just a couple blocks away, an "American horror story, a fucking tragedy" as they so bluntly put it. As all their members toiled in bands for years, they play like they still have something to prove.
When not bludgeoning the audience, Chat Pile, particularly singer Raygun Busch, fancy themselves cinephiles. He loves to talk up Austin-area cinema in particular, showering praise upon Texas Chainsaw Massacre director Tobe Hooper, noting that the Friday the 13th remake was shot in Austin before launching into the Friday-inspired anti-ballad "Pamela," and imploring listeners to visit the gas station featured in Chainsaw in nearby Bastrop. Busch also reminisced about seeing Slacker with his father, especially poignant that former Butthole Surfers drummer Teresa Taylor, who played the movie's iconic "Pap Smear Pusher," died over the weekend.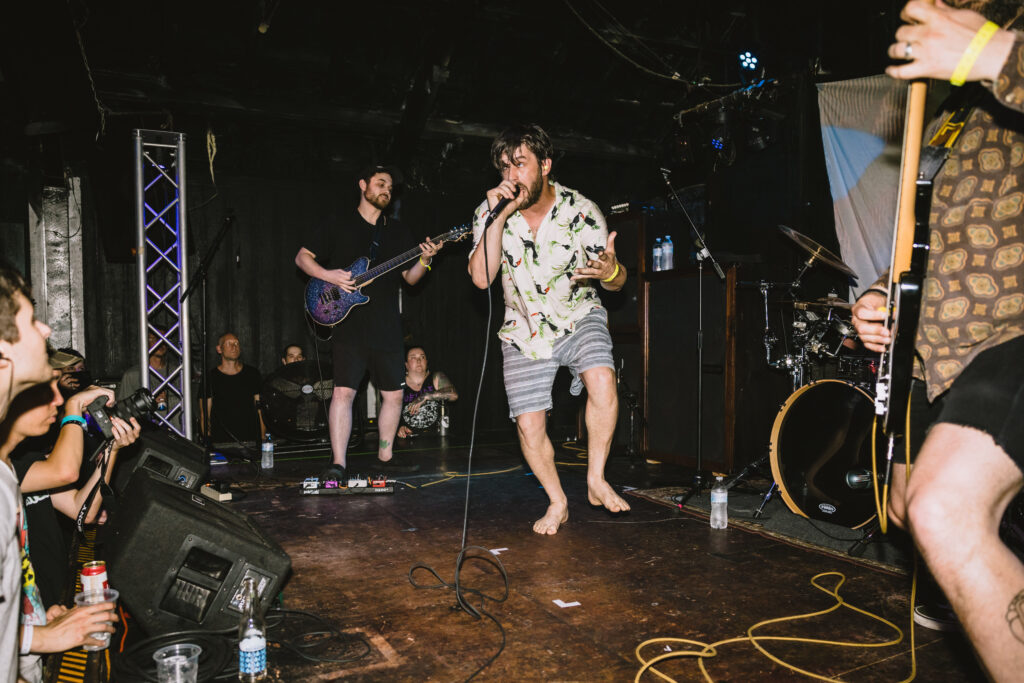 The rest of Thursday's lineup was a thrilling mishmash, with the only commonality being no band sounded the same. Succumb was worth showing up early for – their maze-like, grinding death metal is the perfect balm to rub away anxiety from being immersed in a capitalistic shitgrind day in, day out. Not only were Elizabeth Colour Wheel were only the lone keytar rockers of the fest, but they also proved to be one of the most ferocious bands that night, taking post-metal to its most frenzied ends. Midwife's somber "heaven metal" (featured in this column before) was quite the change from the rest of the heavier bill, yet few cut deep the way she can. She even debuted a couple vehicular-minded new songs, one dedicated to a deceased van, the other to Marvin Heemeyer and his infamous "Killdozer." Gotta mine what you can from a highway-obsessed country.
With some minor cloud cover, the second Flenser showcase at Mohawk was a touch more bearable heat-wise compared to Elysium's goth sweatbox – a touch. Chat Pile's second set, held on the outdoor stage, was delayed due to lightning minutes before they were about to start. Once the storm cleared, they ripped into another rendition of "Why," followed by "Pamela" once again, before going into an abridged version of "grimace_smoking_weed.jpg," the song everyone was wanting to hear the previous night. They cut out the psychotic second half, but the industrial jackhammer of the first half felt especially pounding after the initial delay. "Tropical Beaches, Inc." also made an appearance, the song's comical misery only accentuated by heat and the crowd's collective sweat.
Flenser knows how to pick the next cult bands, and Friday's lineup was full of them. Planning For Burial's Thom Wasluck is a beloved character in the Flenser universe, a loveable grump noted for his massive amp stacks. Though he's cut his teeth at house shows, his "gloom" – what he calls his mix of doom, post-punk, shoegaze, and a whole lot of sadness – translated well to a bigger stage, and he even cracked a smile a couple of times. Succumb drummer Harry Cantwell pulled double duty hitting skins for post-black metallers Bosse De Nage, and a group that changes dynamics on a dime demands primo dexterity. Mamaleek, long one of Flenser's most mysterious acts, pulled off jazzy black metal that wasn't afraid to insert itself in the crowd. Being masked in a Texas summer is enough to show your dedication to your craft is real. Not only that, they were throwing Mamaleek-branded candy at the end of their set. If someone can confirm what the Mamaleek candy was, please send us a piece.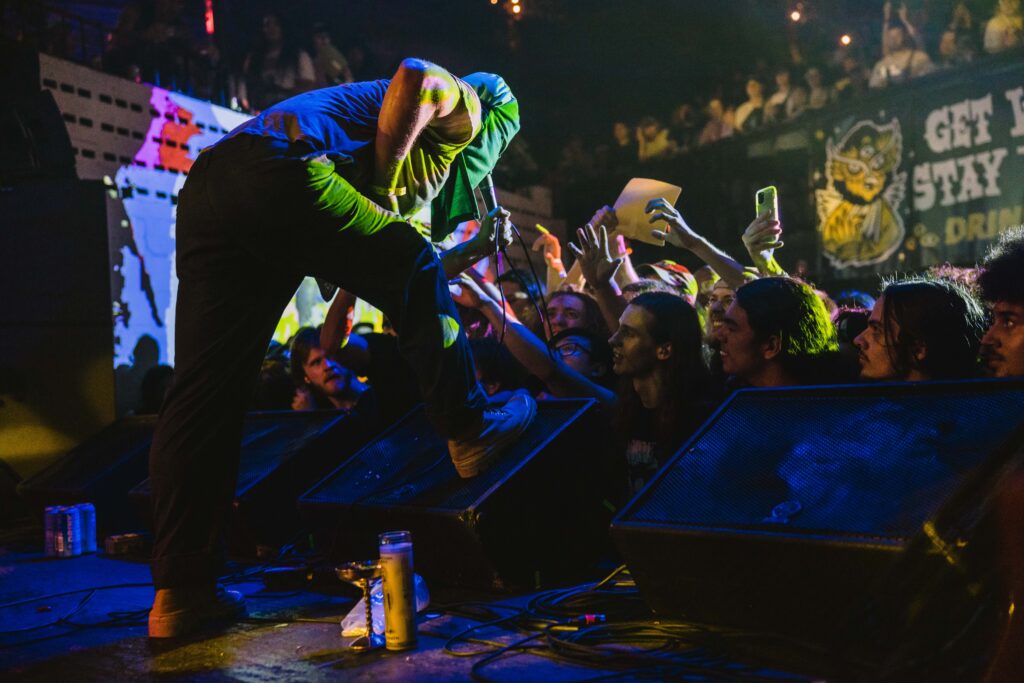 Though largely a celebration of musical innovation, cross-pollination, and refusal to compromise, Oblivion held one goodbye ceremony: one of San Francisco black metal quintet Ludicra's final shows. It's hard to imagine contemporary black metal without Ludicra, whose urbane themes, punk roots, and sneaky nods to metal greats opened up so many more modes for grim expression. They led the charge in freeing black metal from its cold shackles without neutering it. For a band that hasn't put out an album in over a decade and is about to end, they sounded ecstatic to be on stage, especially vocalist Laurie Shanaman, who seemed in perpetual awe that people still give a shit about Ludicra. John Cobbett and Christy Cather's love for traditional heavy metal really shined through, propelling the set into a joyful orbit. It wasn't a nostalgia trip, it was a victory lap, a victory for broadening metal. Even as the American tragedy of…modern America keeps unfolding, Oblivion Access fuels a wellspring of hope that there are and will be more Ludicras. Not bands that sound like them, but bands who carry on the way they did with their own sounds.
Too hot to get to the gig? Here are some killer records from this month…
Godflesh – Purge (Avalanche)
In addition to blistering Austin apart at Oblivion Access, Godflesh also released a new record recently. Purge continues with the more melodic elements of Post Self, while throttling even harder beats than before. They're still Godflesh without having to make Streetcleaner 2.
Boris/Uniform – Bright New Disease (Sacred Bones)
Japan's heaviest rockers Boris and Brooklyn industrial metal mad hatters Uniform team up on Bright New Disease. Boris encounters a darkness not seen since their earliest works – fans of Flood and Amplifier Worship, get stoked. Uniform gets rockier, like if d-beat bands were way more into the Stooges.
Memorrhage – Memorrhage (Big Money Cybergrind)
Garry Brents, whose barrage of projects includes Blast Rites veterans Cara Neir and Homeskin, goes nü-metal with Memorrhage. While there's plenty of bounce riffs and pop-industrial textures and Adidas track pants and shitty box hair dye, they're still filtered through a chaotic lens, using memory as a weapon. If you like vein.fm, you'll LOVE this. Those Slipknot-esque DJ scratches really do something for an itch, don't they?
Graf Orlock – End Credits (Vitriol)
L.A.'s cinema-obsessed grinders take a bow with End Credits. The shortest fuck-yous really are the best endings. "In the Court of the Crimson King" is not a King Crimson cover, though maybe Robert Fripp will eventually cover it for his YouTube channel.
Church of Misery – Born Under a Mad Sign (Rise Above)
Boris isn't the only Japanese bruisers with heat this month. Church of Misery returns with Born Under a Mad Sign, still obsessed with serial killers and mass murderers but getting some of their boogie back and relishing in heavy grooves. True pulp doom.