King Gizzard and the Lizard Wizard has confirmed the title and revealed the artwork for its upcoming album, and both certainly support the band's recent claim that the project is "heavy as fuck."
In what appears to be true heavy metal concept album fashion, the LP is called PetroDragonic Apocalypse or Dawn of Eternal Night: An Annihilation of Planet Earth and the Beginning of Merciless Damnation. No release date has been announced, but a pre-order launches May 16 through the group's Gizzverse online platform.
The artwork was created by longtime collaborator Jason "JJ Cooljuice" Galea and is dominated by the head and neck of a dragon-like creature in the foreground and an apocalyptic, burning wasteland in the background.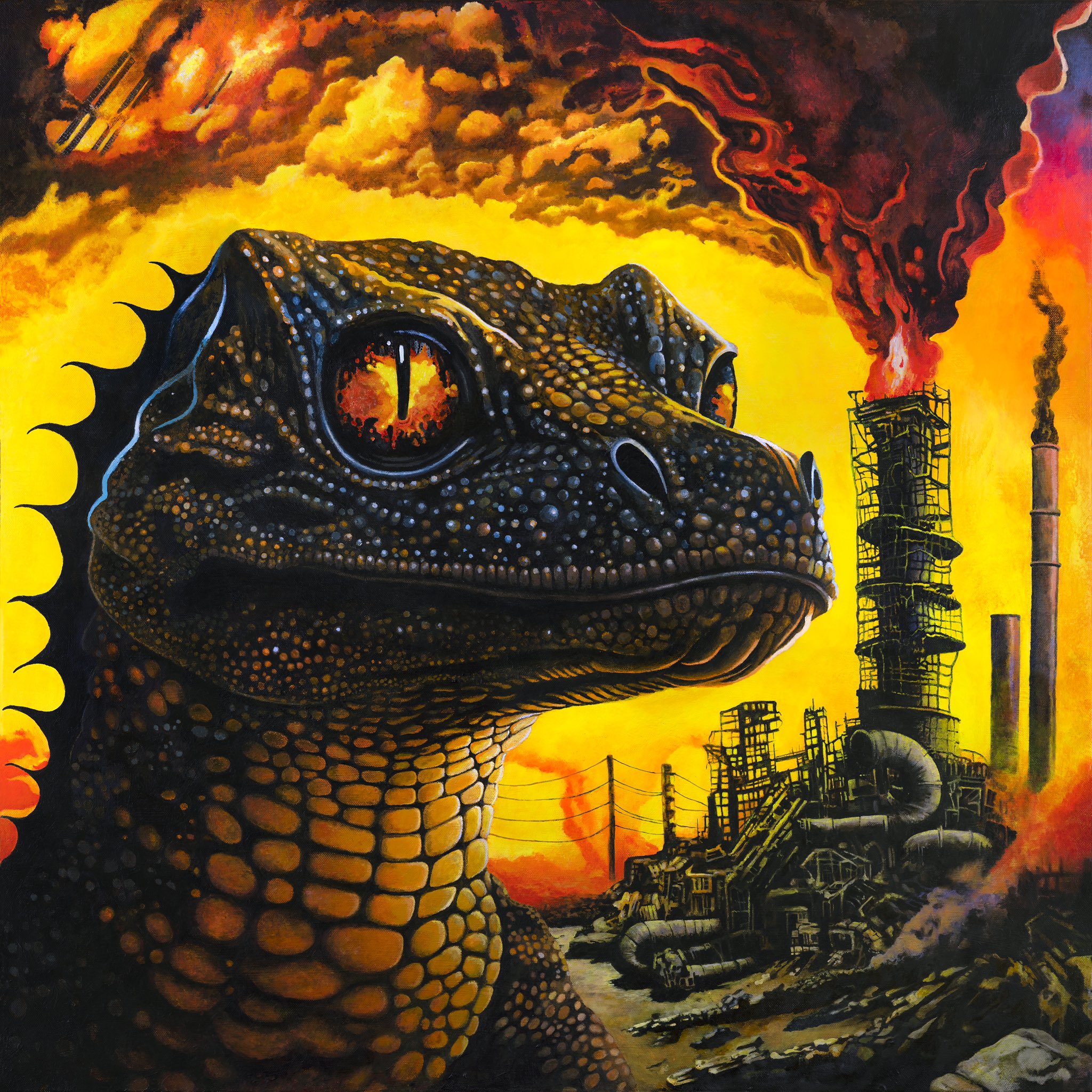 Earlier this week, Gizzard released a still from the video for the album's as-yet-untitled first single, featuring group member Joey Walker shredding on a Holy Explorer guitar in a long white tunic on top of a rocky hill. A lightning strike is visible in the sky behind him.
The new album is the follow-up to three different October 2022 releases: Ice, Death, Planets, Lungs, Mushrooms and Lava, Laminated Denim, and Changes. Although Gizzard has yet to confirm a track list, the group played an extremely heavy new song, "Gila Monster," 10 times during its recent spring European tour, which could herald its inclusion on PetroDragonic Apocalypse.
Since returning to Australia last November after an extensive 2022 world tour, the band has been hard at work on at least two new albums, which bassist Lucas Harwood told SPIN are "both very collaborative in different ways. They're going to be very different sounding to each other, but we're going to try to make them complement each other in a yin and yang kind of way. We're all writing lyrics for both albums again, which has been fun."
Gizzard will be back on the road May 28 at the Boston Calling festival and then begin multi-show residencies in a handful of North American cities, culminating in the band's biggest U.S. show to date on June 21 at the 17,000-capacity Hollywood Bowl in Los Angeles.