After years of unpleasant legal wrangling, Chris Cornell's widow Vicky and the surviving members of Soundgarden have "reached an amicable out of court resolution" allowing for the release of "the final songs that the band and Chris were working on" prior to his May 2017 suicide, according to a statement released by Cornell.
"The two parties are united and coming together to propel, honor, and build upon Soundgarden's incredible legacy as well as Chris's indelible mark on music history as one of the greatest songwriters and vocalists of all time," the statement continues. A Soundgarden representative declined SPIN's request for further comment on the settlement.
Vicky Cornell and Soundgarden's Kim Thayil, Matt Cameron, and Ben Shepherd had been in litigation in federal court for four years, and SPIN understands numerous high-level music industry managers and executives have attempted to help the parties broker a settlement ever since. In 2019, Vicky Cornell sued the musicians for wrongfully withholding royalty money owed to the Cornell estate, in what she claimed was an attempt to force her to turn over seven unreleased recordings Chris made before he died.
Vicky Cornell filed another suit in 2021, claiming the surviving members offered her "the villainously low figure of less than $300,000″ for the estate's stake in the Soundgarden catalog despite it having been valued at $16 million.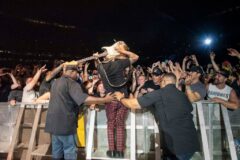 "The buyout offer that was demanded by the Estate has been grossly mischaracterized and we are confident that clarity will come out in court," band members said in response. "We look forward to completing the final Soundgarden album."
After splitting in 1997, Soundgarden reunited in 2010. The group toured regularly for the next seven years during breaks in Cameron's schedule with Pearl Jam and released a comeback album, King Animal, in 2012.
Longtime Soundgarden/Cornell producer Brendan O'Brien was rumored to be involved in the unreleased recordings that were at issue, but he denied having participated in them in a December 2021 interview with SPIN.
Asked about the unfinished material, he said, "I've never heard it. In spite of what may have been said or written, Chris and I never talked about it. We were focused on [the covers collection No One Sings Like You Anymore, which was recorded in 2016 but not released until 2021]. Soundgarden seemed like a separate thing, which was great by me. I felt good about that. But I'd love to hear it at some point — I really would. I hope they get it figured out."