Foo Fighters and the Killers will headline the 2023 edition of the Sea.Hear.Now festival Sept. 16-17 on the beach in Asbury Park, N.J. The event, which was created by rock photographer Danny Clinch, Tim Donnelly and HM Wollman in partnership with promoter C3 Presents, will also feature sets from Greta Van Fleet, Weezer, Nathaniel Rateliff and the Night Sweats, Mt. Joy, Sheryl Crow, and the Beach Boys.
Additional acts on the bill include Living Colour, Tegan and Sara, the Breeders, Cory Wong, Tash Sultana, Royal Blood, Babe Rainbow, and Oteil & Friends.
Sea.Hear.Now is the ninth show Foo Fighters have announced for its first tour since the March 2022 death of drummer Taylor Hawkins. No replacement has yet been named.
Beyond the music, Sea.Hear.Now will boast surf competitions in the Atlantic Ocean just adjacent to the performance stages. Clinch's Transparent Gallery will have its usual real estate on the festival grounds, featuring pop-up performances and talks with artists from the lineup. Other Asbury Park artists will see their work featured on a mural circle and the Stokehenge surfboard arch.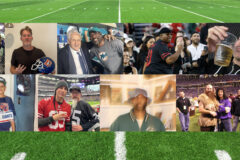 Sea.Hear.Now is also re-upping last year's debut surf contest dubbed the North Beach Rumble, with teams captained by surf legends Sam Hammer and Cam Richards. A ticket pre-sale begins Thursday (Feb. 9) via the event's web site.
Stevie Nicks and Green Day headlined the 2022 edition of Sea.Hear.Now. In 2021, Pearl Jam chose the event as the site of its first live appearance in more than three years. Clinch, who grew up in nearby Toms River, guested on harmonica with the band during a performance of "Red Mosquito."