Bullet-proof vests, helmets, tourniquets, burn kits, trauma kits, gas masks, knee pads, pain medication… I'm one of three people checking thirty suitcases full of tactical gear and medical aid onto a LOT flight from LAX to Warsaw, Poland. There the suitcases will be picked up by men who are unknown to me, men with vans who will drive the aid into Ukraine. One of the vehicles making this trip from Lviv to Warsaw and back was shot at yesterday by Russian troops and one of the drivers was killed.
"Someone died trying to get these suitcases," says Peter Horvath, my friend from the recovery community who's enlisted me in this operation. Peter is Hungarian, with Ukrainian blood and is a good man. "Hungarians aren't very smart, but we're strong," he says, loading several heavy duffle bags onto the carts at Tom Bradley International. Actually, he is quite smart and incredibly dedicated, as well as organized, and I admire him. He has also become completely immersed in the war effort.
The aid I'm transporting has been supplied by Mira Rubin, president of the San Diego based cultural center House of Ukraine, who I've been connected to through Peter. What I imagine was a typical foundation set up to honor the history and culture of Ukraine with evenings of folk dancing and the like, has now become a hub for the transportation of military equipment and humanitarian aid. She forwards me her recently granted license to export up to twenty-million dollars of things like used body armor, ballistic helmets and soft armor panels which are certified to be: "bullet, strike, slash, stab and special threat resistant! Full side protection 15% more coverage! Ultra-concealable. Engineered for comfort and maneuverability," and so on. I can't stop reading, I am fascinated by the tone of this weird ad copy on the license. I'm meant to present this to Polish authorities when I arrive in Warsaw along with other impenetrable documents. But what I'm pretty sure of is this: No one's looking to hold this shit up.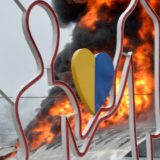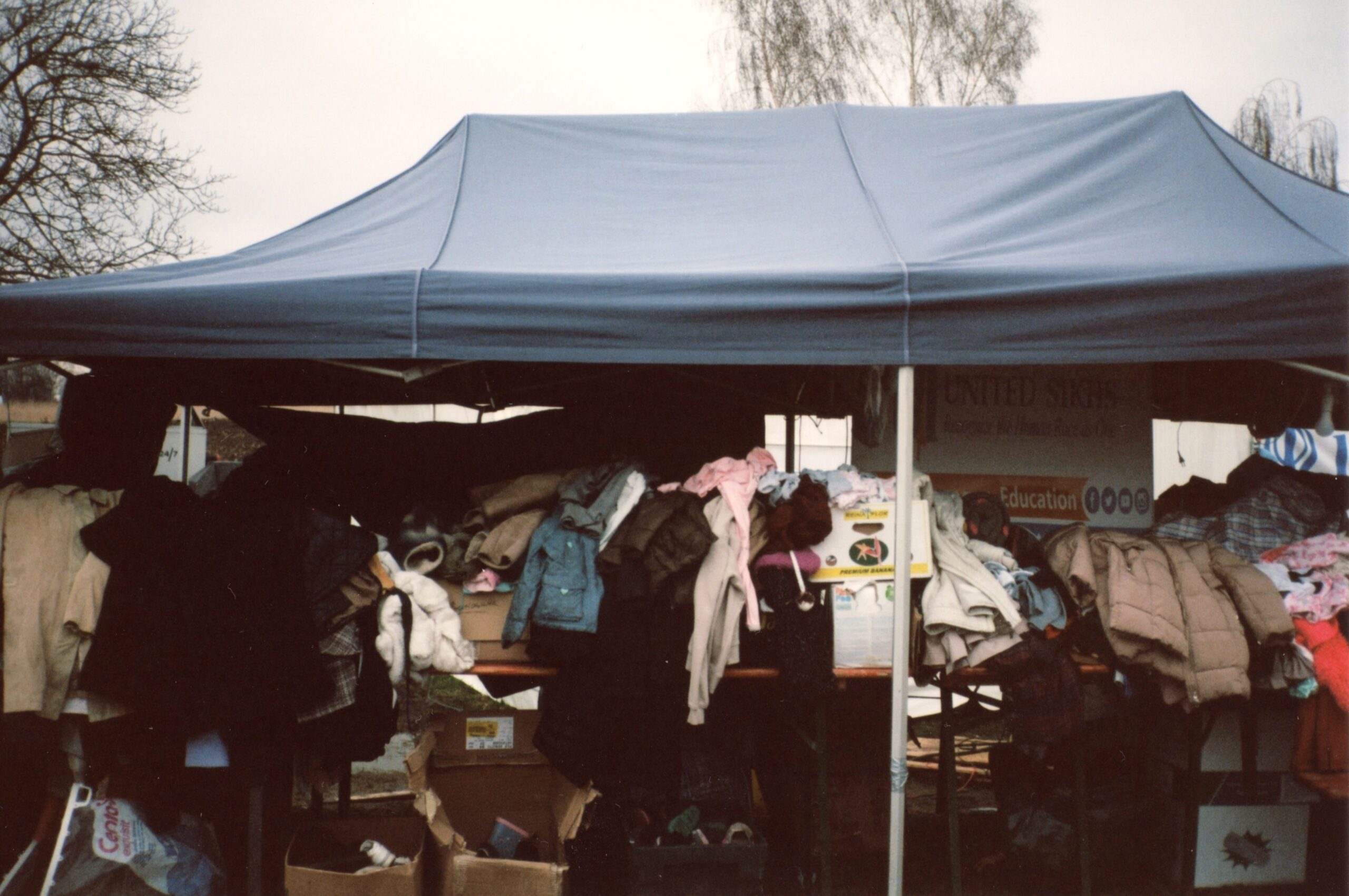 There are several representatives from House of Ukraine who meet us at the terminal to assist with the checking in, but I soon understand that only three of us will be boarding the flight. Other than myself there is Volodymyr, who is all business and kind of scary and I'm pretty sure speaks no English. Then there is Eugene, a Ukrainian who works in plastics in Southern California. He seems more approachable so I decide to strike up a conversation. I ask him what his plans are when he gets to Warsaw. He tells me he will accompany the men who will drive the aid from Warsaw back into Ukraine. I ask him what he plans to do once he is inside Ukraine. "Oh, I am going to fight," he says. This wasn't an answer I was expecting. I thought we were all going to assist in the transportation of humanitarian aid.
I arrive in the lounge to notice the Oscars are on and just in time to witness Will Smith hit Chris Rock, which at first, like everyone, I assume is a gag. It takes me a while to unpack this viral moment in which Will Smith has spontaneously decided to prove his masculinity by assaulting Chris Rock on national television for making a G.I. Jane joke about his wife's alopecia. The bullying of women with alopecia has been ignored for too long and it's taken Will Smith to focus our attention on to what's truly important right now: Jada Pinkett-Smith's hair loss and her sensitivity surrounding this condition.
Meanwhile, back on planet Earth, I'm worried for Eugene and can't stop thinking of him throughout the flight. After touching down in Warsaw, I approach him at the baggage claim and ask him the question that's most been on my mind this whole time. "Eugene," I ask, "are you…scared?" "Absolutely not," he replies matter-of-factly. Eugene is 56 years old and has been living in Tijuana after a recent divorce. He once fought in the military alongside the Russians against the Mujahideen in Afghanistan back when Ukraine was still a part of the U.S.S.R.
"We were told the same kind of propaganda back then that they are telling Russian troops now" he says. He has two weeks off from work and says going back into combat as a civilian outside Lviv is "no big deal." But to me it is. "If NATO and the U.S. won't fight the Russians, Ukrainians will take care of it" he says, dragging a duffel bag full of body armor off the carousel. I tell him I'd like to include him in my piece. "Okay," he says "but please do not describe me as a hero. I am not."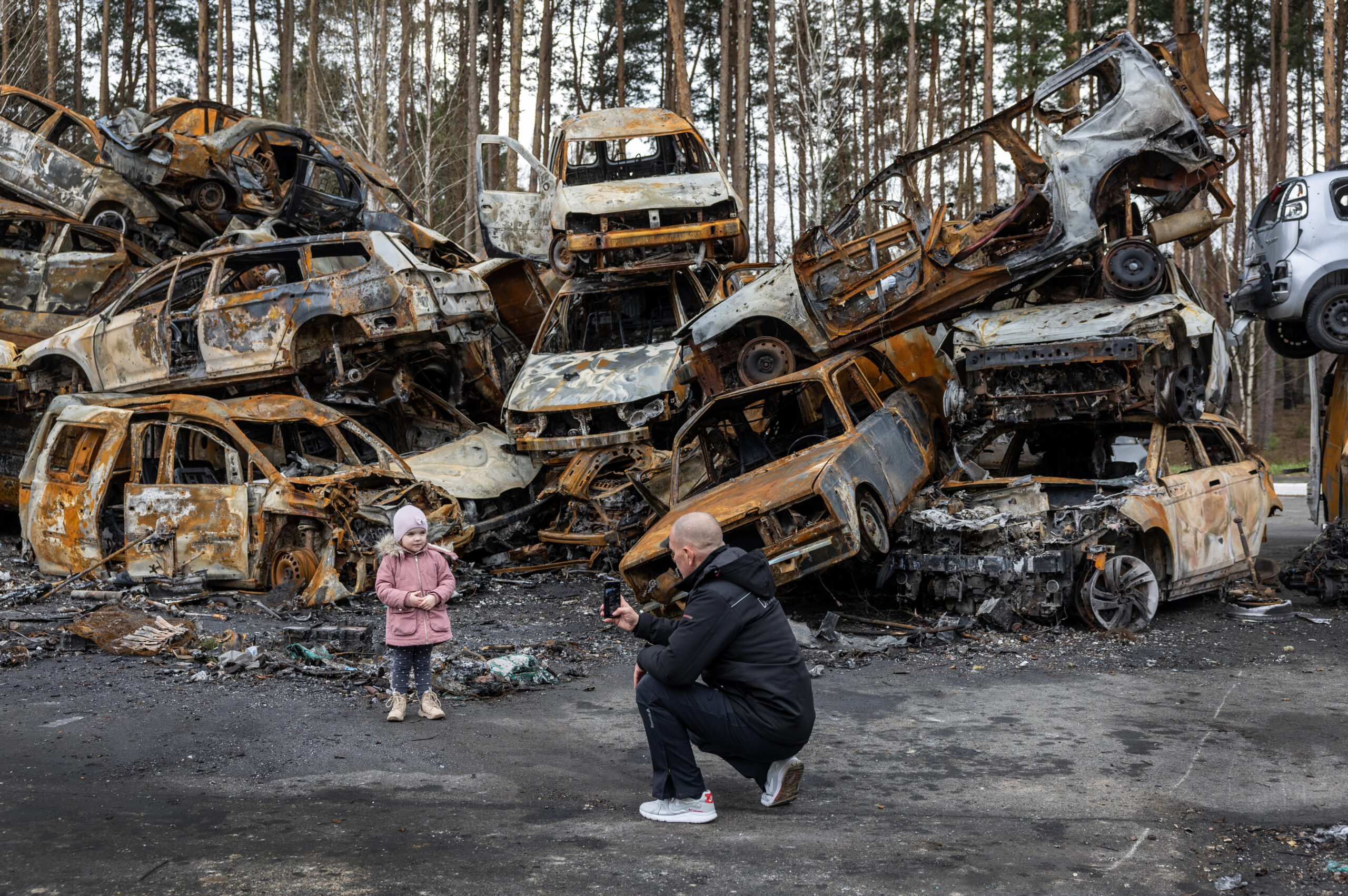 The invasion of Ukraine has done a lot to focus the attention of the world and see things through a clarifying lens. Namely, that it's fascism, dictatorship and autocracy against basic democracy, as flawed and imperfect as the latter may be. And perhaps that Tucker Carlson is a bow-tied buffoon who rakes in twenty million a year bringing out the worst in people while trafficking in absurd conspiracy theories and other poppycock, with an unparalleled smugness that makes you want to enlist Will Smith to slap his preppy face.
Also further magnified: the American far-right with their chants of "PUTIN! PUTIN!," at CPAC conferences are vile. Aren't they embarrassed that they chose a former reality TV star from the dregs of Manhattan social life to be their "Strongman"? Putin, with his steely KGB eyes, at least looks the part. Vladimir Putin, so pleased with Tucker Carlson's coverage of the invasion he's plastered it all over Russian State television, has begun to parrot Carlson's "Cancel Culture" talking points.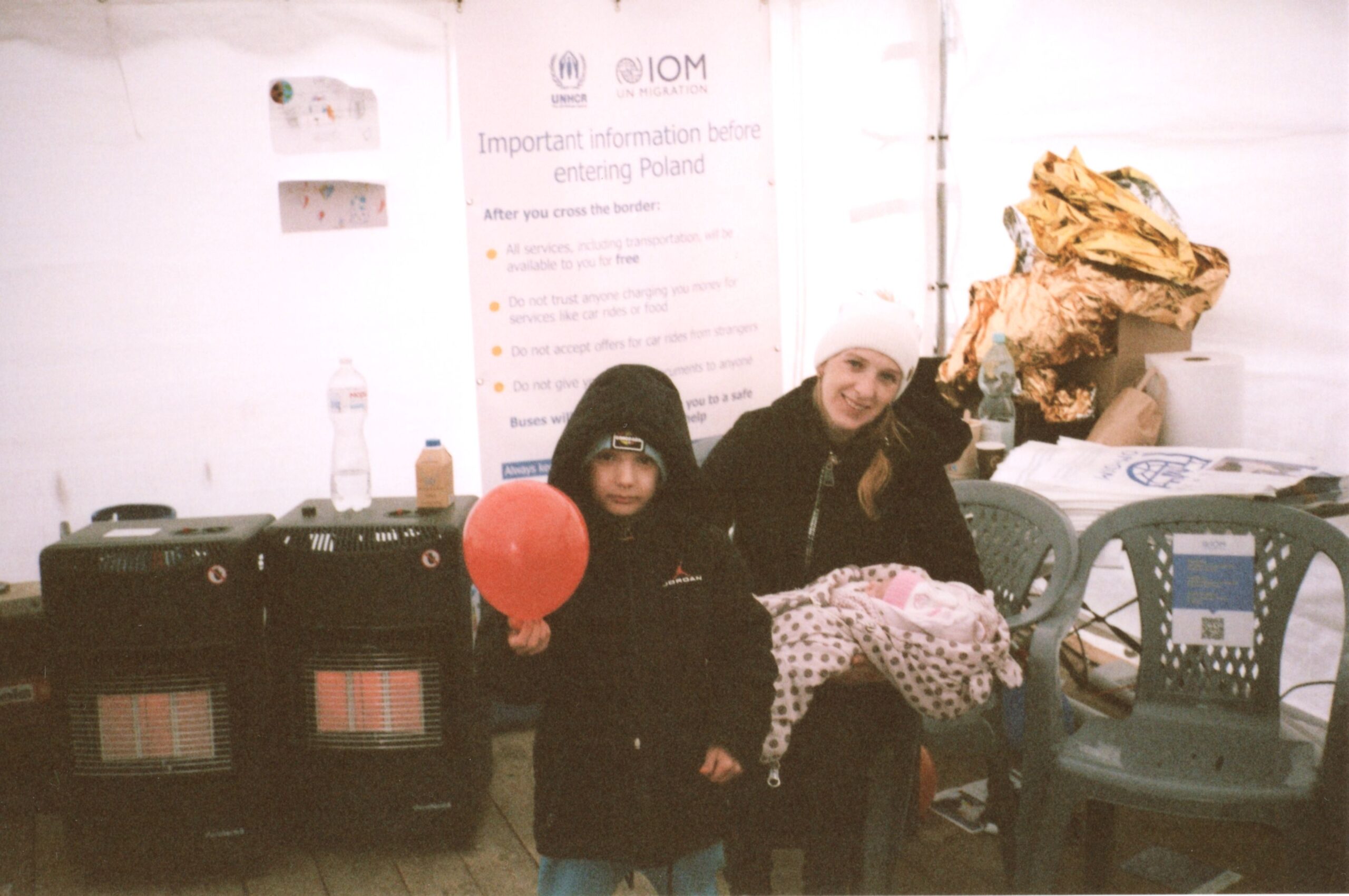 "We are coming for you and your ill-begotten gains," announced Joe Biden, and thus began an irresistible and highly amusing stream of news items of mega-yachts being seized and apartments being occupied. The oligarchs: they came, they shopped, they conquered. These captains of industry swanned into London and New York on the shopping spree of a lifetime, with their high-dollar hookers in tow. They snapped up luxury items, fancy flats and football teams and everyone held their noses and took the money. But now the stench has become too strong to ignore. The party seems over for these high-rollers as images of bombed-out suburbs and traumatized refugees flood the media. And yet Putin's approval rating seems to be higher than ever, coming in at a whopping 81%, which really begs the question: what the hell happened to the Russians?
This is the country that gave us towering works of art and literature from the likes of Fyodor Dostoyevsky, Vladimir Nabokov, Wassily Kandinsky, Andrei Tarkovsky, Pyotr Ilyich Tchaikovsky and George Balanchine, lest we forget.
I first visited Russia, then the Soviet Union, as a young teenager in the '80s. That was the first time I saw Communism in action, or should I say inaction. Disrepair, deterioration, stasis. Literally nothing worked and the misery was palpable. Years later I would spend my 30th birthday lost in the State Hermitage Museum in St. Petersburg, home to one of the world's great art collections, staggered by its beauty, high on LSD. At that point, Putin had only been in power a few years after elbowing the alcoholic embarrassment Boris Yeltsin off the stage, with some decisive moves to divvy up the resources amongst a loyal few and get those Russian gals into some decent clothes already and send them clickety-clacking into every five-star hotel lobby and playground for the rich that they could find.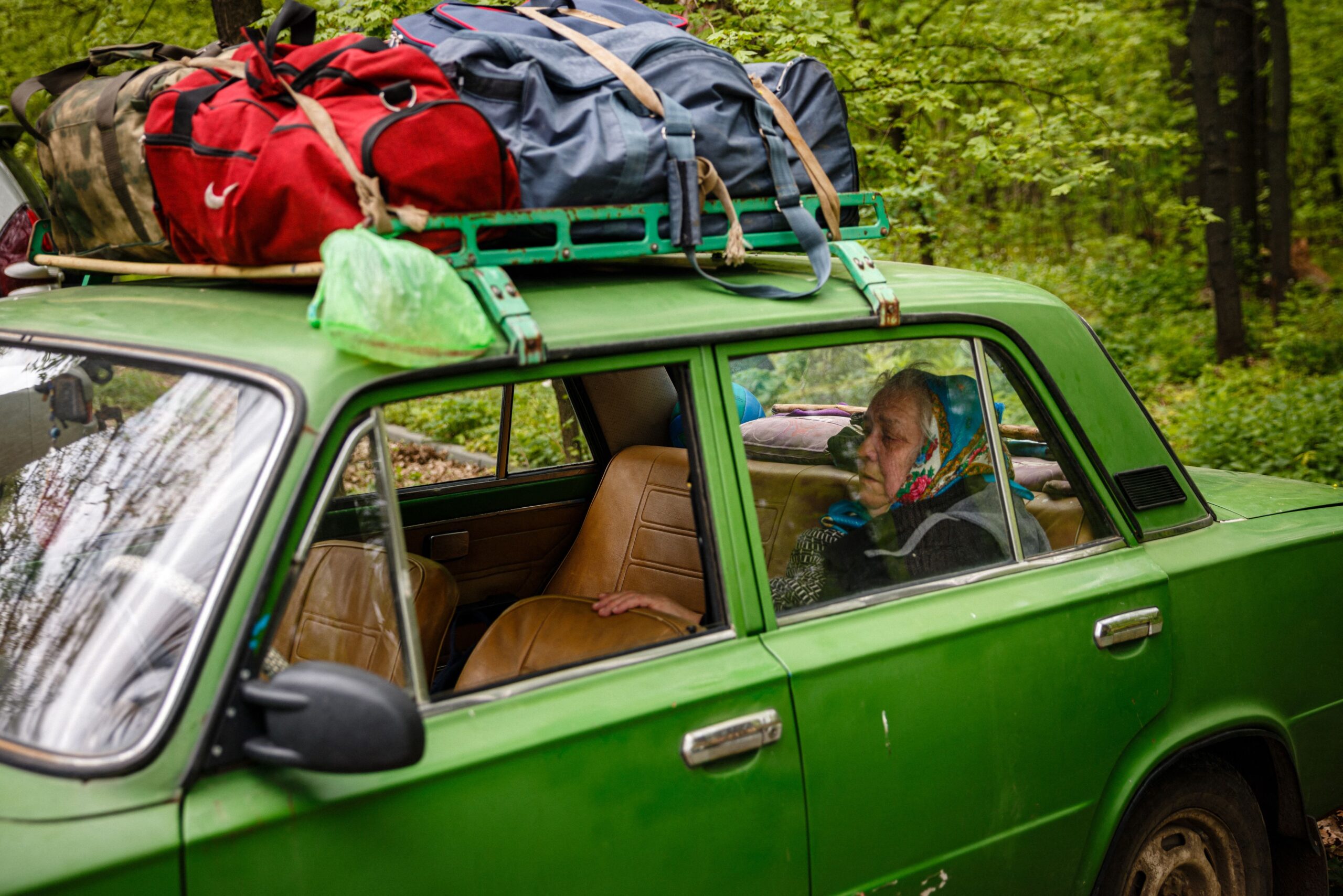 Painkillers, Band-Aids, tourniquets, disinfectants, baby food, baby formula, diapers, cleaning wipes, first-aid kits, blankets, socks, sleeping mats, engine oil, cold medicine—these are some of the things that have been requested by people on the ground inside Ukraine and I'm now in some kind of Polish Target outside Krakow filling up carts of supplies to drive to the border. Luckily Peter has put me in touch with Julia, a tour manager from the Polish hardcore/sludge rock scene based out of Krakow, and she is here to help me navigate this enormous market and the online purchasing of medical items I've agreed to buy: pharmaceuticals, cardio-monitors, laryngoscopes, intubation set. I put all this into Julia's hands, since all the rock tour-van drivers are now ferrying loads of supplies to doctors who meet them regularly on the Polish/Ukrainian border. It's been bad enough that COVID-19 tanked the last two years of sludge rock tours in Poland, but now the Russian military, bombing civilians in their neighboring country, has really put a dent in the schedule. All Julia (young, in her 20's) wants to do is get back to enjoying some hard rock and book some fun gigs and is excited that Judas Priest will be coming to Krakow this summer on their 50thanniversary tour–a positive sign.
My friend Tina has also come from New York to volunteer, which is great for many reasons, the least of which is we can share driving duties. The border is about three hours from Krakow, a little Slavic jewel of a city with its cobblestoned elegance, formidable cathedrals and boutique hotels. The SUV I've rented is loaded up to the max with aid and so we begin our journey to Medyka, the busiest refugee crossing.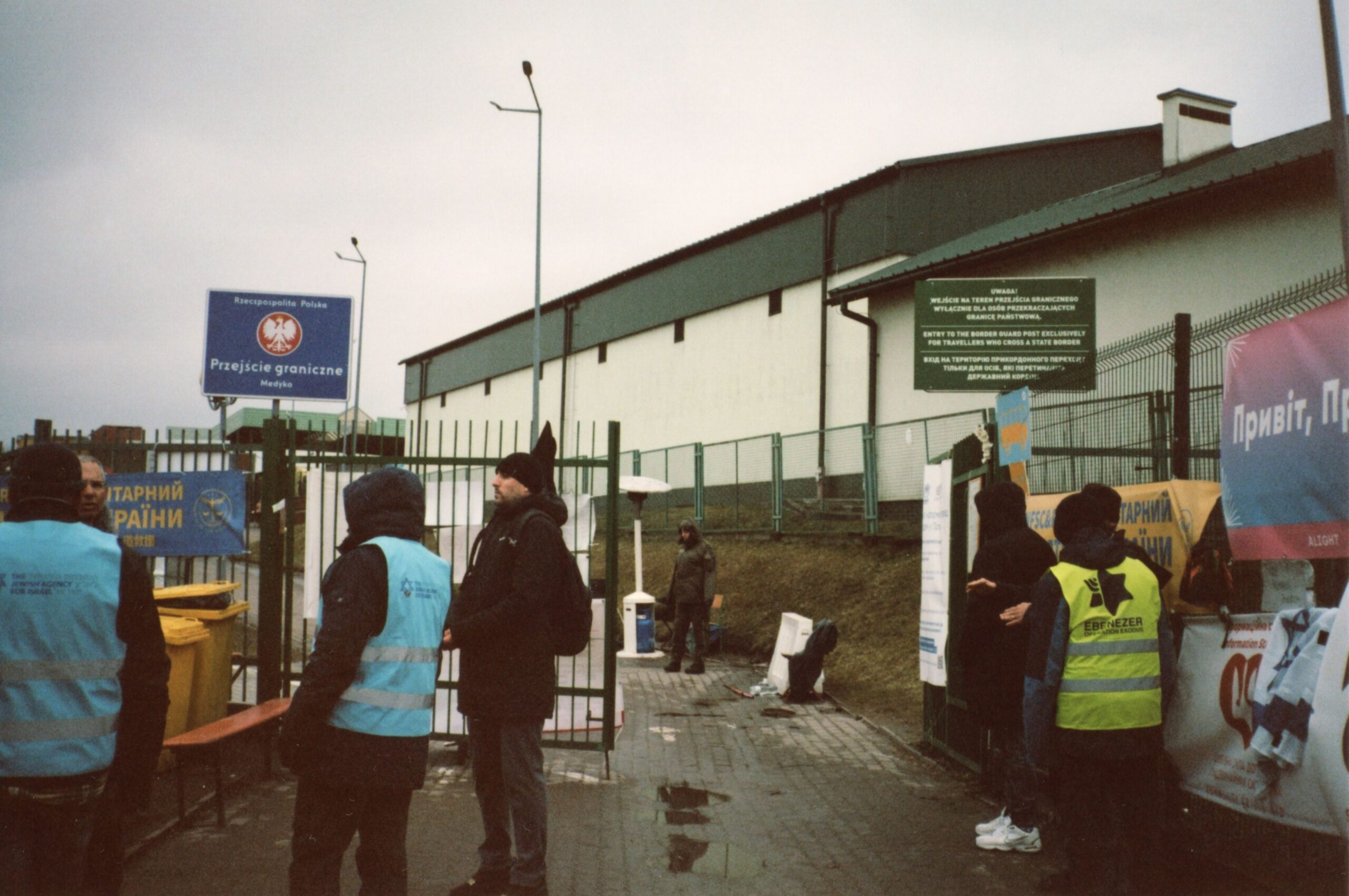 It's there I'm meant to meet with a gentleman named Mike Zuckerman, who's been on the ground there since the start of the war. When we arrive, I'm reminded of the Robert Altman film M*A*S*H, although this is not a military base but has a similar kind of ramshackle, makeshift quality with tents and pop-up convenience stores and a generally chaotic feel as one pulls in. We meet Mike at their headquarters and are welcomed by him and his girlfriend Liana Sananda who works primarily with MAPS, the Multidisciplinary Association for Psychedelic Studies, and in the Decrim movement, but has been slogging it out here for the last month with Mike, who is a co-creator on the Global Connectors team.
If all any of us are looking for in life is a feeling of usefulness, it seems to me that Mike is putting himself to use in a very serious way, moving from refugee camps in Uganda to Greece to Poland. If you can live with your girlfriend in a tiny apartment for months on end dealing with infrastructure issues and traumatized refugees fleeing war-torn Ukraine, you're a better man than most.
Tina and I get credentialed at their headquarters so we can move about freely without potential hassle from border patrol and Polish law enforcement. I ask Mike a bit about what it was like here in the first week.
"Well… there were only two tents. And there was a constant flow of cars, and a constant flow of people. And it was very, very cold. There was a lot of people walking around with cardboard signs for different cities offering places and rides, and there was a lot of confusion as to where to go, and people were very cold and outside for a really long time. We were passing out a lot of blankets. But we couldn't even find tents that were available. In my first week here, I went on an assessment trip to border crossings, reception centers, train stations. There were so many people coming in, all with their luggage, with all they could carry. We were going around and saying like, 'alright, we gotta talk to who's in charge. Like okay, who's in charge? Nobody? Really?'"
At the small warehouse where we unload the aid, I strike up a conversation with Jazz, a medic, and Simon, who seems to be an all-around coordinator. Jazz had spent the previous day putting together trauma kits: alcohol rubs, water tablets, antihistamines, antibiotics, chest seals, decompression needles, CPR kits, morphine. "We put as many as we could possibly put together and they're already in Kyiv this morning. So, they are going to the right place and we've got a really good team, backwards and forwards. But it's medical supplies that are desperately needed. Medication, specifically for the Ukrainians that are fighting, and baby food and nappies for the Ukrainians who are coming across."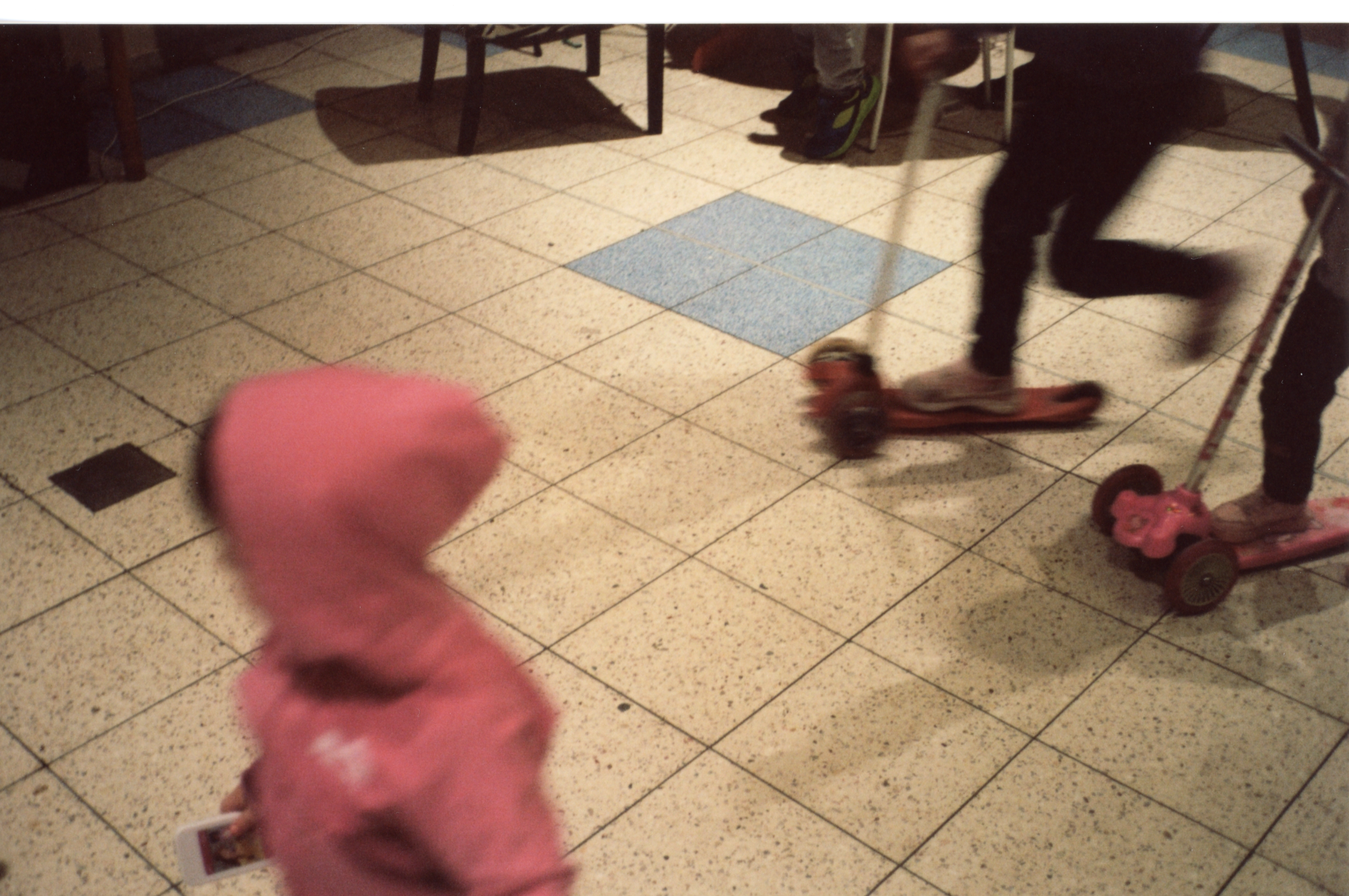 I ask her what organization she's here with. "I'm with Global First Responders. I came out on my own because Global First Responders are a brilliant charity, but as the situation in Ukraine escalated, they kept pulling back, and I just couldn't wait any more. I have time. I've got the skill set. I jumped on a plane. Never been on a plane before. I didn't know a soul, and just came over here, just like everybody else. And we're literally now just a big family."
I am impressed with Jazz and her heroic attitude and commitment to service and ask her a bit more about her experience here so far. "I treated a Polish soldier yesterday. He had been over in Ukraine fighting, very front line. Thankfully he had his helmet on and his Kevlar vest. But he still managed three shot wounds. Shoulder, shoulder and right hip. I just patched him up, literally, to get him to the hospital. And as soon as he's had his surgery, he's going back in. But he is one in a million, bless him.  He lost his father in the Ukrainian war in 2014, and he also lost his twin brother in the war as well. But it's the kids that come over, who have never held a gun before, they've never had any military experience…there's not enough ammunition to give them, and they are all, unfortunately, cannon fodder."
Simon joins the conversation. "Yes, everything that's happening in terms of transiting or moving people is all government run. So, we got together as a collective and started from there. It was really hard at the beginning to get any of the donations out of the warehouses. When we first arrived, there was nothing here. We said, okay, we need the blankets. They said, no, this is a collection center. Well, that's fine, collection. But how is it getting out?  Oh, that's not sorted out yet, they said. Well, we're here, let's take it. To be fair, in the initial stages, getting into Ukraine with the goods we're taking across was tricky."
I ask Simon if he's crossed over into Ukraine and what he's seen there. "Basically I'm just crossing between the two sides of the border. This side is quite busy, in fact. On the other side, up until last week, there was literally nothing but a line. A small field hospital that's there, but that's about it.  There's an eerie feeling crossing the border. And I don't really know why. I've got an emotional thought process. You cross over and you see the line, you see the same line that you saw 100 meters away. But suddenly it just feels different. And I think it's this reality of the fact that those people aren't really into safety. 300 meters, you're half a mile from the border. You're safer than you were when you were in Odessa or Mariupol, but you're still not quite there, and the tension is palpable. When we first came, four weeks ago at the height of everything, the line was four and a half kilometers long. The line of cars was 22 kilometers long. It was taking 29 hours to stand in line with temperatures of minus 11. There were no thermal blankets, no shelter, nothing. We lost people in the lines. We lost elderly people. There was one night, it got to about minus 8, and two of the guys that I'd just met on Facebook and talked to in the course of getting here, were already here. I asked: what do you need? 'We desperately need more blankets, more than anything else you can bring'. We stopped in London and picked up 3,000 and they basically distributed every single blanket in one night. When they came back, at four in the morning, they rang me and said 'we did as much as we could, we just don't have any more'.  And that process of giving up the last blanket…horrendous."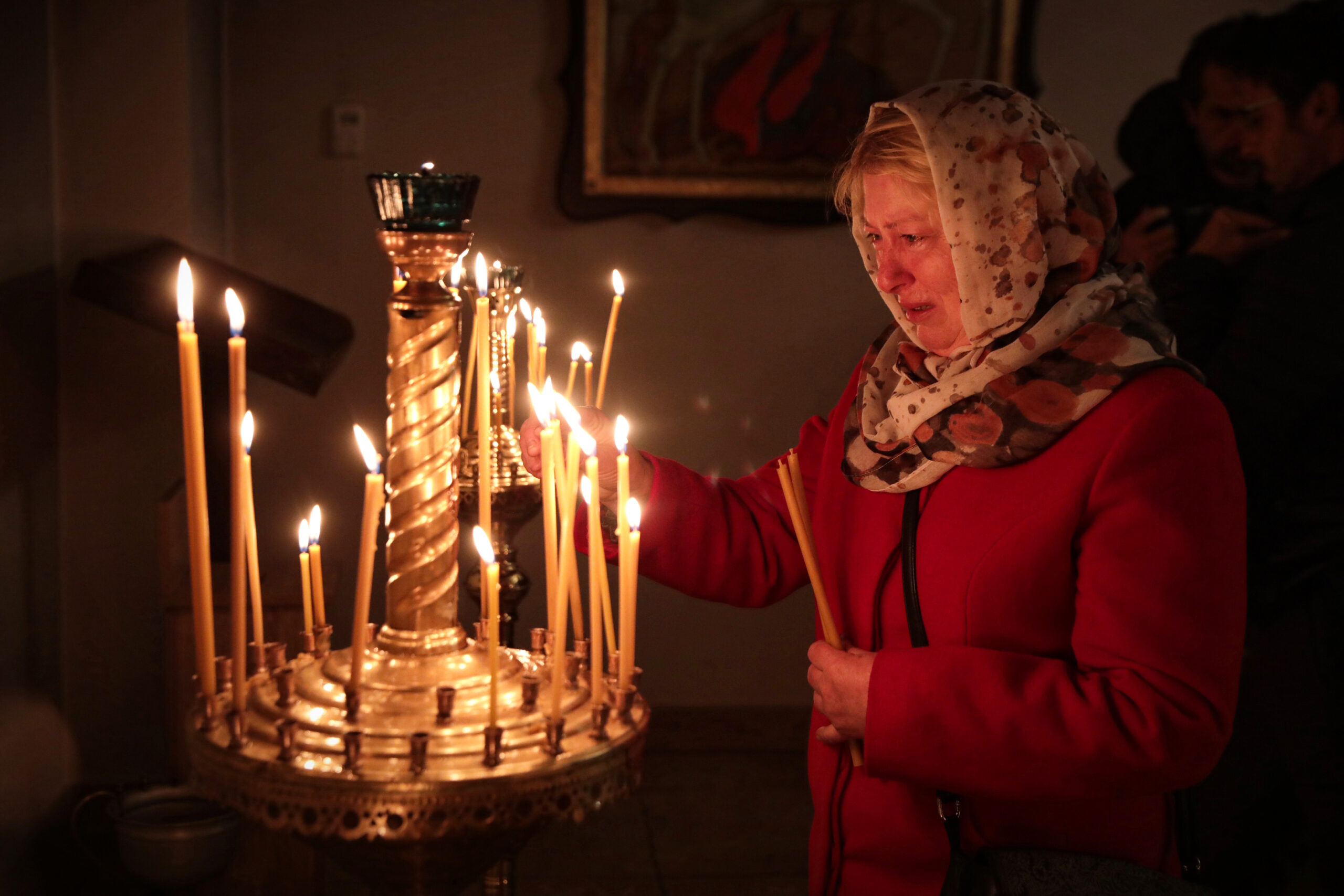 When we finally get down to the border crossing, I see a long stretch of tentson two sides of a path that leads directly to the entrance where refugees, having been processed, are finally allowed to cross to safety. Do you want to know who are inhabiting these tents for the most part? I'll tell you. Hippies. It's like the saddest fucking hippie festival you ever saw. Volunteers, "do-gooders" if you like. Earnest young people looking to find a sense of meaning and purpose in this life by providing humanitarian aid and some small measures of comfort to the most distressed. No "identity politics" crowd. No real military presence to speak of. A few journalists. Not a lot of marquee names here except perhaps for UNICEF and World Central Kitchen, who are clearly stars of the aid industry and doing stellar work. I accept some chai and a bowl of soup from them. Food is free for everyone. I walk the path and take in the tents of the various organizations and read their mottos. "Selfless effort for welfare of all…Sewa Europe is a humanitarian organization, which involves performing an act of kindness without expectation of reward… United Sikhs: recognize the human race as one."
I ask Mike what organizations are here who he thinks are doing impressive work. "World Central Kitchen has been here since the beginning," he says. "They are specifically dealing with only food, but they're here 24/7. They have a warehouse, a cooking facility in Przemyśl that is big and clean and they can clean all of their pots and pans and do all of their cooking offsite, which is very helpful. They have chefs, they have good seasoning, they have fresh, healthy, nutritious ingredients. Another is Borders Without Borders. I think that they are doing amazing work in supporting all of the other groups that are here. They're providing centralized infrastructure–power, fuel, water, camp coordination management–if you don't have the support network for that, it all kind of falls apart."
But for all these groups there are many others who've just come of their own volition. On my days bringing aid from Krakow to Medyka I'd come across a number of individuals, Ukrainian and others, who had either started up their own foundations or were just there on their own, looking for ways to be of service in the crisis.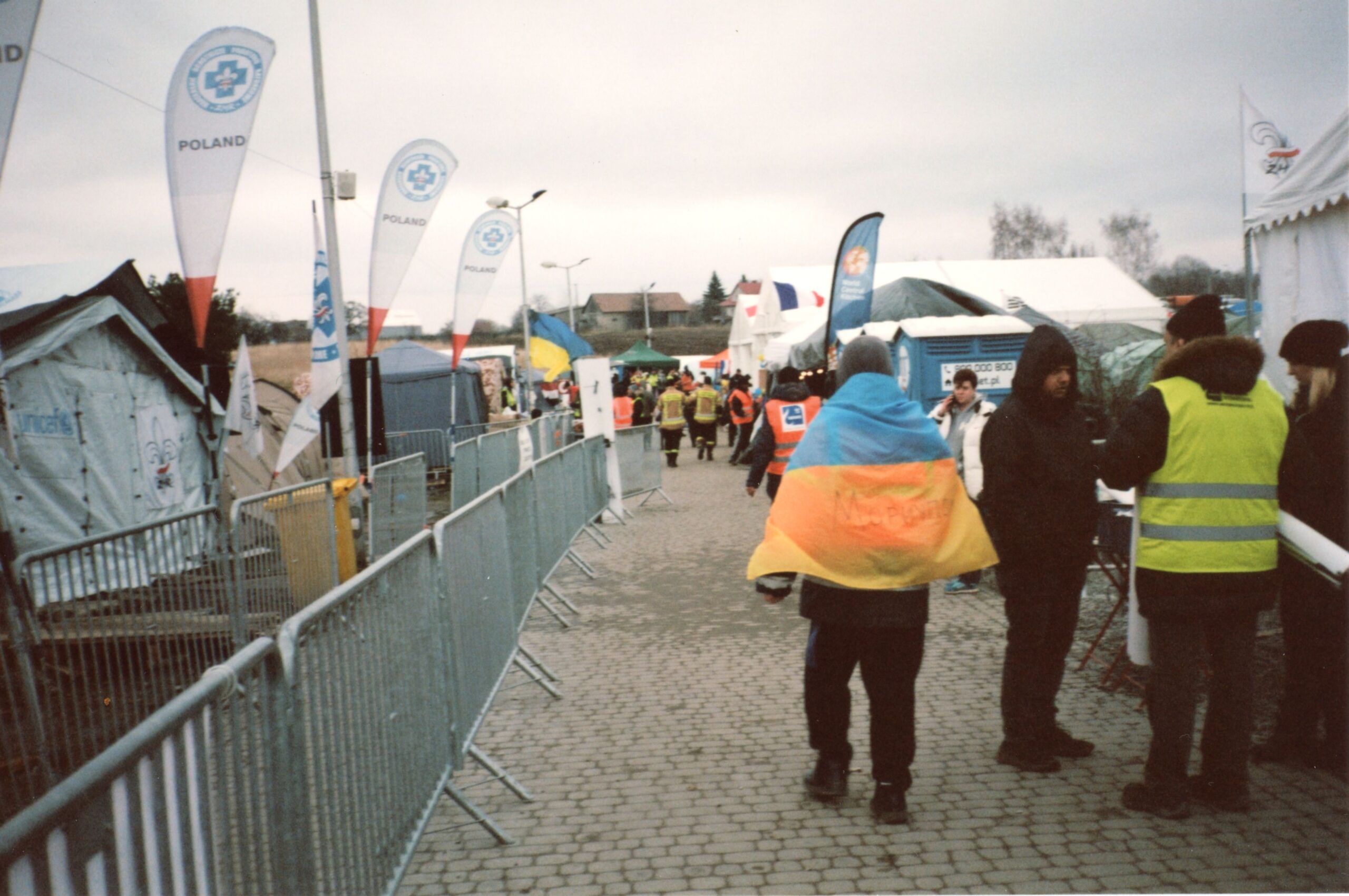 I continue to walk the avenue of tents until finally I am at the crossing and see the refugees, all women and children, cross through a steel gate into Poland after having spent however many hours being processed. Safe in NATO territory, they are offered tea and hot food and SIM cards. I see one girl, maybe eight, given a backpack and she says "thank you" in a way that breaks my heart. The refugees who cross over the border can be divided into two distinct groups: those with somewhere to go and those with no idea where they should go. Many Ukrainians have travelled to Poland before or elsewhere in Europe, some many times. They might have friends or relatives in Poland or in the EU who have offered to take them in. Others, likely the more working class Ukrainians, might have never been out of the Ukraine before and speak no other language.
Those women and children–bewildered, desperate, traumatized–are put on buses and taken to an abandoned Tesco supermarket in Przemyśl some miles away, where there are beds lined up in large communal areas, with food provided, once again, from World Central Kitchen and others. I've been directed there to register as a credentialed, safe driver in hopes I might help drive refugees to resettle in homes across Poland, which in the end I'm never called on to do. But it's there, in the Tesco, where the reality of war and the grimness of a refugee crisis really hits me. I am now seeing it: the beds lined up, fifty in a room. The children playing in the corridors with donated toys. The desperate mothers wondering if their husbands are alright back in Ukraine, waiting to be resettled in the upcoming days, wondering how they will work, how they will survive without knowing a soul or speaking the language in a foreign country. Wondering if they should just head back across the border and take their chances, as many of them do.
I feel somewhat uncomfortable, like I'm a voyeur peeking around in other people's misery.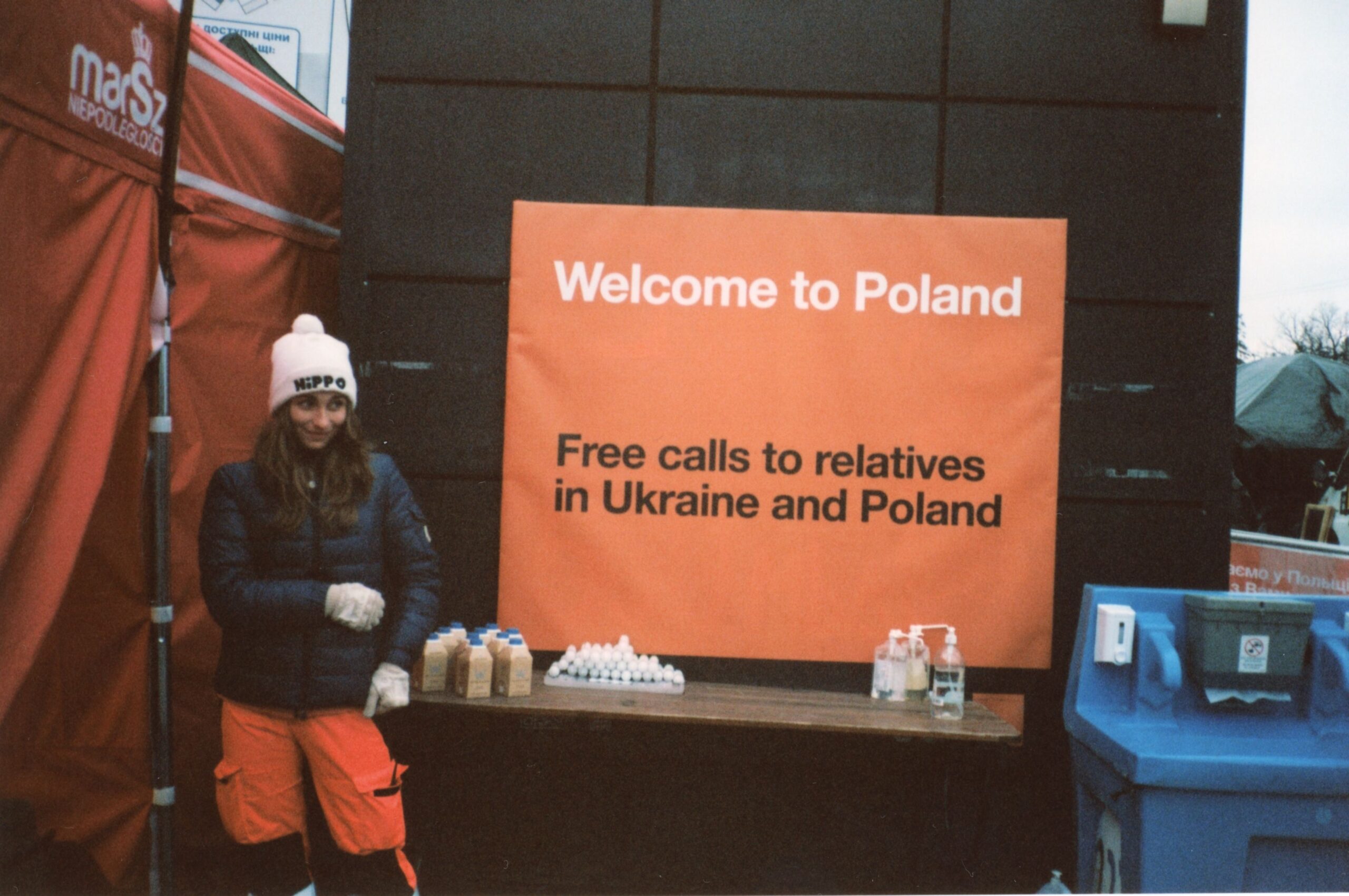 On my way back to the States, on my layover in Warsaw, the massacre in Bucha at the end of March hits the news cycle. Since then, the war crimes and atrocities have continued to mount. Soldiers raping and pillaging, civilians shot, mass graves. Tenements and hospitals bombed, even the World Central Kitchen inside Ukraine. Zelenskyy addressing the EU, more sanctions, more arms delivered. It's unlikely the United States will ever be invaded by another country. Armed fascists from across the sea will likely never put boots on the ground here. For us, the fascism and the flirtation with autocracy comes from insideour borders, strengthened by international alliances with dictators like Vladimir Putin. They adulate Putin at far-right conferences right here in the United States.
What will we do if their movement grows stronger, stoked by paranoia, misinformation, and a fascination with guns and toxic rhetoric? And then the age-old question: At what point do the intolerant become intolerable?
Harper Simon is a writer and musician who lives in Los Angeles. This article is an excerpt from the forthcoming book Meditations on Crime, curated by Simon and artist Jonah Freeman, with an accompanying album featuring collaborations between Simon and artists Julia Holter, Marshall Allen and the Sun Ra Arkestra, King Khan as well as members of Animal Collective, The Black Lips, Royal Trux, Gang Gang Dance, The Make-Up, Yeah Yeah Yeahs and the Pixies. It is scheduled for release through Anti-Fragile Records in September 2022.