When I wrote about my glimpses of the Ukrainian rock scene in the book The Humorless Ladies of Border Control, many of the musicians I spoke to had been newly radicalized by the 2014 "Revolution of Dignity" (or Maidan Revolution), and the Russian annexation of Crimea that followed. One was Sasha Boole, a rambunctious singer-songwriter from Chernivtsi, a city in southwestern Ukraine near the Romanian and Moldovan border. We played a show together in the provincial town of Kalush. "Everyone thinks he looks just like you," the promoter told me. "We made up a myth that you were brothers, that you fell in love with a girl but she chose Sasha, and so you went to America."
When Sasha arrived, I saw what they meant…He wore a handlebar moustache and a bowler hat and sported a tattoo of a skeleton playing a banjo. He had dark hair and light blue eyes, wore a sweater tied around his neck like a golf pro, and sang the kind of romanticized Americana that was increasingly popular in Eastern Europe: a bandolier of harmonicas, a stomp box, a version of "Down by the Riverside."

Unusually, Sasha mixed the unionist/progressive leftism common to most folk-punk Woody Guthrie fetishists with a radical militancy. "I played in Kyiv, at the Maidan," he says. "It was an honor. . . . [Maidan] was worth it not so much for the results but because it turned a tumbler in the minds of Ukrainians." He mimed a key turning beside his temple. "That we have to work together. The people from the medical school coming out under fire to help the injured. Like the American Communists, like Upton Sinclair—there is a history in America of organizing and popular uprising that we don't have."

I commented on the irony of a former Communist state looking to American communism—which had, after all, been even less successful in practical terms than the Soviet version—as a future for Ukraine. He made a gesture of acknowledgment. But pacifist, Occupy-style activism was too weak to force change, he says. "People learned that the government only respects force. The first people in Maidan, they were doing art actions, flash mobs—the government came and beat them up. But the next time the government came, they were burning cars and setting fires, and the government says, 'OK, we will negotiate!'" 
Eight years later, the smoldering war in the east exploded into a full-scale Russian invasion. Boole is now working with internal displaced persons—Ukrainians from Kyiv, Kharkiv, and other regions more acutely affected. Thousands of them are in city-organized shelters in schools and sports arenas, some looking for long-term work and housing in the relatively safe region of Chernivtsi. Many wait for opportunities to cross the border: "I had a girl in my flat—she's still living there—she's from Kyiv, and her story is short: she left her home when the bombing started; just dropped a piece of chocolate in a backpack, her documents and some basic things. She thought that she was leaving just ten minutes to sit in a subway, but then she spent three days and three nights. After that, she was evacuated by train to Chernivtsi. These people need everything because they have nothing," Boole told me.
Touring musicians, of course, have unusually extended networks of colleagues and acquaintances. Boole is calling on his: "One guy from a Polish band who's been on tour with me—I wrote to him and says, 'Dude. We need armor, please do something. I know you're a tough guy. You are [re-enacting] the Vietnam War. So, you definitely know the guys who have armor.' And he says, "Okay. I will try." And in a couple of days. I got a message from him. "'Man—sorted!' And a photo of a room full of [helmets and bulletproof vests]."
Music scenes are almost by definition urban, and the Ukrainian music scene is centered around (but hardly exclusive to) Kyiv, Kharkiv, and Odessa—three of the cities hardest hit by a Russian attack that manages to seem both brutal and surprisingly enervated in the face of truculent, sardonic, and (not insignificantly) meme-ready Ukrainian resistance.
If the 2014 revolution centered on the Europhilia of the Ukrainian cultural class, the 2022 war has hardened their Russophobia. "Even the bands or artists that [had been] kind of shunned for being pro-Russian spoke up" against the invasion, says Lesyk Mahula of Lviv-based metal band Somali Yacht Club. "[Not] even during the Revolution of Dignity have I seen such unity in the country," echoed Sasha Kladbische, from the Kyiv-based "Gothic Americana" band Zwyntar. "Even old people are standing in queues for registration in defense groups. Grandmothers bring bottles to make Molotov cocktails in case the enemy enters the city. Any Ukrainians who were neutral toward Russia are now full of terrible hate. The soil will burn under the feet of Russians. They will never find peace on our land."
"You have a very hard mix of feelings," says Artem Dudko of the psychedelic garage rock band Straytones, who is in Kyiv with his family. "It's a mixture of anger, hatred; at the same time feeling very emotional, the uplifting uniting feel of the nation."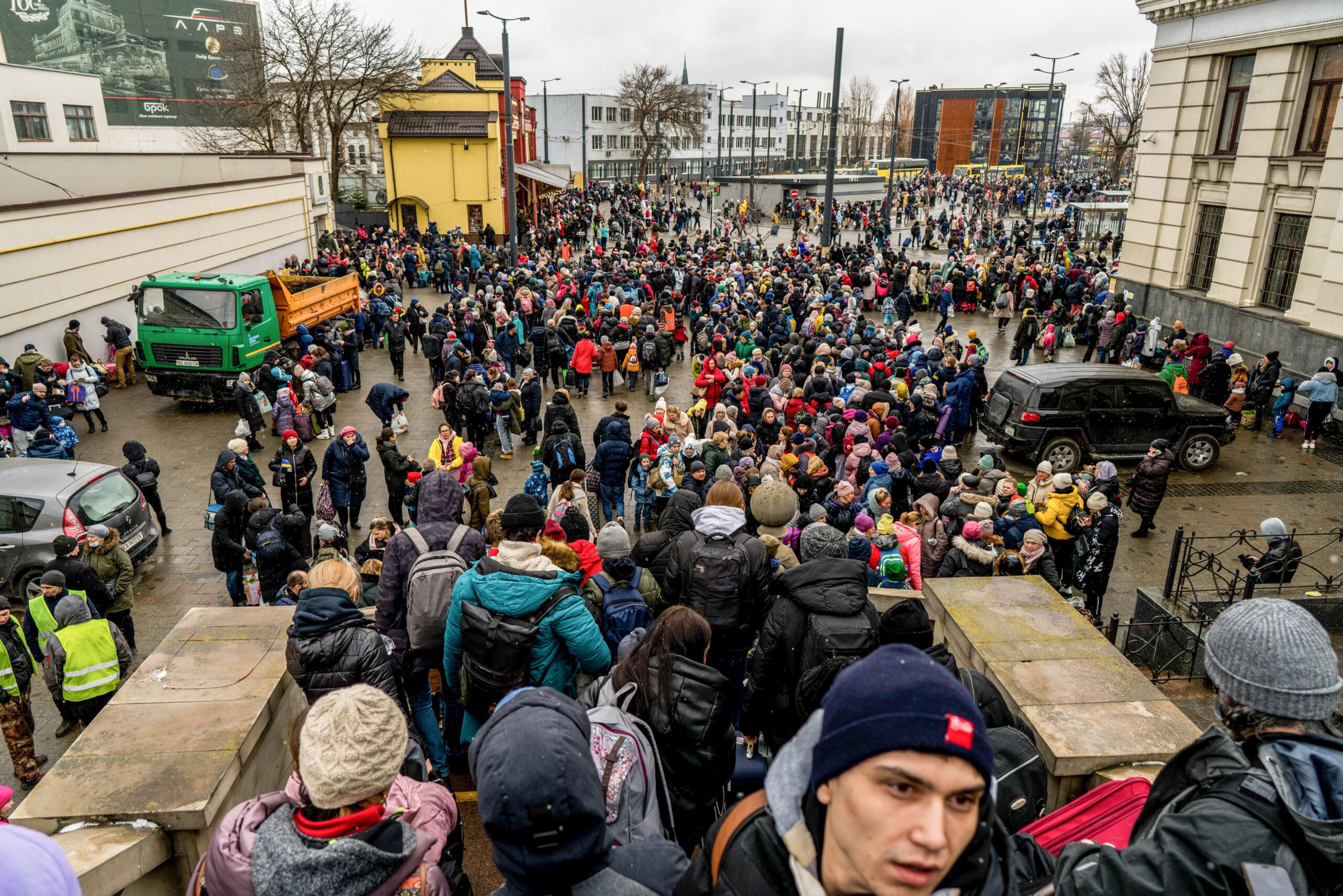 Music scenes are also, by necessity, laboratories for collaboration and mutual aid. "There's been a lot of humanitarian help already," says drummer Lusya Zoria, who is volunteering despite being an internal displaced person herself (with her family). "Yesterday we spent time at one of the volunteer centers sifting through supplies that come from over the border, from Romania, from Moldova, from all over really. The issue is how to get it to the cities that need it the most—to Kyiv, to Kherson, to Kharkhiv, to towns that have been completely cut off and there is no getting through to them. There are no humanitarian corridors." (The humanitarian corridors currently proposed by Russia lead to Russian- and Belarussian-controlled territory.)
Music scenes are not often incubators for open patriotism and militarism, but these dire circumstances changed that. Even high-profile musicians like Boombox singer Andriy Khlyvnyuk—"real celebrities," says Boole admiringly—joined early and publicly. Musicians from all backgrounds have joined military and paramilitary groups at various levels. "Our army, God bless them," said Dudko. "ACAB is abolished during the war," says Death Pill drummer Anastasia Khomenko, who is sheltering in Kyiv with her husband, son, two cats, and a friend, sleeping in the bathtub for safety.  "Police are sharing Molotov cocktail recipes via their official channels of communication, and preparing this traditional beverage together with civilians," Lviv promoter Lyana Mytsko told me.
Vovk bassist and singer Oleksandr Kuts pointed out the importance of the "cyber-army" (highlighting Ukrainians' sometimes infamous hacking skills.) Somali Yacht Club's Mahula says he and his bandmates, in addition to their other activities in Lviv, are also "'fighting' on the cyber front."
"If [Russians] don't care that people are dying in Ukraine, maybe they will care that they can't go watch fucking Nick Cave." —Lesyk Mahula, Somali Yacht Club
Those who missed or didn't have the chance to join an official military order (the National Guard, the police, or the Ukrainian Armed Forces), are joining territorial defense units. These ad hoc militias provide essential services. "They fight and patrol the streets that are full of Russian saboteurs," says Konstiantyn Onopriienko of the hardcore band Clearsight. "These saboteurs are very dangerous because they often work as fire spotters to Russian artillery. So, the territorial defense units are extremely effective. [They're] even equipped with NLAWS or Javelins. They're able to stop tanks.
Enthusiasm for the military is high enough that military leaders have had to turn people away, says Dudko: "So those who really want to fight, they are either already on the front or in training camps."
"I know a few guys from the hardcore punk scene who took up arms; graffiti artists who not only destroy Russian targeting stickers but took up arms themselves," Onopriienko says. "I don't have any exact numbers of how many, because, you know, people aren't very talkative right now." These volunteer militias—among other roles—patrol the streets of residential areas during curfew. "They're like the vigilante men," says Dudko. "They are looking, and checking documents, and if it's understood that this is not a guy from the neighborhood, then he's gonna die."
"Right now," adds Kyrylo Brener of the Kharkiv-based band Kat, "and I know this is 100% true—if I go to the territorial defense, they will not allow me to join, because I don't have any experience with combat. And right now, they want only people with experience. I would be useless. They don't even have the equipment, because so many people want to join. There are basically lines to join the territorial defense."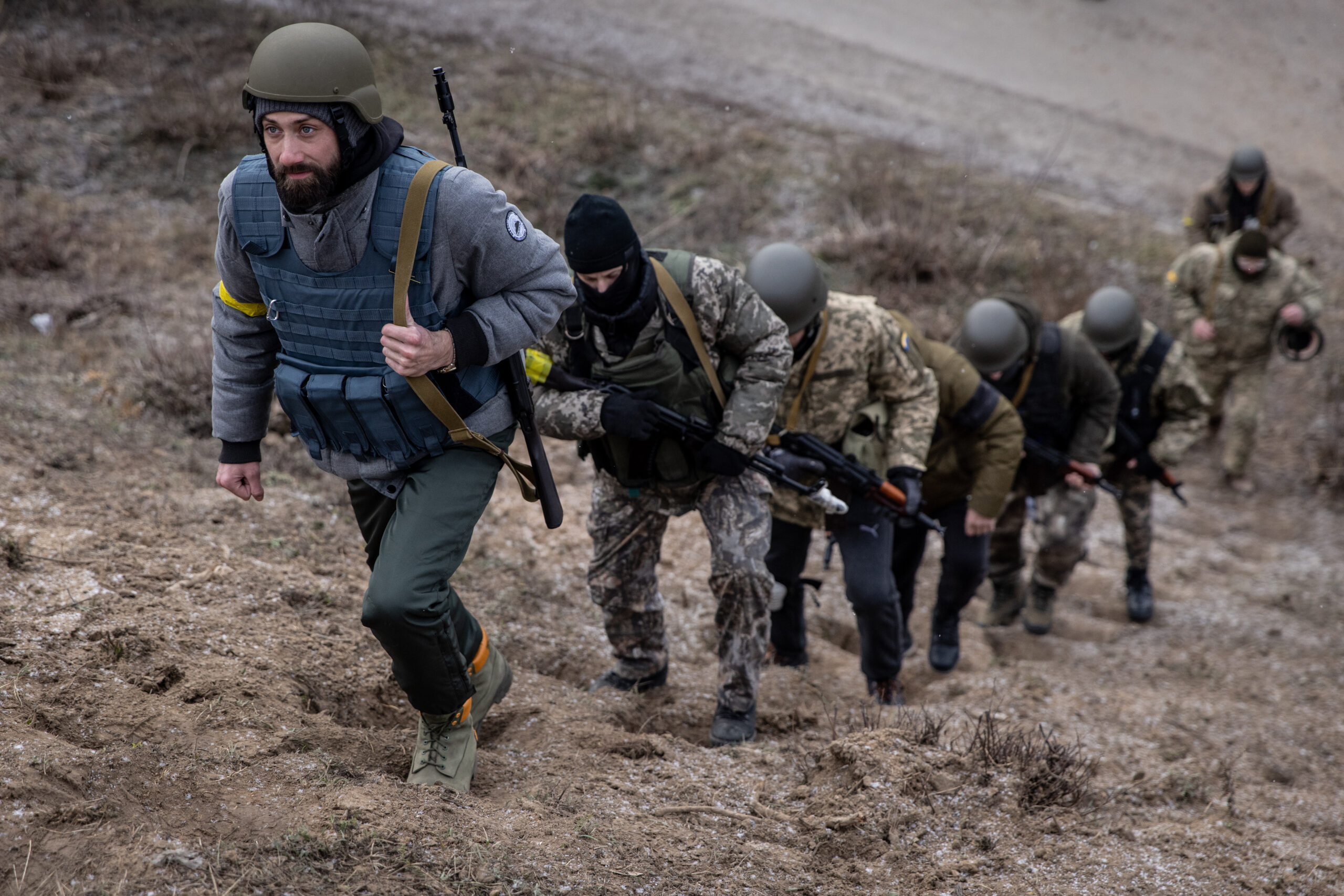 The cultural class is also reconsidering its early suspicions of President Volodymyr Zelenskyy. While overwhelmingly elected,  the former sketch comic and TV entertainer was widely considered at best lightweight and at worst a puppet for shadowy Russian-aligned interests ("They're all terrible," a friend told me before the 2019 election that brought Zelenskyy to power, "at least he's funny.") Political preferences aside, his current (reported) 91% approval rating in crisis may remind Americans of a certain age of the similar rallying around George W. Bush in the immediate wake of 9/11 (or the maddeningly effective ease of an experienced entertainer like Ronald Reagan in extemporaneous speech to a camera.)
But the admiration is real: "Today I told my friends that I can't imagine any other person that I [have] so dramatically changed my mind about," says Brener. "I didn't vote for him. I didn't like his program; I didn't like his statements. But he changed during these last five days. It's an honor to have a president like that in such tough circumstances. I can't say anything else about him."
Dudko: I was never expecting to say something good about President Zelenskyy, but this situation changed that. He's acting like a real leader now. I thought that [Zelenskyy] was more like a talking head in the TV [with] somebody who stands behind him—[someone] that was really making moves instead of him. Everybody I know had pretty much the same impression, even though the vast majority of people two years ago voted for him. It was probably the most democratic election that we ever had—73% [voted] for him, even though he didn't have any political program. At first, everybody was charmed. But that charm was like the morning fog — it just disappeared. Now, everything's changed. Really, I think the whole nation is supporting him.
Sidorenko: It's pretty incredible. He wasn't the most popular, and probably not the best president in general, but he is the perfect military leader for some reason. He is so inspiring, even for people who didn't vote for him—like me! Ukrainian lore is getting richer and richer with new heroes every day. President Volodymyr Zelenskyy belongs in this pantheon.
Zoria: I absolutely did not vote for him. And I know very few who did in my circle, among the cultural class. But I would say that he has the admiration, the respect, of everyone now. People are made by the situations that they find themselves in, and he has definitely risen to the occasion. Today, I watched his address [to] the EU, and the entirety of the EU session was standing with applause. And I don't think this is something anybody would have thought possible even a few months ago.
Kladbische: I am one of the people who really disliked Zelenskyy. But now I'm ready to apologize for all the funny memes that I posted to insult him. When we win, I will probably go to the square with a poster: "Zelenskyy, sorry for the offensive jokes on the Internet. You are my hero now."
Boole: I am fucking shocked, to be honest. I was extremely not supporting him. Now I've changed my opinion. I already wrote on my social media that I'm sorry for all the bad things I said about this dude, from the bottom of my heart. I'm sorry for every fucking word. I made a mistake. I'm just surprised how this guy turned from a comedian and actor doing voice dubbing for Paddington the teddy bear—to one of the strongest leaders right now in modern history. That's the guy telling the American president: "I don't need a ride. I need a weapon." What the fuck, man? His balls are really big!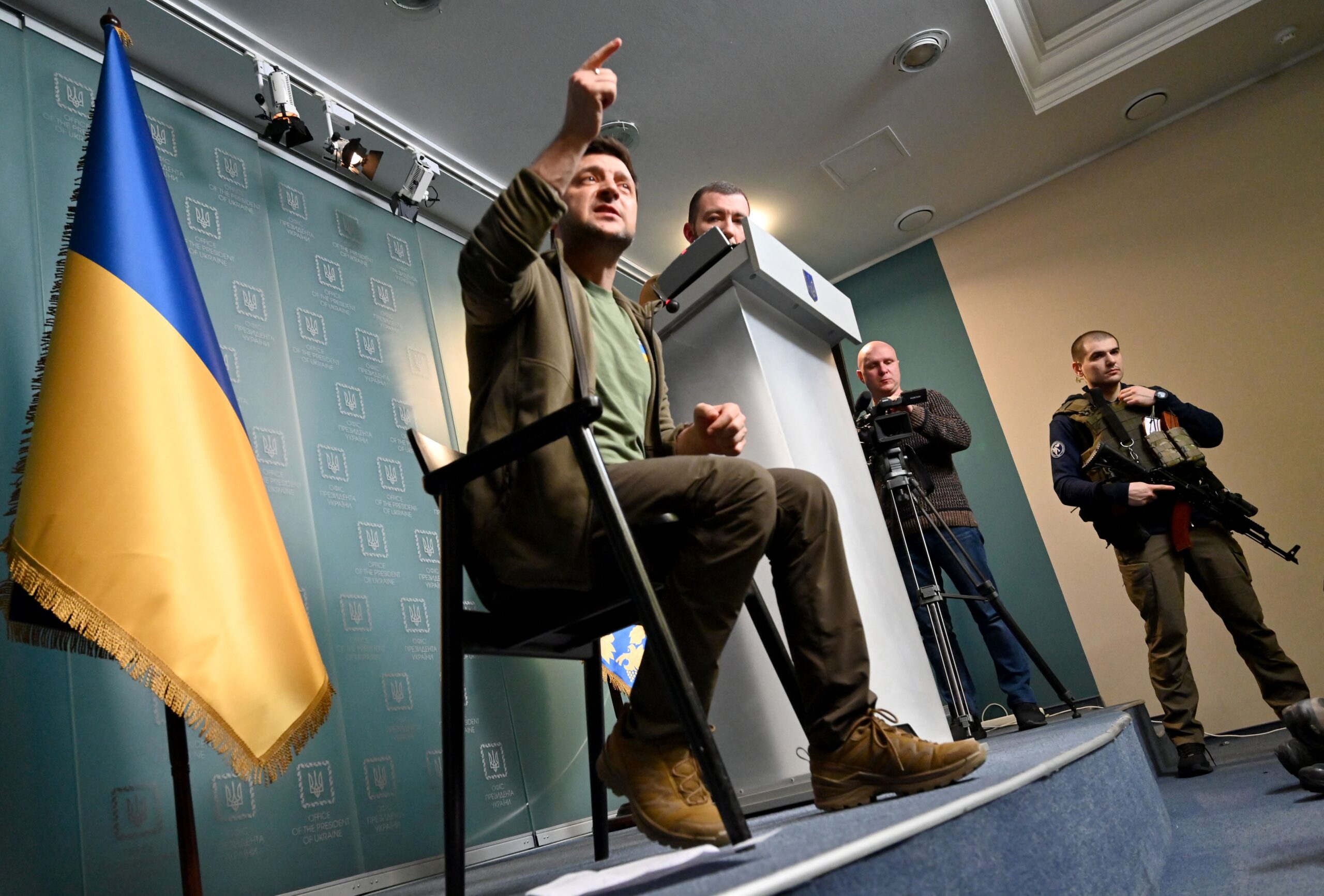 Most of the people I was able to contact (as of March 1, with "able to contact" the key phrase) were in relative, if profoundly anxious, safety: their internet, water, and heat still worked; stores remained stocked. At this point in Kyiv, Dudko says the situation is relatively stable: "Everything you want, you can get; the grocery stores, the big supermarkets, they are open. And there is no problem even if you want to pay with a bank card, you can still do that. This is also a good, a good sign—not cash only. Water is here. The main problem is bread, some long-term meat products—if you know what I mean—and milk, all the [dairy] products." Kyiv has cut off alcohol sales. "This is the right move," says Dudko. "I cannot imagine somebody wants to drink in this situation. You quit everything. The way you feel all these days is like, you're constantly having an adrenaline [rush]—it's like super-anxiety, but not [in an anxious way]. It's like your body is always mobilized."
But as Dudko and the country watched the footage of Kharkiv's destruction, he knows how suddenly that stability can be dismantled. "My heart really, really hurts when I see those videos from Kharkiv," says Dudko. "This is real pain. I love that city. Sorry for my speaking problems, but it's an emotional thing. I know a lot of people there. I really love the city and I cannot watch that without any emotion."
Brener lives closer to Kharkiv, in a village outside Poltava, and has been in constant contact with bandmates there: "It's really hard to go to the street and buy [food] in Kharkiv right now," he says. "First of all, you will have huge lines—you can wait literally two hours just to get inside the market. Second of all, you really can get killed each second. I have a friend [in Kharkiv], a drummer and sound guy. He had this minivan and yesterday, he volunteered to drive and support people with food—with bread, water, just basics. And his car got shot—he's fine. But just imagine, your city is destroyed, and you get shot in your car when you're just trying to support people with food.
Brener said that aside from checkpoints and curfews, the situation in his village is less severe. "Obviously people are scared because you literally can die. Today, for example, my friend went to buy bread in the center of Kharkiv, and near the market, there was [a] bombing. Some guy next to him got killed, and he just ran away to the subway station. It's pure luck that he is still alive."