The Linda Lindas are hitting the books. The teenage punk band has returned to the L.A. public library, the place they first got noticed a year ago, for their Tiny Desk (Home) Concert. The performance features the band taking turns singing, jamming out amidst the shelves with a setlist of five of their songs from their debut album released last week.
The Linda Lindas became viral sensations with their performance of "Racist, Sexist Boy," at the L.A. Public Library in early 2021. This is the performance that got the band signed to punk label Epitaph Records–and a whirlwind of a year for the young musicians followed.
The band began with the title track to their debut, Growing Up where their youthful energy and clear talent converged to create an explosive and danceable performance.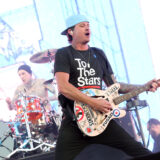 "We're super-excited, we're so happy to be here," guitarist Lucia said in between songs. "Just [a] cool space, we're playing in the library once more."
Ahead of their album's release, the band sat down with Bikini Kill/Le Tigre's Kathleen Hanna for the latest episode of our Artist x Artist series. In their conversation, they exchanged questions about their origins, how they discovered each other and described what an "interview hangover" is.