Eddie Vedder had something he wanted to get off his chest.
"I got here at four o'clock and all of a sudden, my body started shaking and I started feeling really terrible," he told the crowd of 2,500 people packed into Seattle's Benaroya Hall. "I had an allergic reaction to sadness."
Not a single person in the room needed to be told why Vedder had felt this way. Earlier in the day, the shocking news broke that Mark Lanegan, frontman for the Seattle's mighty Screaming Trees and prolific solo artist, had died. He was only 57. Vedder tipped his cap to the long lineage of incredible local singers. He didn't mention anyone by name, but you could probably fill in the blanks. Cornell. Staley. Cobain, to name a few.
"Some of those guys were one-of-a-kind singers, and Mark was certainly that," Vedder added. "It's hard to come to terms at this point, but he's gonna be deeply missed…just wanted to process it and put it out there and let his wife and loved ones know that people in his old stomping grounds are thinking about him, and miss him a lot."
It was an extremely heavy moment, but something of an anomaly amidst one of the more joyous concert performances Vedder has delivered in many years. Seemingly free from his nominal responsibilities fronting one of the biggest bands on Planet Earth, the Pearl Jam singer appeared totally at ease as he raced through a bevy of favorite covers, and new tracks from his Earthling, his first solo album in nearly 11 years.
The show began with an eye-widening take on R.E.M.'s Automatic for the People opener "Drive," before slipping almost directly into the Beatles' "Here Comes the Sun." Then Vedder gave his heartfelt tribute to Lanegan before diving straightaway into some of the best cuts off Earthling. Songs like "The Dark," "Invincible," and "Rose of Jericho." Earlier that day he learned his latest solo project had debuted at No. 1 on the Billboard album charts. Not that that was ever the point. "I don't care," he said. "I didn't think I'd do it."
During the song "Long Way," Vedder's youngest daughter Harper emerged from the wings to sing backup alongside guitarist/producer Andrew Watt. Appearing a little shy, dad eventually ambled over to offer some encouragement. Later on, the singer ceded the spotlight entirely to his older daughter Olivia who delivered a touching performance of the song "My Father's Daughter."
The mood in the air was decidedly light. At times, Benaroya Hall felt more like the scene of a big family reunion than a concert. "It's Seattle…so I know a lot of you," the singer explained.
Vedder remained in a chatty mood throughout the entire evening, telling groan-inducing dad jokes about keeping up with the Joneses – there was a literal couple named Jones seated just in front of him — while sharing memories about making his latest record with the likes of Stevie Wonder, Elton John and Ringo Starr. Apparently, Sir Elton turned up to the recording studio, ready to lay down his parts while wearing a pair of his finest heels.
This particular Seattle date had originally been earmarked as the final show of a quick, six-city tour of America to help support Vedder's latest record. But then COVID intervened – as it so often does these days – and a pair of performances in Southern California will mark the true denouement of the run.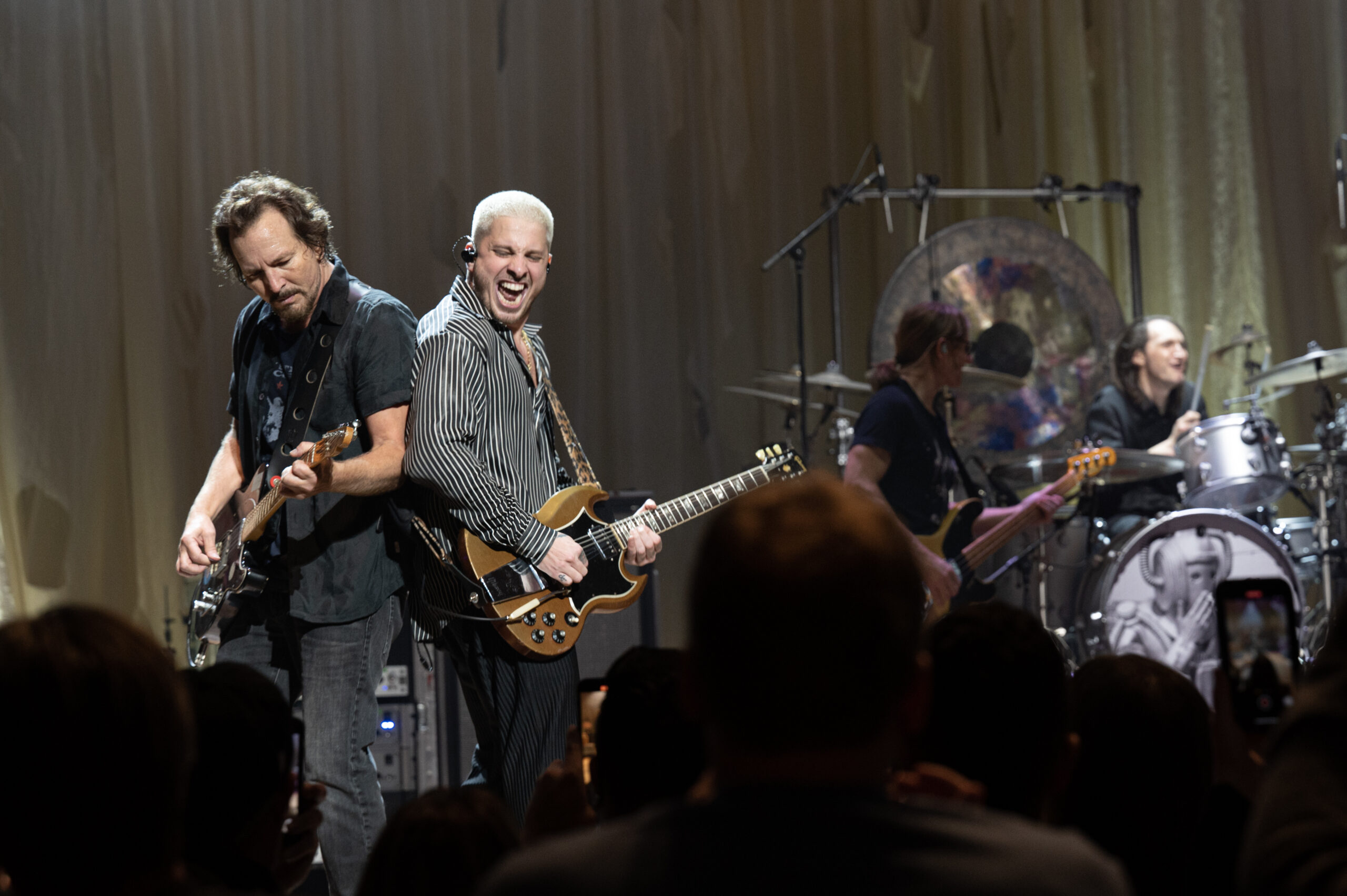 It's truly a shame that this slate of gigs was so brief.
The newly formed supergroup that Vedder put together for his latest project appeared capable of ripping through whatever their leader threw at them. "People Have the Power" by Patti Smith? No problem. "Isn't it a Pity," by George Harrison? Absolutely exquisite. An obscure, Pete Townshend solo single from the '80s titled "Give Blood?" One of the most hair-raising moments of the entire performance.
It was the kind of show where anything could happen. And it often did. At one point, there was a full-blown marriage proposal down near the front row. "Congratulations for starting a new chapter," Vedder boomed to the happy couple. Then, pointing to the groom-to-be, he offered some advice. "Don't fuck this up."
Around the end of the show, Red Hot Chili Peppers drummer Chad Smith even abandoned his throne on top of the riser to guitarist Josh Klinghoffer, picked up a Gibson Les Paul, and began furiously strumming out the chords to Neil Young's immortal anthem "Rockin' in the Free World."
There weren't many Pearl Jam selections among the final setlist, but Vedder and the band made the most of the ones that did. "Wishlist" off Yield came first, while "Porch" was given the honor of closing the main set. The real treat came during the encore when Vedder strapped on his Fender Telecaster and began to croon the opening words to "Better Man." A chorus of voices from among the crowd instantly joined in.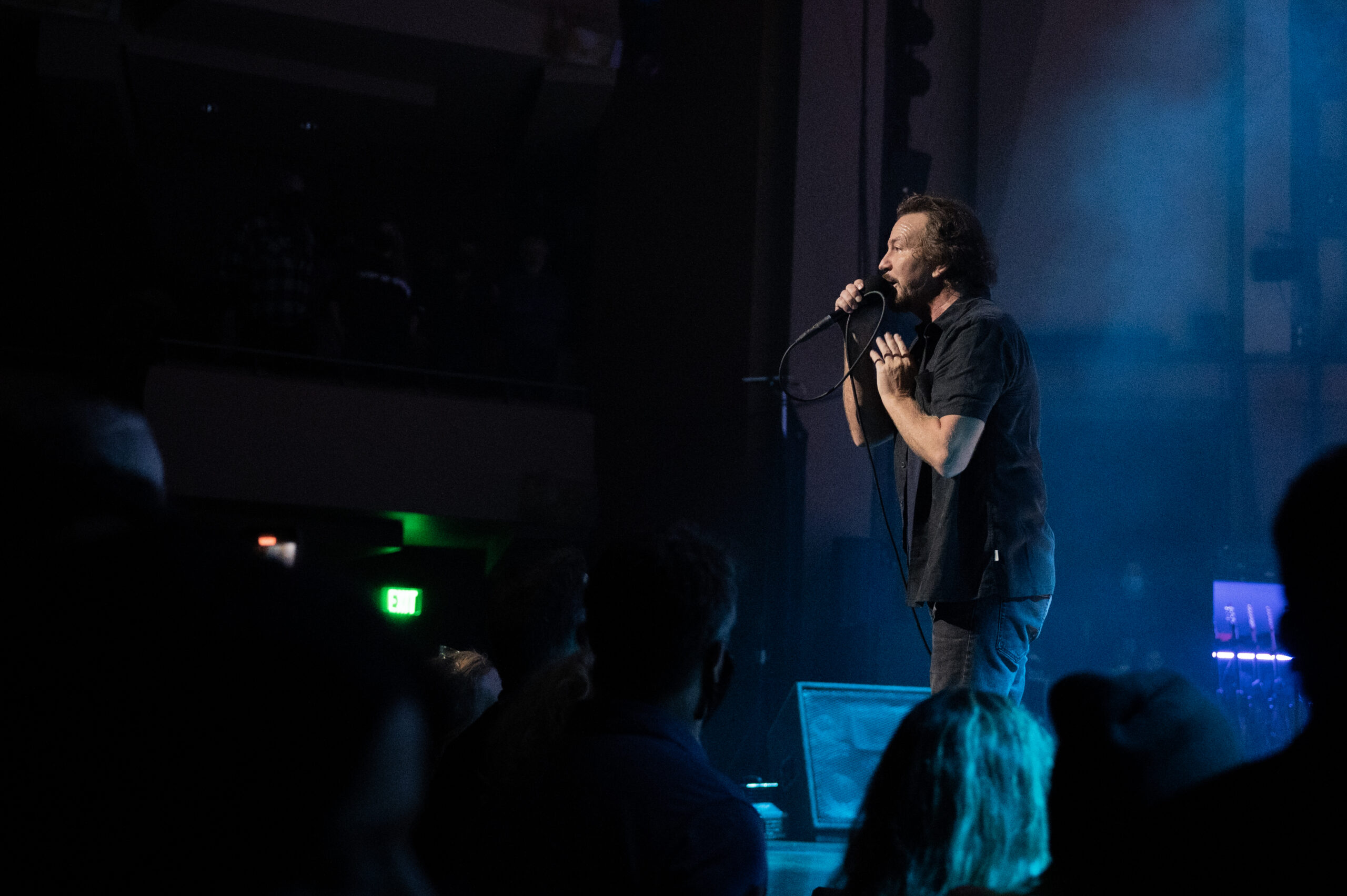 Vedder characterized the experience of making Earthing as a "Big fuck you to COVID." Creating that record, alongside Watt was a release valve for Vedder, when he needed it most. Later on, he revealed that just before the tour kicked off he actually contracted the dreaded virus. The isolation was terrible. "You don't sleep cause you don't know how bad it's gonna be," he said. But along with all that worry came new perspective. He described the experience of watching his own life flash before his eyes as he moved back and forth between Chicago and San Diego in the '80s and early '90s before finally settling in Seattle; his home for going on three decades now.
Through that experience, he learned a lot of lessons. Chief among them: gratitude. Gratitude for the people he loves. Gratitude for the opportunities he's enjoyed. Gratitude for the city that took him in all those years ago.
"We've lived this tour feeling every moment is precious," he said. "I'm so grateful to Seattle for all the years. This is the one chance I get to say 'Thanks.'"
Judging by the crowd's rapturous response, the feeling was decidedly mutual.