Call of Duty
Summary: With a new Call of Duty game out essentially every year, it's no surprise that last fall's Modern Warfare is still a big hit with both musicians and the general public. Coupled with the free addition of the free battle royale mode, Warzone, and plenty of nostalgia for some of the series older titles, Call of Duty remains the king of first-person shooters.
"I'm pretty new to the battle royale game mode. I played Fortnite for the first time only 2 years ago but immediately felt a little too old to begin taking it as seriously as most of the players do. There's something creepy about a 40-year-old getting worked up when he's defeated by children. Since then, I've been searching for something a little more casual while still requiring dexterity and knowledge of a PC. Call of Duty: Warzone is the best battle royale I've ever played. The Gulag is an ingenious way to earn a second chance, and the map is big enough where I can find a nice quiet corner, cower in fear, and think about my life."  – Keith Buckley, Every Time I Die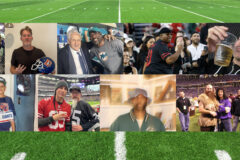 "I've been really enjoying Call of Duty: Modern Warfare while at home these past few weeks. I've been lucky enough to play with my friends Marshmello and Jauz during the FaZe Clan Fight2Fund Tournament and raise some money for a good cause!" — Alesso
"I've been playing Call of Duty since I was a little boy. I've always been into shooter games like Call of Duty, [Tom Clancy's Rainbow Six], and [PlayerUnknown's Battlegrounds]. I always loved playing with my friends online or in multiplayer matches. Now, I'm into doing campaign missions first to get the full background and understanding of the game. I'm a dawg though, and I used to play in small competitions. Hop on and get smacked by ya boy if you got heart." — YBN Nahmir
"I love the fast pace of the game. It's always a rush to see if you're going to survive or not. The gameplay is very intense, plus the people talking over their mics are hilarious to listen to. The newest Call of Duty's graphics look incredible as well!" – David Ludlow, DED
"I love Call of Duty because of the competitive nature of the game. It allows you to team up and play other crews. The graphics are crazy. It feels so realistic. One of the best combat games out." — YBN Almighty Jay
"When I'm not writing or making music, I really enjoy playing Call of Duty: Modern Warfare with friends. No better way to pass time during quarantine than by getting carried by the boys in a game of search!" — Christian Lalama
"Our game of choice during the quarantine has been Call of Duty: Black Ops Zombies. We played a lot of that in our early teen years, and it's still one of our favorites." — The Driver Era
Dragon Ball Z
Summary: With the recent release of Dragon Ball Z: Kakarot and the continued support of Dragon Ball FighterZ, fans of the seminal anime series have more gaming options than ever before. Whether they want to follow Goku's story through memorable plot points or just duke it out with their favorite characters, there's plenty of Super Saiyan gameplay to go around.
"I have been a huge Dragon Ball Z fan almost as long as I have loved music, so I jump at any chance to take control of one of my favorite characters. Dragon Ball FighterZ is such a good fighting game. When you combine that classic 2D fighting style that so many of us have loved since the early days of Street Fighter with the planet cracking finishers that only Goku and the like can provide and in a graphic style that almost feels like an episode, it brings me right back to the first time I watched Gohan obliterate Cell (one-handed, I might add). It reminds me why no game is ever more intense than a one-on-one match between you and your friend." — Zac Hanson, Hanson
Control
As a strong Game of the Year contender for last year, Control stood out as one of the top sci-fi games of the generation. Now that it's been further expanded with some significant downloadable content and frequently put on sale both on console and PC, it's drawn a whole new wave of fans looking to break out of the monotony of quarantine.
"I went through a list of fairly new games and Control stood out by far. It's dope to be able to control matter and throw objects at people. Plus I like that it's a chick beating people up. It's satisfying." — Mike Dupree
Animal Crossing New Horizons
If you haven't heard about Animal Crossing yet this quarantine, you've clearly spent way less time on the internet than anyone else. Everyone from Pete Wentz and Mark Hoppus to Lil Nas X and Chrissy Teigen are currently paying off their debts to Tom Nook and patiently waiting for the turnip gods to turn prices in their favor.
"I'm just obsessed with it. I've been playing Animal Crossing forever, and when I saw they were bringing out New Horizons I pre-ordered it straight away. I find it's really calming, and it's the best way to unwind or relax if you're feeling stressed in the real world. It's also a nice way to visit my friends while we can't actually visit each other in real life." — Eliza Klatt, Eliza and The Delusionals
"Animal Crossing allows me to live vicariously through my character. I can finally own a house, have a garden and spend the day 'outside' even while quarantine doesn't fully allow it. I'm a proud owner of a 4-star island, so now it's about getting furniture and breeding flowers to earn that full 5." — Cole Preston, Wallows
"I'm not an avid gamer by any means, but we were at the peak of our touring schedule when the Nintendo Switch came out, so my band and I jumped at the chance to have something to do on the long car and plane journeys. I hadn't found a game I'd really loved and consistently played since probably 6 months ago, so I was very ready for the new Animal Crossing. I used to play it on Nintendo DS, so I knew a bit of what to expect, but the real fanatic in the band is Joe. He's a pro and wasted no time getting his new island in order. I play at a much slower pace, enjoying the little things along the way to the greater goals. It's definitely helped pass the time during isolation. I'm kind of kicking myself for not buying shares in Nintendo before everyone found themselves inside playing Switch 24 hours a day." — Harriette Pilbeam, Hatchie
"Right now, I'm deep in Animal Crossing: New Horizons and Minecraft — two games where I can get into a meditative zone and forget about the stresses of the real world. I've also been doing weekly concerts and DJ streams on Twitch. For the last one, we created a green screen room in Minecraft and invited viewers into the server to dance behind me in the DJ booth. Definitely having a lot of fun in virtual worlds right now, and so grateful for it!" — HANA
"Animal Crossing is the perfect game for 2020. The stock market is crashing, but you can still game the Stalk Market. You can hang out with your friends (who are always happy) all day. And your debt is still huge, but now it's imaginary. It's a millennial paradise." — Matt Prodanovich, Sub-Radio
"I like playing Animal Crossing because it's one of the only games my wife will play with me. You can create your own little island and visit friends' islands, which is one of the closest things to visiting a friend's house while on lockdown." — Cam Brannelly, The National Parks