Beastie Boys Book, the long-awaited memoir from surviving Beastie Boys members Mike D and Ad-Rock, aka Michael Diamond and Adam Horovitz, is out on October 30. Vulture today published an excerpt that details the recording and release of the group's second album Paul's Boutique, their first post-Def Jam release on Capitol Records and a relative commercial disappointment following Licensed to Ill's historic peak atop the Billboard 200. Horovitz claims that Capitol floated a curious idea for promoting the record: diss MC Hammer.
From the excerpt:
They said that diss records always get some kind of attention, and 'cause Hammer was so huge, that'd be great. Oh, and that because Hammer was also on Capitol Records, it'd be easy to contact him to let him know that it wasn't for real. We told the saps that we'd never met Hammer and had nothing against him, and that he seemed like a nice enough guy. Maybe we should just try to get the songs on the radio and in clubs and stuff instead.
The group never recorded the diss track, and their sample-stuffed sophomore LP ultimately peaked at No. 14. Horovitz partly credits the subdued rollout to the fact that Capitol's president at the time they were signed, David Berman, exited the company shortly after the release. (Horovitz told Zane Lowe in 2015 that Berman was "fired for giving us a lot of money.")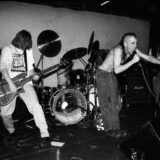 Vulture's excerpt recounts the group's first meeting with Berman's replacement, whom Horovitz describes as "mid-50s, balding on top with a teeny ponytail in the back, and he's rocking a brand-new, crispy, fake-tie-dyed Grateful Dead tour T-shirt. (Eesh.)" According to Horovitz, the new president told the trio, "Look, guys. I'm a Dead Head, so I know where you're at. The company's just really busy right now. We're all just focusing and working really hard on the new Donny Osmond album, so, next time. Okay?"
Horovitz suggests in the excerpt listening to Osmond's 1989 single "Sacred Emotion," so in honor of Adam Yauch's memory, we've included that video below. You can read Spin's oral history of the Beastie Boys here. The memoir is currently available for pre-order.