This review was originally published in the August 1998 issue of Spin. On the occasion of our list of best alt-rock songs of 1998, we're republishing it here.
Once upon a time, all the Beastie Boys wanted was an indoor Wiffle ball stadium of their own. Instead, they got rich and famous; got an ultracool record label; got older; got religion; got a lifetime supply of hipster cred and a strained relationship with their own history. Nowadays, if they stay out late, they head home singing "No Sleep 'Til Silverlake." Whither the brats of yesteryear? And where do they go from here? Fifteen years after "Cooky Puss," these questions break Hello Nasty in two. Oh well. Records were made to be broken.
If you're still waiting for the Boys to renew their license to ill, abandon hope now: They are never going back to their old school. But they are going back to everyone else's. No matter how much they swear they're "getting on down for the year 2000," the Hello Nasty that is given over to hip-hop is filled with so much money-makin' and disco-breakin' on and on till the breakadawn, you'd think we'd taken the way-back machine into the early Kangol era. Yet such recapping doesn't sound even faintly kitschy. More like a labor of love by three premillennial mensches laying their roots down: a B-Boy Anthology of New York Folk Music.
U.T.F.O., Mantronix, and T. La Rock? It's in there. Battle rhymes and zodiac signs? In there. Fat stacks of Flash and Run-D.M.C? In there like Times Square. "Super Disco Breakin'" and "The Move" kick off the jams with 808'n'hi-hat action on the classic tip, plus sirens, hand claps, and even a little beatboxing. "Unite" locks up funky breaks, horn samples, and ye olde def rhymes— if anything's New York folk music, this is. They pledge to tradition and tea ("I'll be smoking roaches in the vestibule/Till the next millennium I'll still be old school") and try to bridge the breakers and the ravers. It would be a perfect album closer, except that it's followed by three throwaways, including an excruciating Lee Perry guest dub. And back in the middle of the record, "There MC's and One DJ" (with guest cutup Mix Master Mike) should be the disc's fattest single. But who will play it? The problem with history is that you can get stupid with it but you can't exactly get stupid-fresh, and none of this heritage-hop delivers the shock of the new, much less the schlock of  the popular. Without a gangsta, playa, soldier, or an R&B hook in the house, Hello Nasty can say goodbye to both pop and urban radio. Lacking an airwave outlet, the Beasties have no way to find a new audience, and you can feel them hemmed in with their core fans: the same class clowns they've been stuck with all decade. There's a lot of love in the room, but the room is beginning to reek.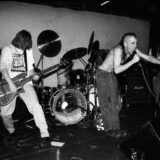 It's this trap that sets the tone for the other Hello Nasty— the one that wants to escape into the current landscape, to plot a course for the future. Of course, everyone in rockville faces the same puzzle; the funny part is how the Grand Royal label roster seems to have a clearer vision of what comes next than do its principals. But then, Sean Lennon and Alec Empire can soup up the boho-alt precisely because they lack such a history; the Beasties are still swimming in B-Boy bouillabaisse.
Given such claustrophobia, every turn away from tradition glows with the possibility of the new. Some of the turns are already taken, like the instrumental snooze-ups familiar from Check Your Head and III Communication — Santana roadies rocking the lounge at a French film festival. But other songs sound like the Beasties have been cruising the post-rock aisle and trying to read the changes. "Picture This" features downtown ingenue Brooke Williams's brooding torch folk over a controlled jam, like an East Village take on the Chemical Brothers/Beth Orion collaboration. "Song for the Man" co-opts the groovy, aimless charm of their Dust brother-in-law. Beck.
While it's a surprise to hear that half-singing, it's nothing like when Adam Yauch grabs the mic for "I Don't Know," the album's highlight. His airy, thoughtful falsetto wanders through a fog of acoustic guitar and strings, with Miho Hatori of Cibo Matto cooing underneath. It's as heartfelt as any oldschool tribute, and twice as pretty. "I'm walking through time, deluded as the next guy," he concedes. By the end, he's left repeating "I don't know" in a sweetly cracked falsetto, and you believe him. It's the sound of somebody trying to choose sides without breaking in half; somebody trying to find not a way back but a way out.