Rae Sremmurd are at the top of the world. They're also survivors. They bumrushed the charts back in 2014 with "No Flex Zone," a catchy but yappy song that garnered them comparisons to Kriss Kross, the world essentially telling them that nobody expected them to be around for very long. It made some sense if you didn't think about it too hard, in that Rae Sremmurd were, like Kris Kross, brothers who were shepherded to stardom by an Atlanta-based superproducer. But they were adults, not pre-teens, and they quickly made the belittling seem silly with their follow-up single "No Type," a syrupy strip club anthem that artfully rendered the world in slow motion. SremmLife, their debut album, cemented the duo's relevance and revealed the breadth of their skills—its best album tracks were not the turnt up party starters but the ones that dabbled in piano pop and EDM.
Life wasn't just a vacation from there. Their sophomore album SremmLife 2 didn't explode out of the gates with a hit single; instead, the two pre-release singles—the haunted house lullaby "No Chance" and the twinkly stargazer "Look Alive"—failed to make any impact, with the album selling basically the same as its predecessor. It wasn't until months later that "Black Beatles," a perfect song, would shoot to No. 1 (thanks in part to viral videos), an ultimate triumph for a group that had on multiple occasions been left for dead.
Their new album SR3MM (guess where it falls in the timeline) emanates a certain security. This can be seen most clearly in the fact that the duo followed through on promises to deliver a triple album, though in three nine-song sections (solo discs from Swae Lee and Slim Jxmmi, plus a combined effort) it is eminently digestible. That comfort with themselves and their place in the world is also evident in the way the two brothers use SR3MM to establish a tension and then diffuse it; by nature the album highlights their aesthetic differences, but at no point makes a strong argument for their separation. Still, it's a bit of an awkward listen, with each of the three discs displaying obvious charms but none following through on its promise completely.
The most interesting to consider is Swaecation, the much anticipated solo album from Swae Lee, who spent the time in between SremmLife 2 and now establishing himself as a solo artist, most notably on French Montana's "Unforgettable" (which he wrote and carries), but also on features like Ty Dolla $ign's "Don't Judge Me," a song about drug addiction in which Swae comes off as something like an oracle. He clearly has begun fashioning himself as if not a singer then at least a master of melody, infusing even his nominal rapping with an airy sort of melodicism that makes his words seem to hang in the air, lingering even as the song moves forward.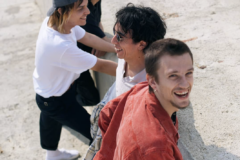 For his nine songs, Swae uses "Unforgettable," a song built atop a soft-stepping Afrobeats drum pattern, as its blueprint. Pre-album singles "Guatemala" and "Hurt to Look" both make minor tweaks to the formula without recapturing the magic, though "Guatemala" does reveal itself over time, its barely-there chorus worming its way into your brain and little sounds in the beat adding new textures to the record. But Swaecation is at its best when it removes itself from the continuum spanning dancehall and Afrobeats which has so far informed much of his solo work.
"Touchscreen Navigation," for instance, has the chug and sweep of synth-pop, sticking the landing in finding a midpoint between rap and Carly Rae Jepsen where someone like Lil Yachty fully faceplanted. "Heartbreak in Encino Hills" feels like Swae putting his spin on Frank Ocean's Blonde, with strip-mined guitar strums swimming through the stoned haze that permeates his album. "Red Wine," meanwhile, harkens back to the the R&B of The-Dream and Drake; both songs, though, could use more structure and better songwriting. Closer "What's In Your Heart?" decays into something resembling deep house, ending Swaecation with a nagging ennui that feels appropriate.
Jxmtro, Slim Jxmmi's album, is a bit more of a slog, if only because it most closely resembles the Rae Sremmurd of eras past. The most exciting verse on the album might actually belong to Zoë Kravitz, who steals the scene on "Anti-Social Smokers Club" with a bratty swagger that recalls the glorious heyday of Kreayshawn. (That's a compliment.) Nonetheless, there is a groundedness to Jxmtro that feels necessary in the context of this triple album—a thud that knocks you awake after you slide off the astral plane that is Swaecation. Jxmmi is far less nimble and fascinating an artist than his brother, but his understanding of, and playing to, his strengths is crucial to Rae Sremmurd remaining whole.
It's instructive that the best songs on each solo album happen when the brothers bend towards each other. On Swaecation, that's "Offshore," a spaced-out rap song whose chorus–"When we hit the floor / all the money downpour / That's what it's here for"–calls back to "Black Beatles." The song truly stars Young Thug, who raps for two straight minutes interrupted (it's like he snuck "Givenchy" onto someone else's album), his flow bending in dozens of directions as if he's sculpting in real time, but it easily could have accommodated Slim Jxmmi. On Jxmtro, the best song is "Changed Up," whose soft guitar licks call out for Swae in the distance.
That lesson is learned early, though. SR3MM kicks off the affair if you're listening in chronological order, and though it feels like what it basically is—a truncated Rae Sremmurd album that teases you more than anything—it also sports some of the duo's best ever songs. "Powerglide," the album's big hit, is the ideal Rae Sremmurd song, with Swae Lee letting his melodies slither across a propulsive and nasty beat, on which Slim Jxmmi, too, sounds perfect. ("this is my new favorite song damn this epic gothy beat and swae lee ethereal vocals," Grimes correctly wrote on Twitter.) "CLOSE," the newer single, folds Travis Scott's own misty melodicism into the group's world in a way that feels entirely natural.
But the song that stood out the most to me was not "Bedtime Stories," which features The Weeknd and is good, or "Buckets," which features Future and is bad. Instead, it's "Perplexing Pegasus," the album's first single. It was released back in August 2017, but the group went back to the drawing board after it barely scraped the charts. The song represented yet another false start for the resilient pair of brothers, but in the course of SR3MM, it feels hypnotic and bewitching, the conjuring of a spell. With this group, it's all about the context.