New York Times crossword fans are in for a treat today as Weird Al Yankovic co-authored the moderately difficult Wednesday puzzle. Yankovic took a break from writing song parodies to construct a puzzle comprised of film titles reworked as cheese puns. Sounds like a dad joke masterpiece. The Times provided some helpful guidelines to help you get started.
As an example, the clue at 20A, "Cheesy military drama?" hints at A FEW GOUDA MEN, a pun on the film "A Few Good Men." Now you go partake of the rest of the cheese board.

This might have made the clues too long, but I felt that a puzzle like this cried out for punnier clues. For example, at 28A's FETA ATTRACTION, a pun on the film "Fatal Attraction," I think a clue like "Thriller about an obsession with Greek cheese?" would have been fun.
Yankovic proudly unveiled the puzzle he wrote with crossword architect Eric Berlin on Instagram this morning and shared some helpful advice.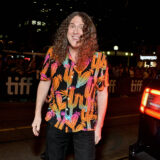 "If you're REALLY good," Yankovic wrote, "you don't NEED the clues!"
Thanks, Al.
Berlin pulled the curtain back on the process of devising the theme once he tracked down his childhood idol and got him to commit to the project. From the Times:
We batted around a few theme ideas, some of which seemed worth developing but none of which made it to the finish line. I suggested "The ____ Film Festival," with that blank to be filled in with whatever struck Al's fancy. He replied with a long list of cheese/movie puns, and I had no doubt that we had a winner. My very first attempt at the grid included one of my favorites from his list, QUESOBLANCA. I was under the misapprehension that queso is not just the Spanish word for cheese but also a specific kind of cheese. Whoops, not quite. (This was entirely on me, I should note — Al, not knowing during his brainstorming that the end result would be restricted to specific cheeses, had several cheese-adjacent puns in his list, including FONDUE THE RIGHT THING and CHEESY RIDER.)
If you can pick up a physical copy of today's paper, you can download a printable version here.