Chance the Rapper spoke at the Museum of Contemporary Art in Chicago last night for Pitchfork's In Sight Out discussion series. In the course of the talk the rapper responded to questions about his relationship with Kanye West, with whom Chance worked on 2016's The Life of Pablo. In the course of the discussion, the younger rapper revealed a pretty amazing anecdote from past time spent in the studio with his idol.
"[Kanye] showed me how to multitask and use the studio for more than making music…" Chance said. "He'll rent out a whole studio and fill it up with different projects. There was a whole room full of people on laptops—I don't know what they were doing. I met one lady who worked on The LEGO Movie and she was talking to, get this, a magician. They were talking about how to make Kanye disappear during a show." Sounds about right, doesn't it?
When interviewer Adrienne Samuels Gibbs inquired explicitly about whether Chance had worked on new music with West, Chance countered, unhelpfully but provocatively: "Uhhhhhhhh…. I guess!"
There a few things this non-committal, possibly-not-newsworthy comment could imply. One: Kanye has vaguely discussed working with Chance again but nothing's happened yet. Another: Kanye had Chance come to the studio and try some stuff out, but Chance has no idea if any of those takes will be used, and what form the end product might take. Option C (least credible, I'd say): Kanye and Chance have gotten together and collaborated on a very clear musical product that Chance is sure we will hear one day, and he's just being cute about it. Option D is probably the most likely: none of these, and I have no idea what I'm talking about.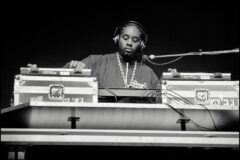 Chance was significantly clearer about the progress of some collaborative tracks with Donald Glover/Childish Gambino, responding to old rumblings about a potential joint mixtape. "We perpetuated that rumor for a long time without recording anything…" Chance said, according the MCA's tweets. "We did link up in Atlanta and record some tracks and…they're amazing."
.@AdrienneWrites "what's the status of the collaboration with Donald Glover?"@chancetherapper "We perpetuated that rumor for a long time without recording anything (laughs)… We did link up in Atlanta and record some tracks and… they're amazing."

— MCA Chicago (@mcachicago) March 6, 2018
"We know Kanye has some new music coming, are you working with him on anything?"@chancetherapper "Uhhhhhhhh…. I guess!"

— MCA Chicago (@mcachicago) March 6, 2018
Chance: There was a whole room full of people on laptops—*I don't know what they were doing.*
I met one lady who worked on the LEGO movie and she was talking to, get this, *a magician.* They were talking about how to make Kanye disappear during a show.

— MCA Chicago (@mcachicago) March 6, 2018