January always seems like the most crowded month at the gym for us regulars, but maybe you can take comfort in knowing that, at least statistically speaking, someone around you is probably listening to Eminem. According to new data from Spotify, the rapper's 2002 hit "Till I Collapse" is the most popular song globally on the platform's workout playlists, closely followed by Post Malone's "rockstar" and Eminem's "Lose Yourself" at number three, as Variety points out.
In the US, "rockstar" takes the throne as the most-streamed track on workout playlists, followed by Kendrick Lamar's "HUMBLE." and others from G-Eazy, Cardi B, and Imagine Dragons. Additionally, the platform shared that the top international city for workout music is Oslo, Norway, followed by Miami, Washington DC, and London.
Data also revealed that workout music hit record highs in January, slowly dwindling in listenership after Valentine's Day, which I guess makes sense given how many people always seem to make going to the gym their go-to resolution in the new year. No one ever said the gym was a bastion for good taste, but c'mon at least change it up every once in awhile you guys…
Check out Spotify's full lists of most-streamed workout music below.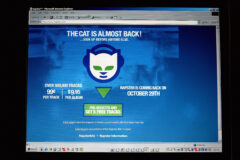 Top Global Workout Songs:
Eminem – Till I Collapse
Post Malone – rockstar
Eminem – Lose Yourself – Soundtrack Version
Kendrick Lamar – HUMBLE.
Axwell /\ Ingrosso – More Than You Know
J Balvin – Mi Gente (feat. Beyoncé)
Camila Cabello – Havana
Jax Jones – You Don't Know Me – Radio Edit
Dua Lipa – New Rules
Kanye West – POWER
Top Workout Songs in the US:
Post Malone – rockstar
Kendrick Lamar – HUMBLE.
Eminem – Till I Collapse
G-Eazy – No Limit
Cardi B – Bodak Yellow
Eminem – Lose Yourself – Soundtrack Version
Imagine Dragons – Thunder
Demi Lovato – Sorry Not Sorry
Kendrick Lamar – DNA.
Migos – MotorSport