Meek Mill's defense team filed a motion to recuse Judge Genece E. Brinkley from the rapper's ongoing probation case. Brinkley, who has spent a quarter-century on the bench, has been overseeing Meek's probation for nine years, and on Nov. 6 sentenced him to two-to-four years in state prison, inciting immediate criticism from famous activists such as Jay-Z and Colin Kaepernick. Drake, who waged a long and vicious beef with Meek, shouted out a fan holding a "Free Meek Mill" sign at a recent concert in Australia, and billboards have cropped up around Meek's hometown of Philadelphia urging for his release.
The 157-page recusal motion—which was provided to several media outlets including Spin—aims to convince an appellate court that Brinkley's rulings on the case have been tainted by an extrajudicial interest in the life and affairs of Meek, who was born Robert Rihmeek Williams. The documents, filed on Nov. 15, relies on transcript excerpts that, according to the argument put forth by Williams' attorneys, show that in her nine years of overseeing his case, Judge Brinkley has routinely stepped outside of her judicial role while overseeing his probation, taking personal offense to actions that might be perceived as innocuous by other judges.

In sentencing Williams at least two years in jail for violating his probation, Justice Brinkley framed her relationship with the rapper as one that both sides would be happy to see end:


Before delivering that sentence, Brinkley addressed Williams at length regarding community service. The judge took special exception to a day in 2016 in which Williams showed up to sort clothes for the homeless at Philadelphia's Broad Street Ministry instead of serving food at Chosen 300 Ministries, where the judge had recommended. Brinkley tells the court that she personally showed up to Broad Street Ministry to see Williams completing his community service in person, and was dissatisfied because she arrived before him. Further, Brinkley argued that Williams had performed the wrong service, sorting clothes instead of handing out food.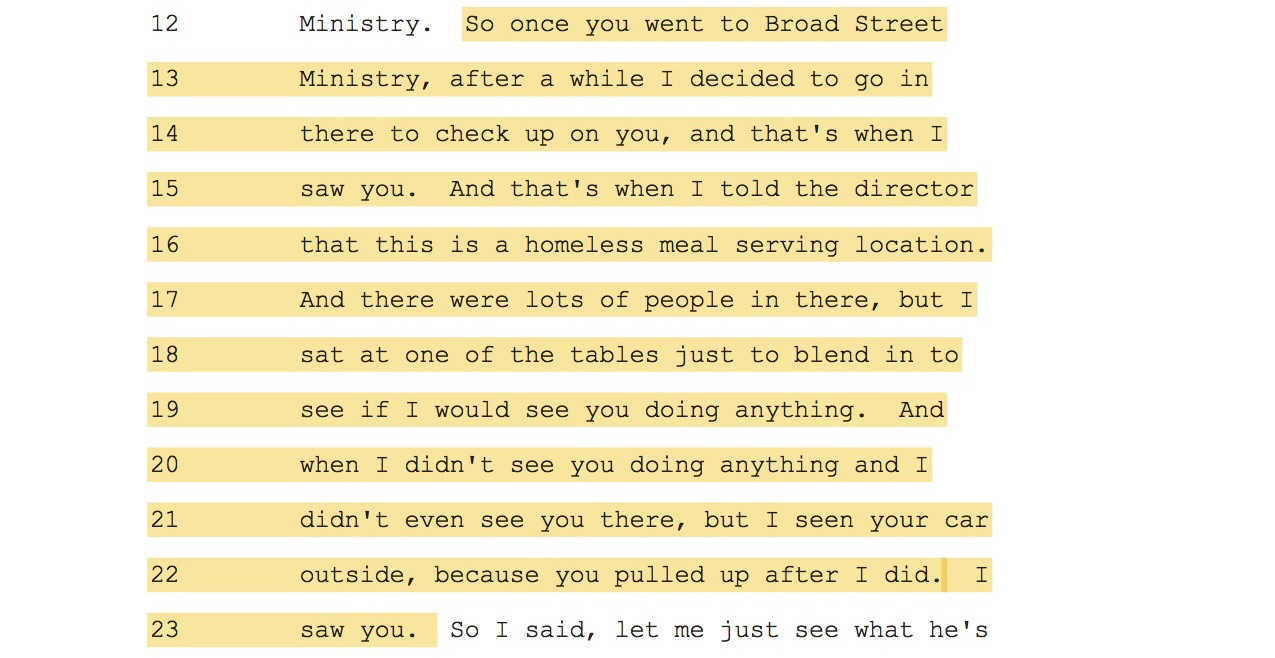 According to Tacopina, coordinators at Broad Street Ministry were the ones who decided to move Meek from serving food to donating clothes. "[They] said to Meek, 'Look, we don't want you handing out the food because there's gonna be too much of a distraction on the food line,' because everyone's gonna want to take pictures with him. Instead, they put him in the back to fold the clothes," Tacopina said. "He was just following instructions of the coordinators of the homeless shelter. It wasn't for Meek to decide what he was supposed to do there." When contacted by Spin, a representative for Broad Street Ministry said that as a rule they do not comment on any specific community service completed at the church. Their statement:
Although we at Broad Street Ministry understand that the events surrounding Mr. Williams' current situation have garnered significant attention, and although we strive to advocate for changes in a criminal justice system that adversely and unfairly affects primarily persons experiencing poverty and persons of color, we do not as a rule comment on any particular case involving individuals who may have served at Broad Street in any capacity.
Regarding Brinkley having shown up to personally supervise Meek's community service, Tacopina said in an interview with Billboard: "You could pull any judge in America and ask them how many times they've showed up at a community service for a probation and the answer is zero." In talking about this one incident, Williams did try and defend his position, before being cut off by Judge Brinkley, who seems to acknowledge his argument only so that it can be dismissed.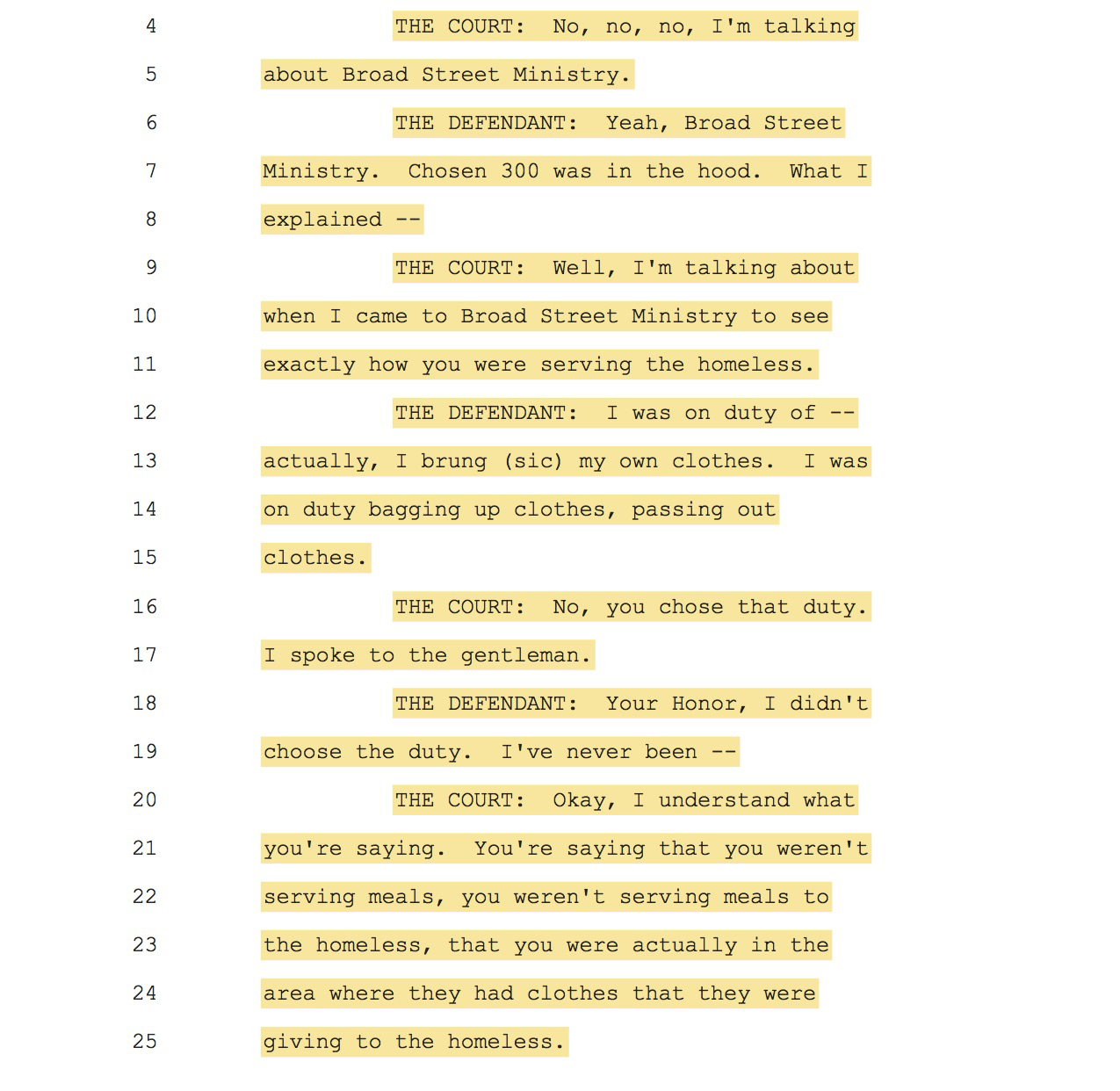 The personal offense taken by Brinkley was underscored at an earlier hearing on July 11, 2014, in which she sentenced Meek to a six-month sentence in county jail due to travel for concerts that the judge deemed to be unapproved:

Brinkley continued to harangue Williams after handing down the sentence, asking him to think about her own level of disappointment in him, invoking the life of Jay-Z. That disappointment was used to justify jailing Williams: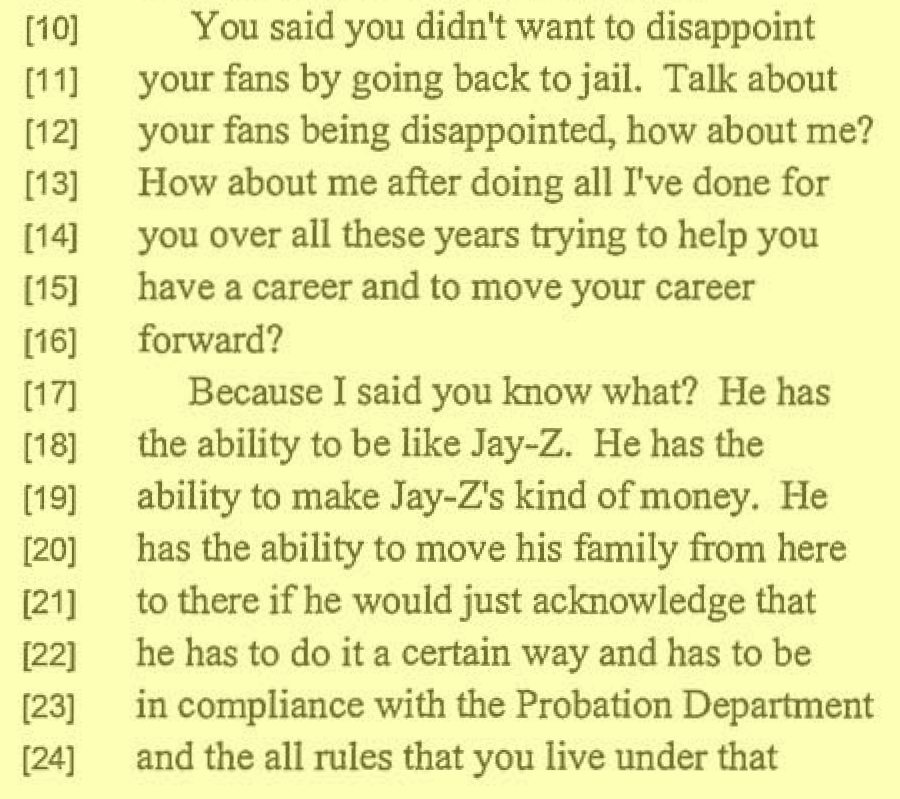 Tacopina told Billboard that Brinkley asked Williams to leave Roc Nation management to sign with known his former manager Charlie Mack—a well-known Philadelphia industry figure who Tacopina claims has a "personal relationship" with Brinkley. The motion does not show Brinkley admitting that she indeed has a personal relationship with Mack, but she does say there were "fewer problems with the probation department" when he managed Williams. In a separate filing, Williams' attorneys claim that Brinkley requested that the rapper and his then-girlfriend Nicki Minaj dedicate a cover of Boyz II Men's "On Bended Knee" to her, saying "suit yourself" when Williams refused. The allegation about Boyz II Men doesn't show up because Brinkley is alleged to have made the comment in her private chambers and off the record. Brinkley's office told Spin that she would not be commenting publicly on any of the claims presented by Williams' attorneys.
Brinkley has been the judge on Williams' case since he was convicted of drug possession with intent to distribute and gun possession in 2008. Peers and activists have expressed outrage over the fact that Williams has spent nearly a decade under court supervision. In Pennsylvania's court system, sentencing for violating probation mainly rests on the judge's discretion. If the judge finds the defendant guilty of a technical violation—misbehaving or not following probation rules, as opposed to getting convicted of a new crime—the judge has the authority to extend the defendant's probation sentence without granting him or her credit for time served.
Brinkley has done that twice regarding Williams' firearms charge, extending his original five-year probation by four years on two separate occasions. For his drug possession with intent to distribute charge, she gave him eight years before adding five more in 2014 and six more in 2016, according to Williams' criminal docket. Before November 6, the best case scenario involved him having already spent almost half of his life in probation.
Brinkley's extensive supervision and penalization of Williams may not be an isolated circumstance. The Philadelphia Inquirer pointed to seven of her cases in which probation periods rolled on for over a decade. This could be read either way. Philadelphia defense lawyer Samuel C. Stretton told The Philadelphia Inquirer that he took issue with how "she takes these things very personally," while personal injury attorney Kevin Harden Jr. characterized her actions to NPR as "very motherly and caring."
The motion to recuse entered by Williams' defense team is probably a long shot even given the above evidence. David Rudovsky, a senior fellow at University of Pennsylvania's Law School, noted that a successful appeal and recusal is rare.
"Since judges have such discretion with sentencing, it will be the rare case where the appellate court says it's too long," Rudovsky told Spin. "Depending what comes out this is not an easy case on appeal."
Since his imprisonment, a Pennsylvania appeals court rejected two bail requests from Williams' legal team. Brinkley herself denied a bail request, saying that he's a "flight risk" and "a danger to the community." As of now, Meek Mill is serving out his jail sentence at Chester State Correctional Institution in Chester, Penn.