Guided By Voices have announced a new album slated for 2018 called Space Gun. Following two full-length releases this year (August By Cake and How Do You Spell Heaven), the album is the 26th studio LP from the hyper-prolific band and 102nd from frontman Robert Pollard.
In the press release, the band describes it as "the fullest realization of Pollard's song talents, with the band firing on all cylinders." Partially written on the road for this year's August By Cake tour, the album was inspired by the band's new touring lineup, which features contributions from Doug Gillard, Kevin March, Mark Shue, and Bobby Bare Jr. "Pollard has acknowledged that this line-up's adroit talents pushes him to more daring and dizzying heights."
The band have shared the album's first single and title track, which includes recorded audio of an airport restroom paper towel dispenser. Soon enough, racing guitars barrel into the mix, with Pollard's thunderous vocals building to spectacular heights.
Space Gun is out March 23. Listen to the album's title track, and check out Space Gun's album art and tracklist below.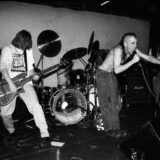 Space Gun album art: