Australia is in the midst of a nationwide vote on gay marriage, and Macklemore took a stand for equality during his pre-game performance at the National Rugby League Grand Final today. After announcing that he intended to sing his pro-LGBT anthem "Same Love" during his set, the rapper found himself at the center of a major controversy over the past week, with a petition to stop the performance from going forward reaching just over 18,000 signatures. But the National Rugby League rejected the pressure, and when Macklemore and Mary Lambert took the stage at the ANZ Stadium in Sydney, the stadium screen behind them displayed messages like "We stand for inclusiveness" and "We stand for equality" as multicolored balloons descended into the audience. As a result of the controversy, Macklemore and Ryan Lewis' "Same Love," which first came out in 2012, rose to #1 on the Australian iTunes chart, and Macklemore has pledged to donate proceeds from Australian sales of the song to aid the campaign for marriage equality. Watch the climactic performance below.
Same Love – @macklemore feat. @marylambertsing#NRLGF#NRL pic.twitter.com/TAhaZFjKZk

— NRL (@NRL) October 1, 2017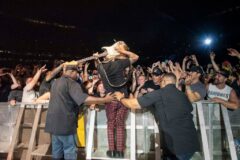 Message from #NRL during Macklemore's 'Same Love'. Amen. #NRLGF pic.twitter.com/58zqb2Izop

— Chris Kennedy (@CKennedy80) October 1, 2017
This article originally appeared on Stereogum.