Noted guitarist, onetime Guns N' Roses member, and eccentric rock personality Buckethead is suffering from a serious heart condition, he revealed in a recent podcast interview. The conversation, a rare out-of-character appearance by the man born Brian Carroll, occurred on a psychotherapy self-help podcast called Coming Alive. In response to a question about "the hardest thing you've ever gone through," Carroll, 48, detailed some of his recent health concerns:
"Well really recently, my heart—I have a heart problem where my heart beats out of rhythm. It's been doing it for a long time, but recently it just really kicked up into a really intense…. I really didn't know what was going on, I just tried to deal with it, and let it do what it did, and then eventually it would stop, but it got really intense so I went to the doctor and they said, 'Oh, you're on the verge of having a stroke.' I'm like, 'Ohh.' Because I felt so good prior to having it, I was doing pretty well and everything."
Carroll says he had a cardiac ablation, a procedure used to treat atrial fibrillation, and now takes medication, which hasn't fully resolved his troubles. "I had that procedure, and it didn't really stop it, and I'm still dealing with it," he said. "It's been really difficult, because it's scary, and it comes on … even walking across a room is difficult."
The "heavy experience," as Carroll puts it, has also pushed him to take advantage of his time. "Now I'm like, 'Well, I better do all the things I want to do,'" he said. "The day after I had that procedure, I recorded a record with my friend. I just lied in bed and recorded it. I just felt like, 'I'm here, still. I don't want to sit around and mope.'"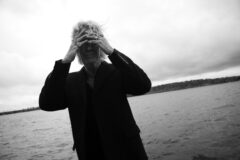 Buckethead recently completed a short fall tour. He didn't discuss the status of his future musical plans, but he did talk a lot about about overcoming fear, emotional experiences with music, and some of his favorite guitarists, particularly Bootsy Collins. Listen to the full podcast below.