This feature on Chris Cornell's first solo record, 'Euphoria Morning', was originally published in the November 1999 issue of Spin. We're republishing it now in the wake of Cornell's passing.
---
"You're gonna love this!" He may be known for falling on black days, but today Chris Cornell is playing court jester and effervescent tour guide as he leads the way into the Ruins, an exclusive, members-only restaurant in an industrial section of downtown Seattle. "When I joined I thought it was a club for local artists, but in fact it's for art patrons, meaning all the rich families go there," Cornell says as he steps through the club's whimsically themed rooms packed with artfully mismatched furniture. "When I walk in looking like this"–fresh from a photo shoot, Cornell sports a black leather jacket, vintage bell-bottoms, and scuffed motorcycle boots–"it's like, 'Excuse me, sir, there's no soliciting allowed here.'"
After the maître d' ushers us into an enormous private dining room–the sort of place where the super rich can hide from the prying eyes of the merely very wealthy–a waitress appears in an avant-garde milkmaid uniform to take our drink order. "I'll have the house champagne," Cornell tells her, "so I don't have to make a choice."
Even without the long locks that helped make the Black Sabbath look a fashion statement in the early '90s, Cornell still looks and acts the archetypal meat-and-potatoes rock star–he once boasted that he maintained his multi-octave screech with a steady diet of "red meat and cigars." Puffing on an American Spirit and tugging absent-mindedly at his Mephistophelian goatee, he looks like a jaw-dropping hybrid of Iggy Pop, Jon Lovitz, and postpunk producer Steve Albini. He carries his gangly 6'2″ frame with a slacker slouch and has a practiced knack for looking around people instead of at them. And as the champagne flows, he launches acidic observations with slurred glee. "Stone Temple Pilots, Bush and Silverchair are taking the simplest elements of Soundgarden, Nirvana, and Pearl Jam and melding them into one homogenous thing," he says. "[And] Alice in Chains were little kids that sounded like Ratt, and all of a sudden they saw what was going on and incorporated it. They were truly inspired by [grunge], which was cool, but it wasn't the same thing."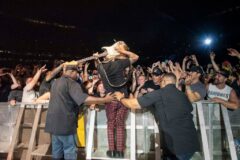 With Soundgarden gone and grunge a thing of the past, Cornell isn't only turning his back on his followers–he's stepping away from the sonic sludge almost entirely. More mature–and in the unenviable position of being identified with an ailing genre–he's going to great lengths to distance himself. From the opening song on his solo debut, Euphoria Morning, the melodic, Beatlesque "Can't Change Me," Cornell repudiates Soundgarden's alt-metal in favor of expansive, crafted tunes that can be hummed rather than just moshed to. "It was a conscious decision to break with the Soundgarden sound," he says.
So Euphoria Morning became genre-crossing eclectic. The R&B swagger and soulful vocals of "When I'm Down" suggest Harry Connick, Jr., getting his groove on at Lollapalooza; the twee beatbox look and chiming new-wave guitar underpinning "Flutter Girl" practically mock Soundgarden's testosterone groove. Cornell even adds jazzbo percussion to the album's most Soundgarden-ish song, the big-dumb-sex-for-grownups anthem "Mission." Besides a desire to reboot his sound, Cornell says Euphoria was influenced by cowriters/musicians/producers Alain Johannes and Natasha Shneider of the L.A. art-pop group Eleven as well as by the Beatles and Captain Beefheart. But Jeff Buckley's ghost hangs over the album most; Cornell wrote "Wave Goodbye" for his late friend and songs such as "Preaching the End of the World" echo Buckley's aching falsetto and sprawling arrangements.
Cornell says he's not worried about his new sound alienating his fans, but that may not be his biggest problem. The twilight of the grunge gods is upon us, and Scott Weiland's solo debut set a poor commercial precedent for alt-rock front-men trying to go it alone. On the other hand, "he didn't make a rock album like a Soundgarden record and that's a positive thing," says Tom Whalley, president of Interscope/Geffen/A&M. Cornell professes not to care about such matters–"I don't think sales are good for anyone who considers himself an artist"–but adds that "I think radio will love it."
Buckley's influence also gives Cornell's songs a vulnerability and loneliness that's almost shocking coming from one of rock's last great he-men (Soundgarden guitarist Kim Thayil once that the band wasn't "especially interested in showing a sensitive female side"). On "Moonchild," Cornell affectionately describes how his wife (and former Soundgarden manager), Susan Silver, "gets really freaked out during the full moon." On "Preaching," he claims, "You will see I am perfectly sane"–quite the unpunk admission for someone who has never been known for his sunny disposition. "The sense of anger I had when I was younger is something I thought would never go away," Cornell says. "Over time, it's something you get almost bored with."
He attributes much of that introspection to the downtime following Soundgarden's seemingly abrupt 1997 breakup. Despite some evidence to the contrary–bassist Ben Shepherd smashed his speaker cabinet and stalked off mid-song during the band's final show in Hawaii–the singer claims there's not nearly enough dirt on the breakup for a halfway-decent Behind the Music. "There were always tense shows," he says. "Success definitely affected the band [negatively], and there were indications of everybody wanting to do different things, so we decided to kill the beast at a time when everything had been what we wanted."
He's quick to offer whereabouts on two of his former bandmates–Shepherd and drummer Matt Cameron (who also played on Euphoria) collaborate on side projects such as Wellwater Conspiracy and Hater–but he's more vague about the activities of Thayil. "Chris and I haven't talked in a few months," Thayil says, "but I don't think that's about avoidance. I went to a baseball game last week with Matt and Ben, and Chris probably would've been there if he wasn't out of town."
Cornell suddenly notices we're the only ones left in the restaurant. He staggers outside to the parking lot, so I offer him a ride home. He declines and drives off into the night. As if on Seattle-perfect cue, it begins to rain. Earlier that evening, I asked Cornell–who's referred to himself as a drunk in previous interviews–if he ever worried about ending up on a self-destructive path like Cobain. He paused for a moment then replied, "There's always tomorrow."
When tomorrow comes, Cornell admits: "I'm a little bit hungover. The waitress last night was pouring champagne like it was diner coffee. They'd never done that before." Driving through a hazy drizzle, he offers a tour of Cornell-centric Seattle highlights, including the marina restaurant where he used to wash dishes and the Gob Shop. ("That was the place to buy pipes and bongs.") He stops at a café on Queen Anne Hill. There he's so super-unknown that the waitress not only doesn't recognize him, she cards him for the martini he orders. It may point to just how tough it is for a louder-than-love rock god to move units in the postgrunge era, but it's just the sort of protean anonymity Cornell has always craved.
"I saw Alice Cooper on Jay Leno, and I instantly thought, 'Thank God I didn't create some character when I was 22 that I have to keep emulating in my 50s,'" he says. "Whatever's going on in my new record that feels more adult is totally natural. I remember a quote Sting made about the Rolling Stones, saying, 'When I'm in my 50s, I don't want to be stomping around like an idiot onstage.' I thought Sting was an idiot, but now I think he was the smart one–I look at the Rolling Stones and thank God I don't have to be Mick Jagger. You can always destroy everything."
And, of course, there's always tomorrow.