SPIN, VIBE and Stereogum (in conjunction with Mazda) have united to celebrate artistry and innovation in music and technology at the 2017 SXSW conference in Austin, Texas. The music brands will come together to take over the city's stalwart Empire Control Room and Garage (606 E. 7th St.) for a heavily stacked series of day parties and official nighttime showcases on the Empire Garage stage.
SPIN will present an inspired and eclectic multi-genre mix of artists, including Mastodon, Lil Yachty, Danny Brown, Kelela, Japanese Breakfast, DJ Esco, Bibi Bourelly, the Drums, Vagabon, Show Me the Body, Beach Slang, and many more.
Tuesday, March 14, 12:00 p.m. to 5:00 p.m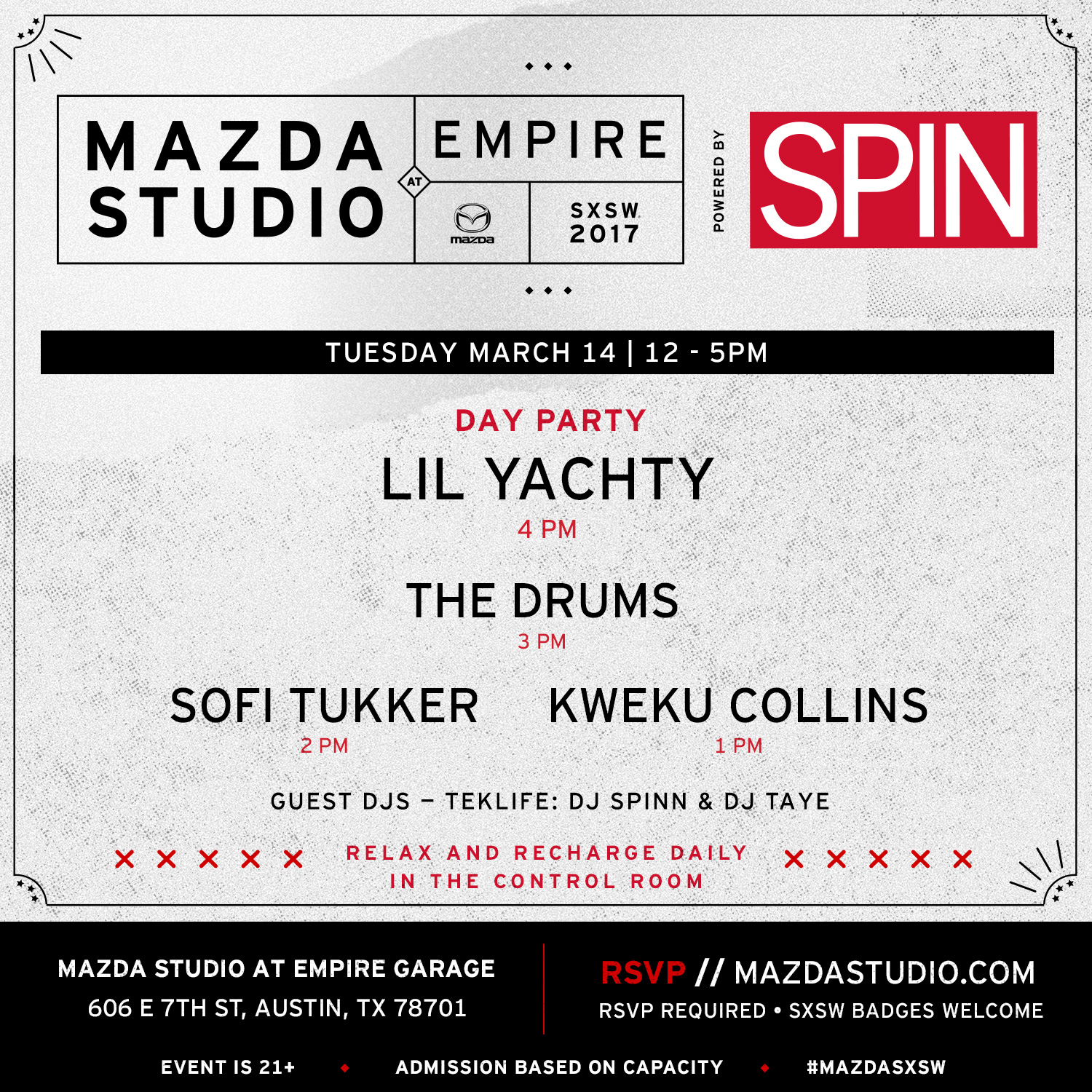 Wednesday, March 15, 7:00 p.m to 2:00 a.m.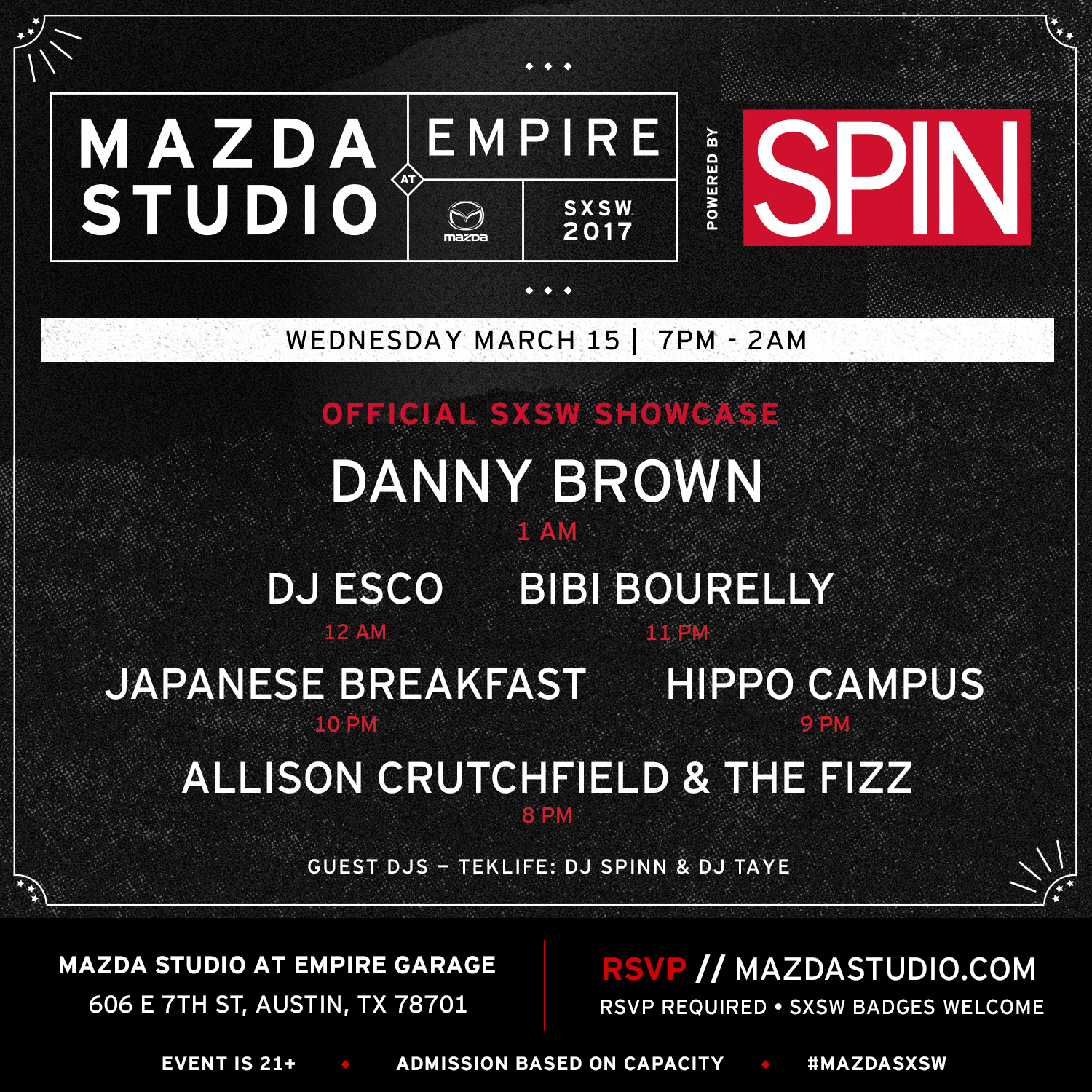 Friday, March 17, 12:00 p.m. to 5:00 p.m. and 7:00 p.m to 2:00 a.m.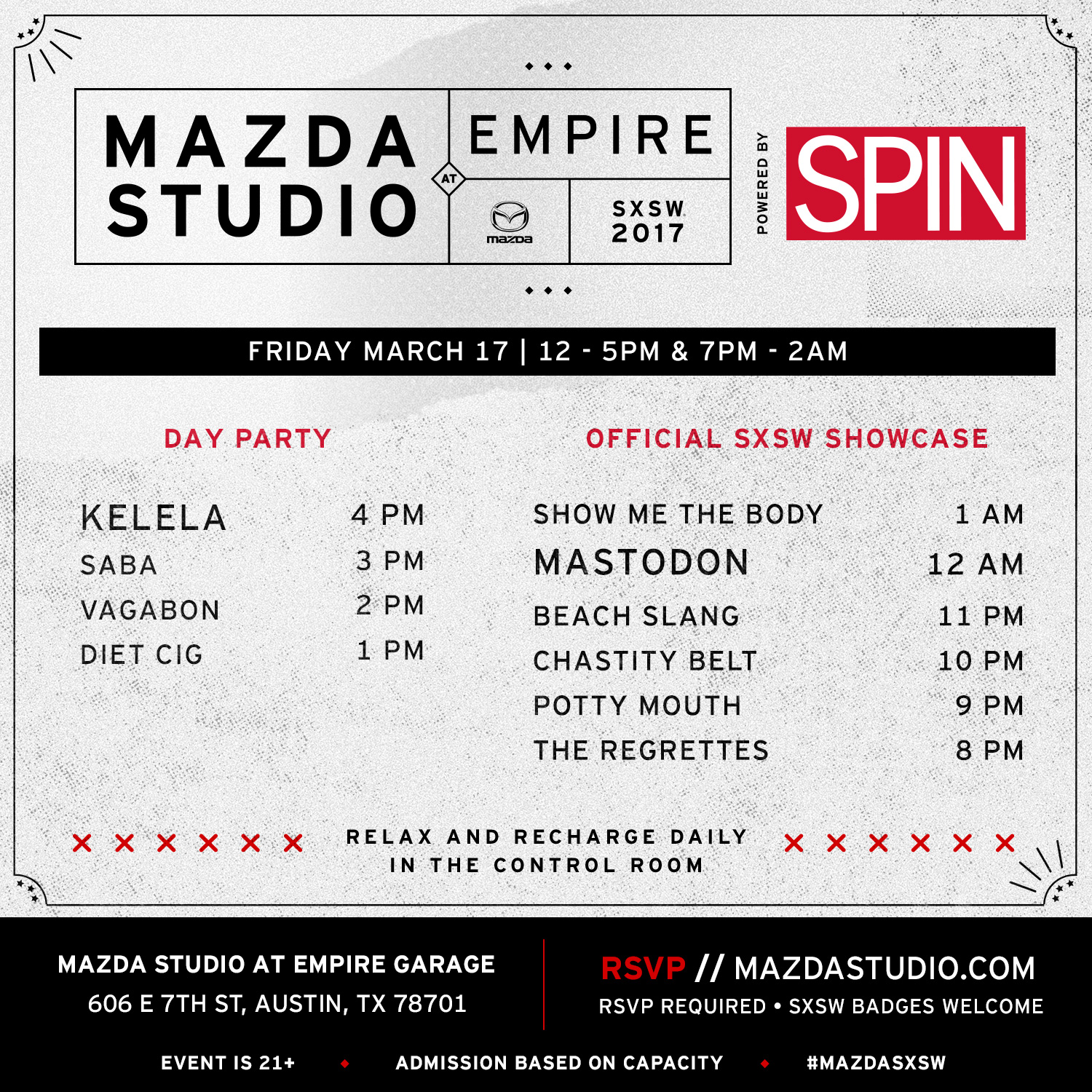 Stereogum and VIBE have an equally packed schedule, with the New Pornographers, Rick Ross, Sleigh Bells, Yo Gotti, Talib Kweli, Jamila Woods and Real Estate among the acts set to perform across the week's day and night parties on the Empire Garage stage.
The Control Room will also host a series of official SXSW evening showcases for Neon Gold, Kitsuné, Zero Fatigue, and JuiceLand Radio.
Throughout the week, Mazda invites SXSW attendees to explore the brand's challenger spirit by attending design, technology and innovation downloads at the Mazda Studio at Empire. The studio will feature Mazda designers and brand experts who will host new activities each day.
See below for the complete schedule of SPIN, VIBE, and Stereogum events happening at the Mazda Studio at Empire during SXSW 2017, March 13-17. The RSVP open now at MazdaStudio.com.
Mazda Studio at Empire Schedule (March 13-17)
Presented by SPIN, Stereogum and VIBE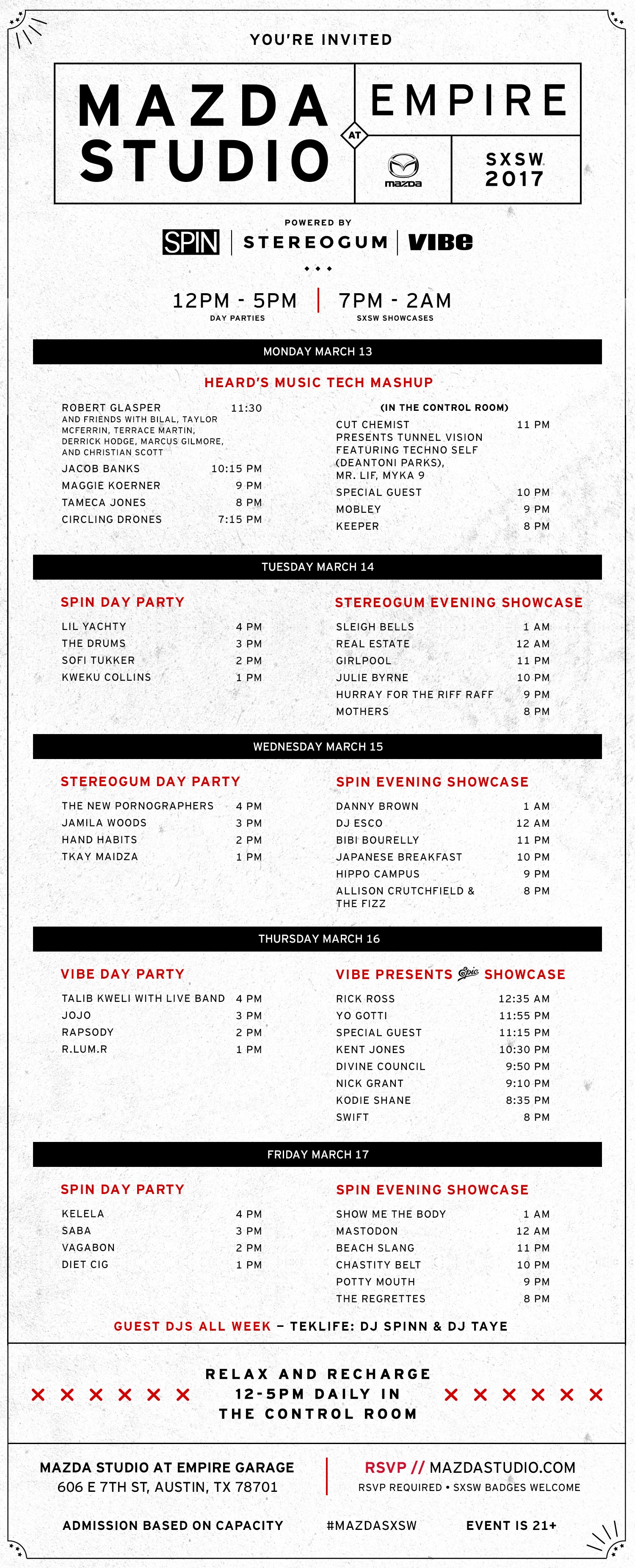 MAZDA STUDIO AT EMPIRE GARAGE
MONDAY, MARCH 13
Heard's 7th Annual Music Tech Mashup
11:30 Robert Glasper with Bilal, Terrace Martin, Christian Scott, Taylor McFerrin, Derrick Hodge, and Marcus Gilmore
10:00 Jacob Banks
7:00-10:00 Special Guest Local Artists
TUESDAY, MARCH 14
SPIN Day Party
4:00 Lil Yachty
3:00 The Drums
2:00 Sofi Tukker
1:00 Kweku Collins
Stereogum Evening Showcase
1:00 Sleigh Bells
12:00 Real Estate
11:00 Girlpool
10:00 Julie Byrne
9:00 Hurray for the Riff Raff
8:00 Mothers
WEDNESDAY, MARCH 15
Stereogum Day Party
4:00 The New Pornographers
3:00 Jamila Woods
2:00 Hand Habits
1:00 Tkay Maidza
SPIN Evening Showcase
1:00 Danny Brown
12:00 DJ Esco
11:00 Bibi Bourelly
10:00 Japanese Breakfast
9:00 Hippo Campus
8:00 Allison Crutchfield
THURSDAY, MARCH 16
VIBE Day Party
4:00 Talib Kweli with Live Band
3:00 JoJo
2:00 Rapsody
1:00 R.LUM.R
VIBE Presents Epic Records Evening Showcase
12:35 Rick Ross
11:55 Yo Gotti
11:15 Special Guest
10:30 Kent Jones
9:50 Divine Council
9:10 Nick Grant
8:35 Kodie Shane
8:00 Swift
FRIDAY, MARCH 17
SPIN Day Party
4:00 Kelela
3:00 Saba
2:00 Vagabon
1:00 Diet Cig
SPIN Evening Showcase
1:00 Show Me the Body
12:00 Mastodon
11:00 Beach Slang
10:00 Chastity Belt
9:00 Potty Mouth
8:00 The Regrettes
MAZDA STUDIO AT EMPIRE CONTROL ROOM
MONDAY, MARCH 13
11:oo Cut Chemist Presents Tunnel Vision
featuring Techno Self (Deantoni Parks), Mr. Lif, Myka 9
10:00 Special Guest
9:00 Mobley
8:00 Keeper
TUESDAY, MARCH 14
JuiceLand Radio Showcase
12:30 Daedelus
11:15 Octopus Project
10:00 Anna Wise
9:15 Eliot Lipp
8:30 Iman Omari
7:45 Capyac
WEDNESDAY, MARCH 15
Neon Gold Showcase
1:00 Bearson
12:30 Youngr
11:30 James Hersey
10:30 The Japanese House
9:30 Matt Maeson
8:30 Tei Shi
7:45 Flint Eastwood
7:30 Friendly Greg
THURSDAY, MARCH 16
Kitsuné Showcase
1:00 Tasha the Amazon
12:25 Sammus
11:15 Pell
10:40 Topaz Jones
10:05 Trapo
9:30 Rome Castille
8:00 oddCouple
FRIDAY, MARCH 17
Zero Fatigue Showcase
12:40 Smino
11:50 Monte Booker
11:00 Jean Deaux
10:10 Jay2
9:20 Via Rosa
8:30 Bari