Breitbart News, the propaganda apparatus helmed by Steve Bannon, President Trump's closest advisor, has taken a recent interest in music that seems at odds with the conservative politics of the site. Namely, it was noticed that, of the 235 entities Breitbart News now follows on Twitter, among those are RiFF RAFF, Ed Banger Records, Kavinsky, Breakbot, Mr. Oizo, Black Moth Super Rainbow leader Tobacco, and Sub Pop artist Mass Gothic. This is alongside people like David A. Clarke Jr. (the regressive sheriff from Milwaukee Co.) and Darrell Issa (the self-serving congressman from California).
We would never assume some correlation between the artists' politics and this tidbit of social media trivia. But given the fact all these accounts were followed recently, one has to imagine there's some delayed consciousness of culture happening at Breitbart. The only question is why? Is it coincidence that peak #electroclash was when George W. Bush still held the presidency? Is 2017 the year, as we rise into fascism, that bloghouse comes back? Why does Breitbart shoulder the burden of surveying Ed Banger? Was electroclash an inside job all along?
Someone from Tobacco's told SPIN said they had no idea why Breitbart would follow the left-field artist. "Perhaps they were trying to follow the tobacco industry?"
A representative from RiFF RaFF's camp said: "Riff has a million followers and follows hundreds of thousands of accounts. There is zero association or affiliation."
Requests for comment from Ed Banger, Kavinsky, and Breitbart were not returned by the time this post went up.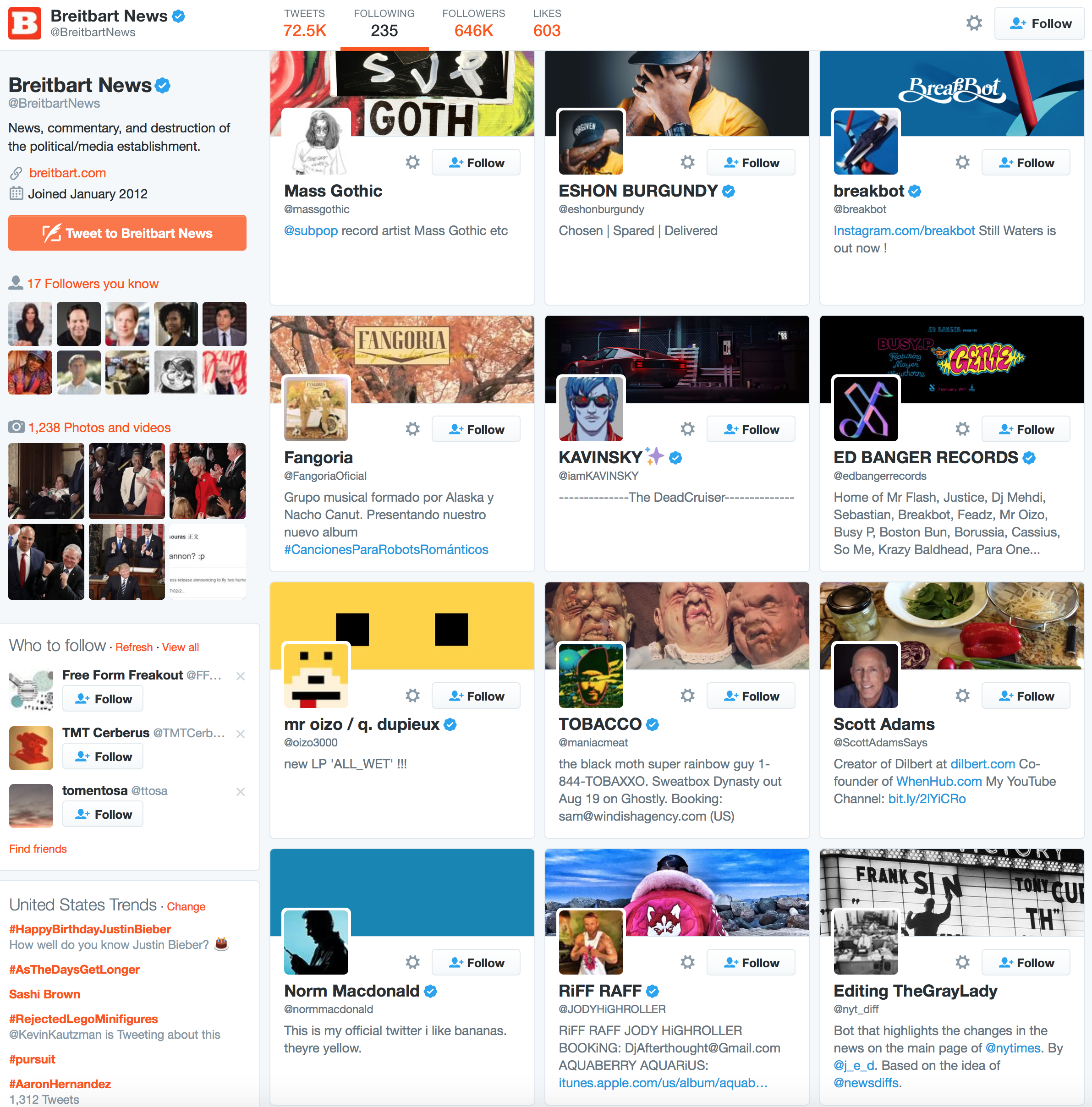 [h/t @JackShankly]