The new season of Twin Peaks will premiere on Showtime on May 21 with a two-hour episode, according to an announcement this afternoon at the Television Critics Association winter press tour. The season, which was co-written and directed by David Lynch, will run 18 hours for one season.
#TwinPeaks: Sunday, May 21st! Two-hour premiere, with Showtime subscribers able to watch episode 3 and 4 right after. 18 episodes total.

— Eric Goldman (@TheEricGoldman) January 9, 2017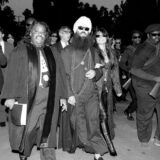 "We've seen the whole thing," Showtime president David Nevins said, according to Entertainment Weekly. "David Lynch is one of the great film masters of my lifetime. I think this is the pure heroin version of David Lynch and I'm excited to put it out."
Nevins refused to divulge any information about the upcoming season's plot.
"The thing about Twin Peaks, and this new version of Twin Peaks, is it rewards close watching," he said. "It was original social media discussion show before the tools of fan engagement really existed. That's one reason why David is so particular about secrecy. It will really reward close watching and putting things together over time."
Watch a clip of Lynch eating a donut as a version of the show's main theme plays in the background below.