Panorama is a relatively new festival in New York City that's just announced a massive lineup for this year's event. The semi-reunited A Tribe Called Quest will headline, as will Frank Ocean, Nine Inch Nails, Solange, Tame Impala, and alt-J. Besides them, the festival will also feature Belle and Sebastian, MGMT, Future Islands, Tyler, the Creator, Spoon, Vince Staples, Girl Talk, Justice, Angel Olsen, Cloud Nothings, DJ Shadow, and many more. Find the lineup below.
Can we kick it? pic.twitter.com/OYKPQHhRBM

— Panorama (@PanoramaNYC) January 9, 2017
Ocean hasn't announced many live performances since the release of last year's Blonde—this is his first confirmed appearance in NYC. A Tribe Called Quest released their final album in November, but had hinted at future appearances. Nine Inch Nails, meanwhile, just dropped the Not the Actual Events EP, which comes ahead of two more 2017 releases promised by Trent Reznor.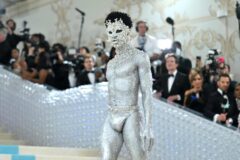 Panorama takes place July 28-30.