Early Monday morning, French police arrested 17 people in connection with the robbery of Kim Kardashian West in October. The Associated Press reports the suspects ranged in age from 23 to 72, and all 17 had criminal histories. An automatic pistol and $147,500 in cash were reportedly found during the raids, which took place throughout Paris and the south of France
"These arrests are a nice surprise because we might be able to find the jewels," Jean Veil, Kardashian West's French lawyer, told L'Express.
On October 3, two armed men disguised as police officers forced their way into Kardashian West's private apartment and stole over $11 million worth of jewels from the reality TV star, including a ring given to her by Kanye West valued at an estimated $4.5 million. Three other men were directly involved in the robbery, according to statements from the French police at the time.
In a recent preview for Keeping Up With the Kardashians, a tearful Kardashian West made her first public statement about the crime. "They're going to shoot me in the back," she says in the clip. "There's no way out."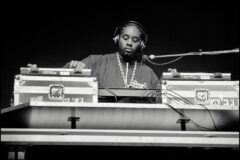 The Associated Press reports police tracked down the suspects using DNA and footage from surveillance cameras. According to TMZ, DNA from at least one robber was found on the rag used to gag Kardashian West.
"It didn't take a lot of time," Luc Poignant, a spokesman for a police union, told the New York Times about the investigation. "It took three months, and three months in this kind of investigation is quite short."