This Sunday marks the one-year anniversary of the release of David Bowie's Blackstar, and Bowie fans are still searching for secret glyphs and hidden messages in its album art. In case you haven't been following: A few months after Blackstar came out, a fan found that the geometric star on the album cover displays the image of actual stars in the night sky when it is exposed to sunlight. Then, in November, Blackstar graphic designer Jonathan Barnbrook said in a radio interview that there's "actually a few other things as well," including "one big thing which people haven't discovered yet on the album." Bowie's most devoted fans began rifling through Blackstar to find this one big thing, and some of them sent their findings to us at SPIN, which we collected in a post here.
Since then, the tips about Blackstar haven't really stopped coming, and we've gathered the most interesting things we've received over the last two months below.
Low portrait

As several critics have noted, "I Can't Give Everything Away" has a harmonica part that is basically a direct rip from the 
Low 
instrumental "A New Career in a New Town," so it's likely that the visual similarities are also intentional–and it certainly
wouldn't be the first time
Bowie used album art as a commentary on his own legacy.
Reader Jack Van Orden also noticed an interesting phenomenon with the same portrait:
If you turn the portrait page with the orange square over, you'll notice that it's the start of the Credits/Acknowledgements page. However, if you hold that page up to the sun, you'll see that the orange square from the other side is still plainly visible, as is Bowie's portrait. It's extremely cold where I am because it's winter, and because I was holding the booklet close to me, my breath was getting on the page. I noticed the words started to disappear! Very quickly I realized that if you hold the page at the correct angle in direct sunlight (or I'm guessing a very bright light) and/or it's relatively warm, you're left with a perfect portrait of David Bowie and all the words have disappeared right off the page.
Pioneer plaque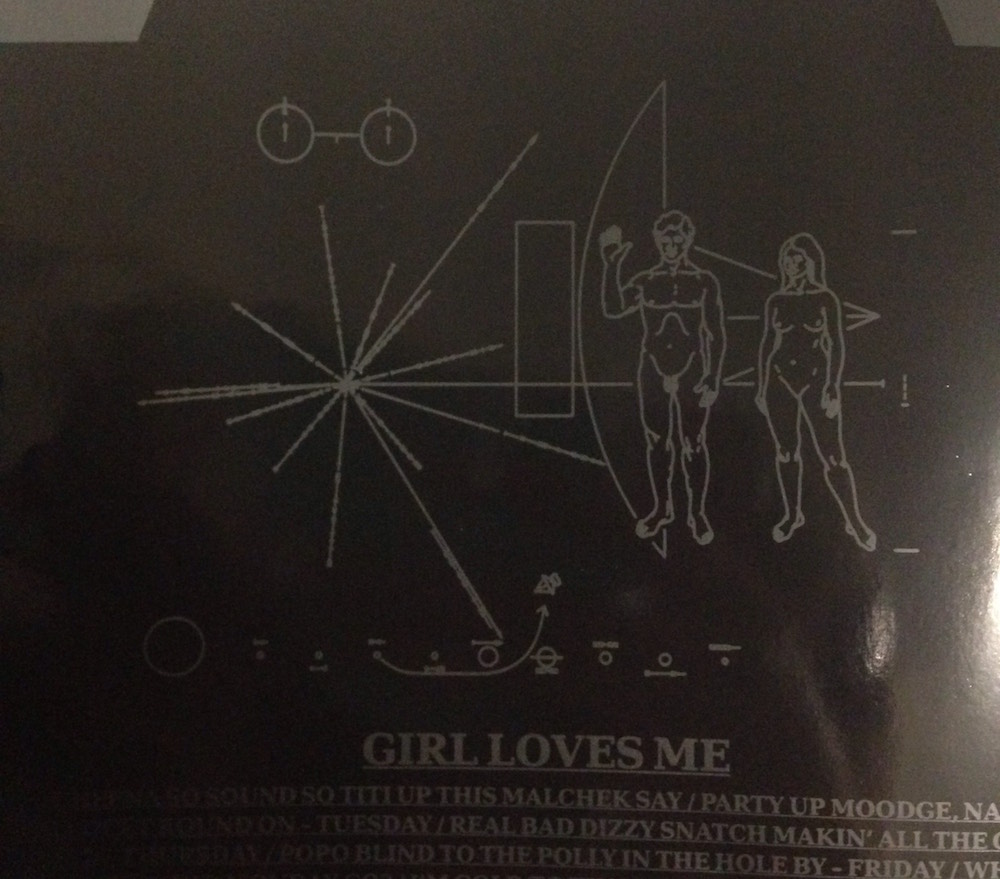 In our previous post, several readers noted that the fragmented stars on the bottom of the 
Blackstar 
front cover can be interpreted to read BOWIE–the whole star is an O, the three-pronged one is an E, and so on.

one pupil is larger than the other.
Black licorice
Reader Vicki Charal sent us the strangest Blackstar secret of all:
My first edition CD copy of Blackstar smells like black liquorice (the salty kind, not the sweet) even to this day.
Bowie works in mysterious ways.
If you think you've found other stuff hiding in the album art, feel free to shoot us an email.