Over the weekend, the graphic designer behind David Bowie's Blackstar album cover revealed that there are easter eggs embedded in the art that most fans haven't found yet. Designer Jonathan Barnbrook, who has helmed the art for every Bowie album since 2002's Heathen, was speaking in an interview with BBC Radio 6, in response to the revelation that the Blackstar gatefold displays an image of stars in the sky when it is exposed to sunlight.
"There's actually a few other things as well," Barnbrook said in the interview. "Actually, there's one big thing which people haven't discovered yet on the album."
Naturally Bowie fans set out to find the remaining Blackstar secrets. We heard from a few of them, and found some other easter eggs elsewhere on the internet. We've compiled everything we've learned about the album art below.
Reflected Light
The "one big thing" that Barnbrook was referring to might be a reflection that the LP itself casts when it is exposed to light. "Reflecting light off one side of the vinyl at certain angle creates what looks like a star," SPIN reader Robert Matthews wrote, while reader Maynard Kolskog wrote that "when you reflect light off of side one you get a bird in flight. Side two, a space ship." Matthews provided a photo of the star reflection—perhaps the same image that Kolskog saw as a bird—for reference.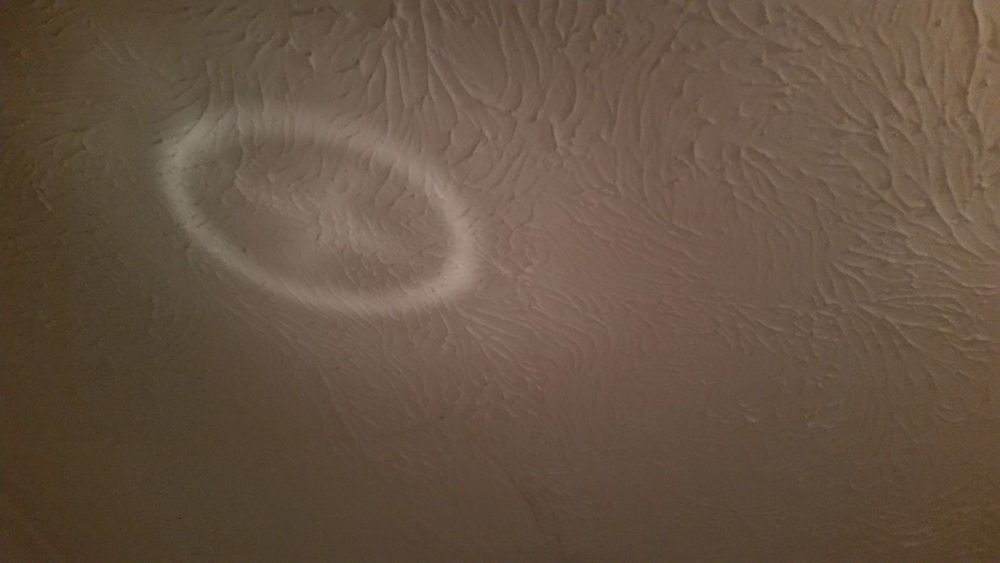 As FACT notes, a Bowie fan with the Twitter handle @RobboRobson21 found that the 
Blackstar 
sleeve gives off a bluish glow when it is exposed to a blacklight bulb. He also provided a photo to demonstrate the effect.
You may have heard what happens if you expose it to sunlight. Well, it turns out that if you put the Blackstar LP under a blacklight…. pic.twitter.com/WvDg7xkF8t

— matt (@RobboRobson21) November 13, 2016
Terminal
A reader named Robert Collette noted that the run times on the album's back cover seem to be rendered in a font called Terminal, which appears in a design suite called Lazarus–the name of a Blackstar track and a musical that Bowie composed before his death. "Was Bowie telling us he was out of time, terminal?" Bowie died of liver cancer, and knew he was in terminal condition for a year before his death.
Reflected Bowie
Reader Matias Hidalgo notes that the inside gatefold art of Blackstar, which shows a star field on one side and a portrait of Bowie on the other, can be situated so that Bowie's image is reflected on the opposite cover. This one could just as easily be an accident—any glossy album cover might reflect in this way, after all—but it's still a nice thought to imagine the Starman among the stars.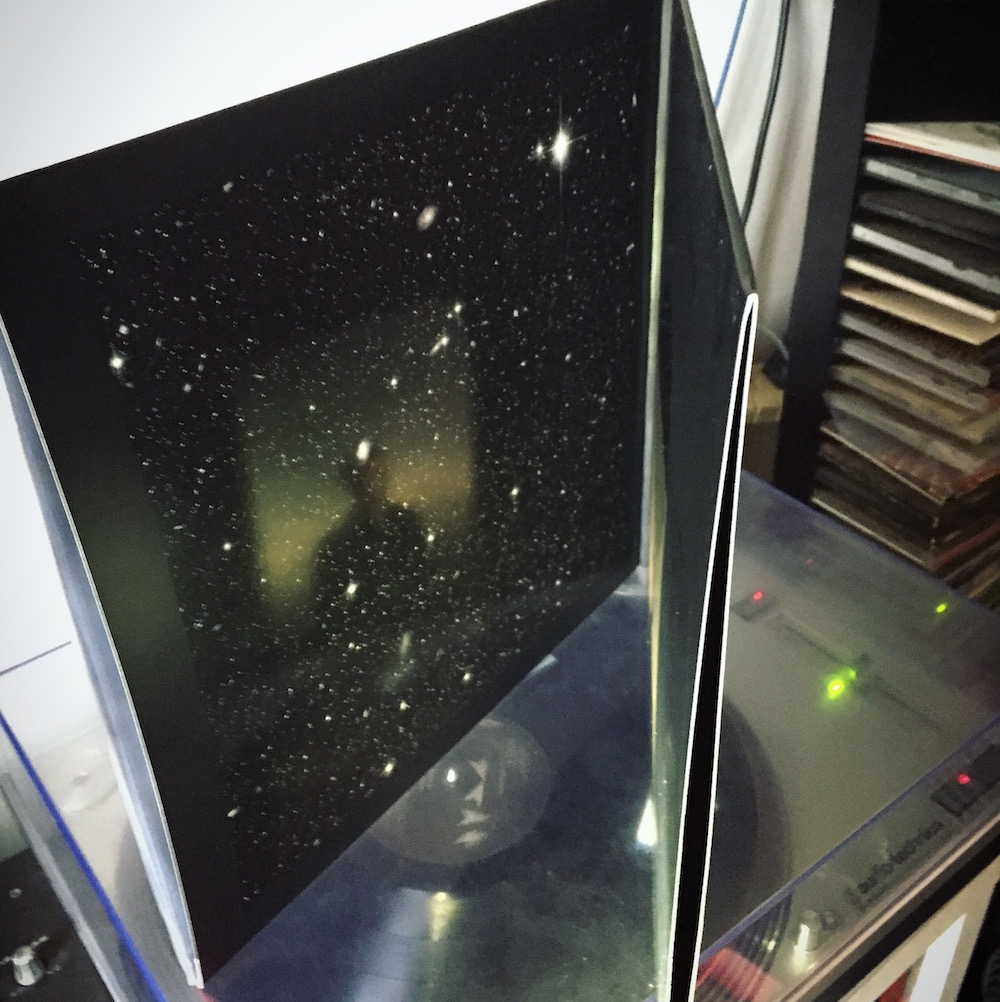 which makes a spinning angel while the record turns) Going right through the record from one side to the other is a strange ring—almost like the ring of Saturn—it moves around the record in various sized dashes…thought it might have just been something that happens on all records. Tried playing a number of other albums I have doing the same thing, and there is just a solid line of light across each one…noting unusual…
Blackstar seems to have dashed lines that move in a very deliberate pattern…but I don't know what it means…it almost looks as if the grooves on the record are even a little different…
Starman 
Reader John Clarkson went looking for constellations in the star field image inside Blackstar, and found the rough outline of a person. "Since Bowie has a history as a 'star man' it makes sense," he wrote. "But I could be jumping at shadows." Clarkson included the following picture to illustrate.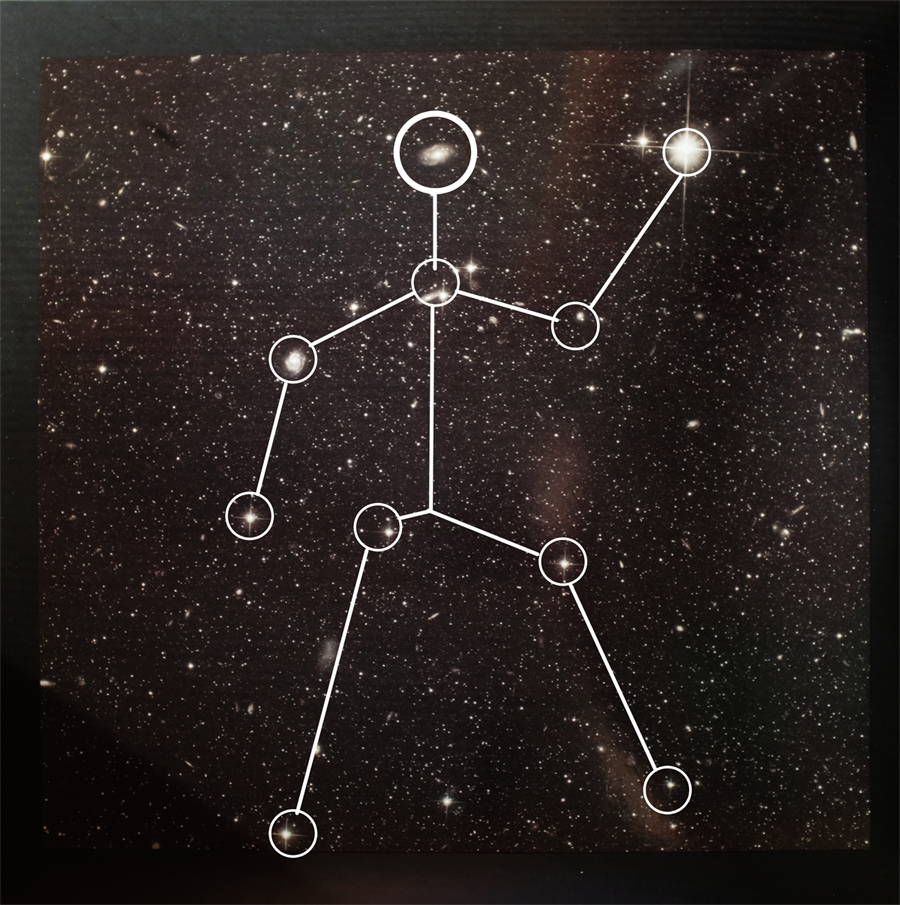 [email protected] and we'll update this post.