Marissa Tomei's poor father Gary will finally be freed from the suffocating branches of Sean Lennon's annoying Ailanthus tree. In court documents filed yesterday, a Manhattan judge ruled that the Beatle son "must immediately remove such tree, together with any of its roots that have entered plaintiffs' land."
If you aren't familiar with the ins and outs of this rich person debacle, here's a quick recap. Marissa Tomei's parents and John Lennon's child live in adjacent houses on West 13th Street in Greenwich Village. Last year, Gary Tomei sued Lennon for $10 million, alleging that a tree in Lennon's yard was causing damage to the Tomei household: roots were breaking through the floor in the basement, and the trunk was infringing upon the stoop and its railing, according to Tomei's complaint. The photo below was filed as evidence, along with many other images.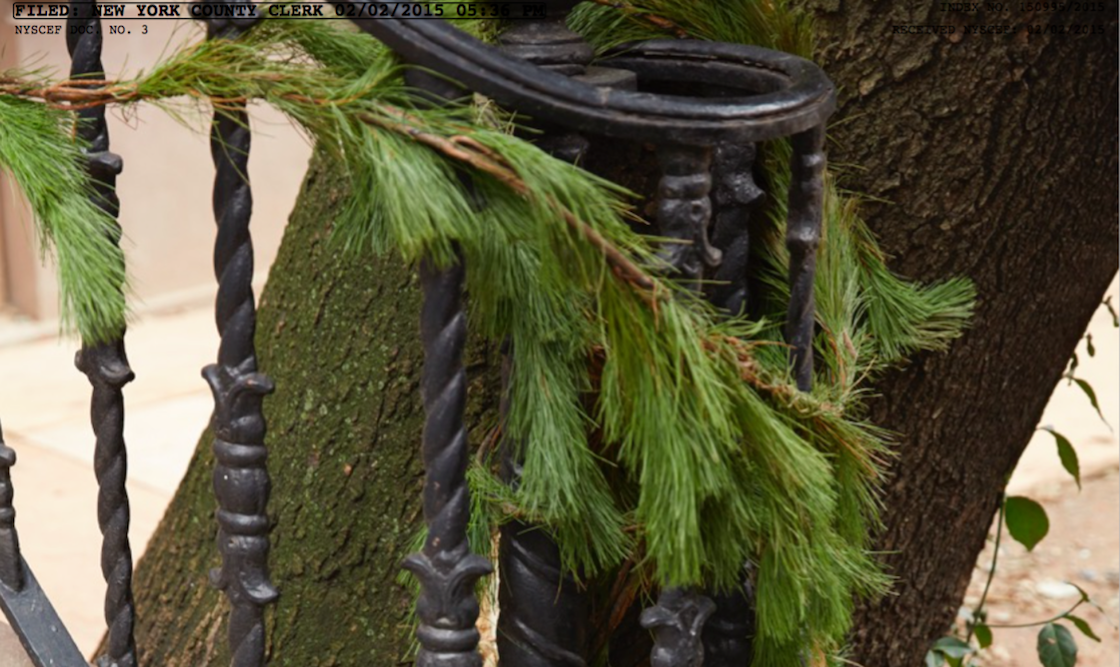 This week, Judge Debra A. James ruled in Tomei's favor, and ordered the removal of the tree. In a related judgement handed down a few days before the final verdict, she quoted a passage from "Strawberry Fields Forever." It's hard to tell exactly what the lines are supposed to indicate: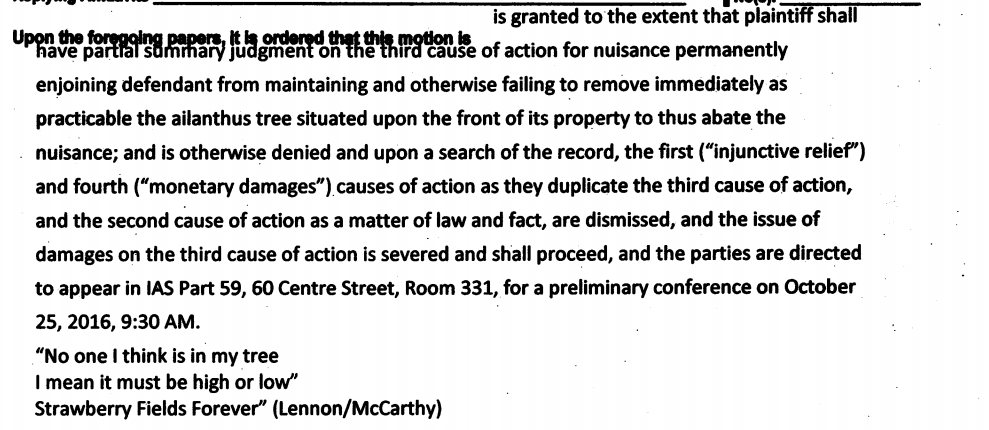 I read the (New York Daily) News today, oh boy, and it too went with a Beatles lyric in the lede of its story about the ruling:
It's time for "Maxwell's Silver Hammer" to come down on Sean Lennon's tree.
I'm pretty sure you'll need more than a hammer to cut down a tree, and anyway, Paul McCartney sang that song, not John. Let's try one from his solo career: Maybe the tree removal is…instant karma for Sean Lennon's recent petulance on Twitter. You'll find a good rundown of what went on here, or you can just take in the following tweet.
The term 'mansplaining,' is sexist.

— Seán Ono Lennon (@seanonolennon) September 10, 2016
Goodbye, tree. I saw her standing there (the tree), but she'll be gone soon. May she rest with golden slumbers forever. Here comes the sun, through the space where her branches once hung. All we are saying is give leaves a chance.