Update: Frank Ocean has announced the locations of four pop-up shops, where fans can presumably purchase the magazine associated with his forthcoming album. The pop-ups are located in New York City, Los Angeles, Chicago, and London. See additional details on the poster below, via Ocean's site boysdontcry.co.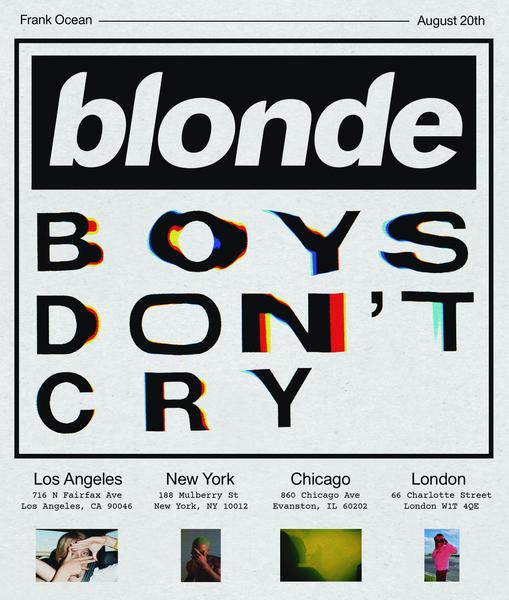 After an unconventional rollout that resulted in this week's visual album Endless, Frank Ocean is back with "Nikes," a separate new song and video. One of the first lines of "Nikes" is "I got two versions. I got twooo versions," a phrase that appeared on Ocean's Tumblr more than a year ago and was widely believed to refer to his upcoming album.
The accompanying video features dozens of dancers and models in a dizzying series of scenes, including a lyrical and visual tribute to A$AP Yams, Pimp C, and Trayvon Martin, some potentially NSFW nudity, and an elaborate tableau of sleeping partygoers. Rappers Trina and A$AP Rocky (who's holding a portrait of Yams) both make cameos. Ocean himself seems to appear in two versions, one wearing a black t-shirt and the other an angelic white jumpsuit and glittery face paint.
Another, "proper" Frank Ocean album, reportedly no longer called Boys Don't Cry, is expected this weekend. See "Nikes" below, via Apple Music.
https://embed.itunes.apple.com/us/embedded-player/idsa.06571398-669c-11e6-9b66-283cdffd1e01